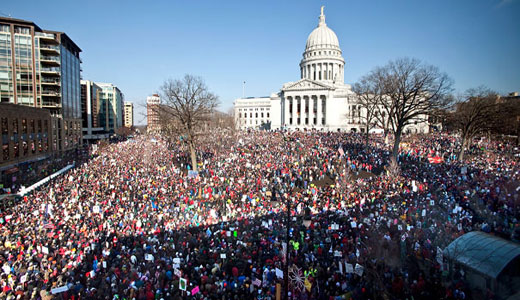 Workers Independent News put the word out this week that unless it raises $90,000 by Nov. 15 it will be forced to go off the air.
WIN radio is condisered by the nation's unions and their allies to be a major contributor to the overall fight for workers' rights in the United States. They are a union shop and have brought labor's voice to millions of listeners over the years.
The International Labor Communications Association, a consortium of labor journalists from some 100 international and local unions and pro-labor publications, including the Peoples World, today issued the following appeal on behalf of the radio station:
"Over the years, as the right wing worked fiercely to control radio airwaves, Workers Independent News (WIN) became a bright spot in Labor's response to the conservative echoes heard across the nation. WIN is a crucial part of our voice, and today they need our help. Workers Independent News needs to raise $90,000 by November 15, or the WIN national daily labor radio newscast will be forced off the air. Will you help keep this vital news source running?
"WIN is a union shop (a proud SAG-AFTRA member) and they have reached millions of people over the years. They have stood with workers and the labor movement for more than a decade. Now they need us to stand with them.
Please donate whatever you can to help keep WIN programming on the air.
"Day after day in communities across the US WIN has been a consistent voice for working people since 2002. Just this past week millions of ordinary people heard stories they would never hear if it wasn't for WIN, stories about company dirty tricks during an organizing drive in Georgia, a national strike in Indonesia, and a ballot initiative in Sea-Tec, Washington, to raise the minimum wage at the airport. And much more. Information is still power. Action is inspiration. People need to know. Please don't let WIN go silent." Said Howard Kling, ILCA Secretary and WIN foundation board chair.
For more information, please visit their website, their Facebook page, and find them on Twitter. You can also mail checks to:

WIN
520 University Avenue, Suite 320
Madison, WI 53703

"If you were at our ILCA convention in September, you probably met someone from WIN, or saw them on one of our panels. They are a much-needed voice for working families and a necessary source for labor. Please give whatever you can today."
Photo: WIN radio reported live from the scene of the epic Wisconsin protests every single day during the worker-led occupation of the Capitol in Madison. AP