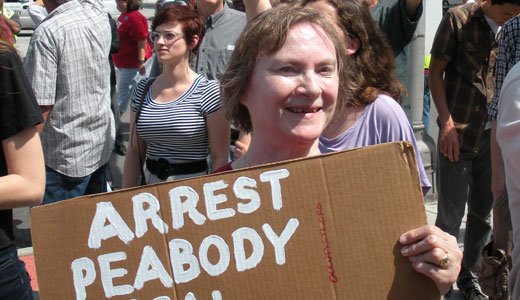 ST. LOUIS, Mo. – "Enough is enough! It is time for the 1 percent, the wealthy, the privileged to pay their fair share," Bob Soutier, president of the Greater St. Louis Central Labor Council, told 250 activists, community leaders, students and union members as they rallied out-side of the Peabody Opera House here on May 1.
The rally was planned to coincide with Peabody Energy's corporate shareholders' meeting, which was being held at the Peabody Opera House.
Peabody Energy is one of the world's largest producers of coal – with $1 billion in profits in 2008 and 2009. However, Peabody Energy paid $0 federal income taxes and $0 Missouri taxes in both years.
"The 99 percent are carrying the load," Soutier continued. "Workers all around the country are saying, 'Enough is enough.'"
According to Missourians Organizing for Reform and Empowerment (MORE), Peabody owes Missouri $118 million in taxes – enough to provide 280 Missourians with medical care, enough to add 326 low-income children to the Head Start early education program and enough to provide $30,000 to Missouri's disabled veterans.
Peabody's CEO, Greg Boyce, was paid $10.2 million last year, a 6.5 percent pay-raise from 2010.
Byron Clemens, a St. Louis public school teacher, thinks that money could be better spent on "police, fire fighters and teachers."
Clemens, a leader in the American Federation of Teachers (AFT) Local 420, continued, teachers are facing lay-offs, schools are closing and police and fire fighters are getting their pensions cut "because Peabody doesn't pay its fair share."
Clemens added, "I'm proud to be a St. Louis public school teacher. I'm proud to be AFT. I'm proud to come from a union family. And I'm proud to pay my fair share. Peabody should do the same."
Zach Chasnoff, a small business owner, was kicked-out of the shareholders' meeting.
He told the assembled activists, "I pay 25 percent in taxes every year. They pay nothing. They should be ashamed." Chasnoff runs a small house painting business.
He added, "Peabody claims to 'put people first.' It's hard not to laugh. And even harder not to vomit."
Michelle Witthaus, a former teacher, also attended the shareholders' meeting. She said, "Peabody's CEO is making $10 million, while we take $11 million away from the St. Louis public school system."
"How are students supposed to prepare for the future?" she asked.
According to MORE, Peabody Energy paid more to lobbyists and right-wing interests groups like ALEC than it paid in taxes in two of the last three years.