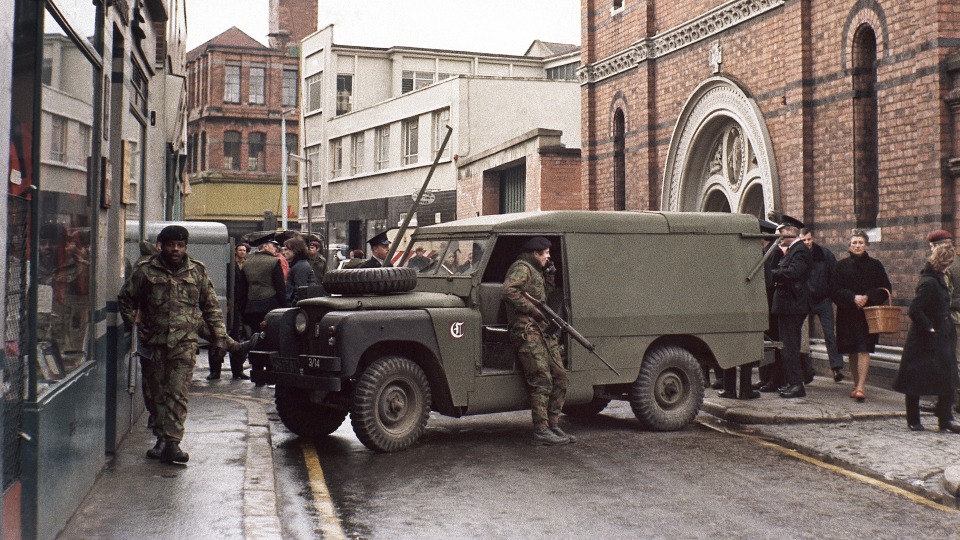 In a report released Jan. 13, Police Ombudsman for Northern Ireland Marie Anderson said there was evidence of "collusive behavior" by some British officers in the murder of 19 people and the attempted murder of two others over a four-year period by unionist terror groups. "Operation Greenwich," led by Ms. Anderson, dealt with the activities of the unionist death squads in two counties between 1989 and 1993.
As to the precise nature of the covert collaboration, the report cites the following facts, among others:
The British state helped import South African weapons that were used in at least ten of the killings.
British state agents and informers working within the pro-British terror group were directly involved in a number of murders.
Despite knowledge of the direct involvement in murders by members of Ulster Defence Regiment (UDR), a British state-run militia, no action was taken against them.
Police officials as well as the UDR, who were known to be passing information to unionist gangs, were nonetheless allowed into high-level meetings.
Police failed to warn some victims that their lives were in danger.
Police files on the activities of informers and agents involved in the murders were destroyed.
Such collusion is part of the counter-insurgency handbook employed by imperialist forces worldwide.
Last December, a Belfast court paid substantial compensation to the victims and relatives of a deadly 1975 attack on Ireland's best-known pop group, the Miami Showband. Three musicians were killed and two injured in the attack. They were on their way to Dublin from a gig in Northern Ireland when they were stopped at a fake British Army roadblock manned by members of the UDR and Unionist death squad plus a British military officer who, according to one survivor, had "a posh English accent."
These developments come at a time when the British government is seeking an amnesty for its armed forces, halting investigations and denying victims access to the courts and to a legitimate trial. This amnesty scheme has been rightly condemned by all Northern Ireland political parties, by the Irish government, and by international human rights organizations.
The purpose of the amnesty is to sweep under-the-carpet British atrocities such as Derry's Bloody Sunday and Belfast's Ballymurphy massacres of 50 years ago. In Derry on Jan. 30, 1972, 14 unarmed civil rights demonstrators were slain. In the Catholic estate Ballymurphy between Aug. 9 and 11, 1971, 10 defenseless people, including a priest, were killed in cold blood. A plan drawn up in London by the highest government circles aimed at crushing resistance through committing acts of "collective punishment" of the Catholic community in the North of Ireland.
Various investigations made varying efforts to illuminate or obscure the masterminds and circumstances of these attacks on the Catholic population. Despite overwhelming evidence against the actions of the military, only one paratrooper, "Soldier F," was initially charged 49 years later with murder of two of the 14 dead on Bloody Sunday. The charges were dropped last fall. It is worth noting the same "Soldier F" received a commendation for gallantry for his role in the Ballymurphy massacre.
This amnesty is intended to ensure that both the actual killers, but also those in senior political and military circles who pulled the strings never come before a court of law for their crimes. "Soldier F" was part of the punitive shock troops deliberately deployed in both Derry and Ballymurphy. This British force, 1 Para of the Parachute Regiment, was under the command of Brigadier Kitson, the British Army's guru in counter-insurgency. He had honed his "skills" fighting anti-colonial resistance movements in Malaya, Kenya, Aden, and Oman and penned several books on the topic. His 1960s book Gangs and Counter-gangs dealt with setting up pseudo-gangs in Kenya. And under his watch in September 1970 in Northern Ireland, similar proxy forces were formed.
The use of such pseudo-gangs continued throughout the conflict and they were used against the Catholic community. In 1970, senior political figures including British Prime Minister Edward Heath approved of these illegal state-controlled gangs, which would have been discussed at the "GEN 42" military meetings at 10 Downing St., which were chaired by the PM and attended by cabinet ministers and senior military representatives. In other words, the amnesty is covering more than just ordinary squaddies.
The newly released report is just one of many investigations that revealed that throughout the 30-year conflict the British military, police, and military intelligence waged a "dirty war." Various sources point to systematic collusion between British security forces and unionist terror gangs that resulted in hundreds of murders. The killing in February 1989 of lawyer Pat Finucane, who was murdered in front of his wife and children by a unionist killer squad, got international headlines. The masterminds behind this murder included police officers, British military personnel, and leading British politicians. The Finucane family have been battling for 30+ years for a public inquiry, but the British continue to block their efforts because it would show his execution goes to the very top of the Westminster establishment.
In early 2020, a British government-commissioned inquiry established that 85% of the pro-British terror gangs' intelligence information came from a number of British security agencies. It also discovered that these killers "relied heavily on [British] security forces' tips to identify Republican [Catholic] targets" and that "many attacks could be traced to support originally provided by one of their [British] security contacts."
Sinn Féin's Gerry Kelly said after the release of the latest report, "The families of the victims of these killings investigated by the Ombudsman, like all bereaved in the conflict, are entitled to know the truth about the deaths of their loved ones and should not have to wait any longer for truth and justice." This comment applies to the entire Northern Ireland tragedy and the British policy of collusion and obfuscation.