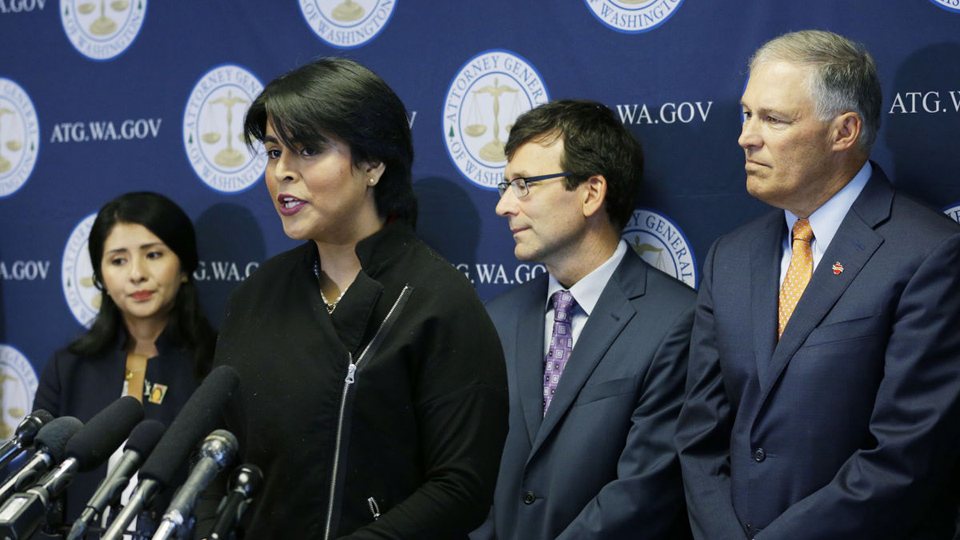 New York Attorney General Eric Schneiderman, along with fourteen additional states and the District of Columbia, filed a lawsuit Sept. 7 challenging Trump's decision to end the Deferred Action for Childhood Arrivals Act (DACA).
Arguing that Trump's decision to end protections and benefits for youth brought into the U.S. as children would hurt their state economies if residents lost their status, the lawsuit seeks to block the decision and maintain DACA.
"Immigration is the lifeblood of New York State. The Trump administration's decision to end DACA is cruel, inhumane, and devastating to the 42,000 New Yorkers who have been able to come out of the shadows and live a full life as a result of the program," said Schneiderman in a statement Sept 6.
The lawsuit further argues that Trump's decision in rescinding DACA was motivated in part by his discriminatory feelings towards Mexicans—over 78 percent of DACA grantees are of Mexican origin—which came up frequently during his presidential campaign, and highlights six separate occasions where disparaging statements were made by then-candidate Trump against Mexicans and Mexican-Americans.
"In announcing his presidential campaign, then-candidate Trump compared Mexican immigrants to rapists, stating: 'When Mexico sends its people, they're not sending their best. They're not sending you. They're sending people that have lots of problems, and they're bringing those problems with us. They're bringing drugs. They're bringing crime. They're rapists. And some, I assume, are good people,'" reads the lawsuit.
The Democratic attorneys general also argue that DACA recipients have not received a guarantee that their application information will not be used for "immigration enforcement, including identifying, apprehending, detaining, or deporting non-citizens."
When asked for a comment on the legal action taken, Department of Justice spokesperson Devin O'Malley said: "While the plaintiffs in today's lawsuits may believe that an arbitrary circumvention of Congress is lawful, the Department of Justice looks forward to defending this Administration's position."
The Justice Department maintains that DACA was created under the Obama administration, not through congressional action.
Trump frequently gave mixed messages on whether he intended to keep DACA, but his latest decision and subsequent distancing from it, has led to forceful criticism from activists, lawmakers and the general public.
"The president has tried to shirk responsibility for this, but let's be clear, it is his hand on the knife in these people's backs," said Washington Governor Jay Inslee, whose state joined in the lawsuit, at a press conference. "He can't just put it on Congress. It is his responsibility to fix this."
Violations of the Fifth Amendment equal protection and due process; the Administrative Procedure Act; and the Regulatory Flexibility Act are other claims brought against the administration.
Though the administration is facing numerous lawsuits, legal experts view this latest challenge as a difficult battle, since presidents usually have wide authority when creating and implementing immigration policy.