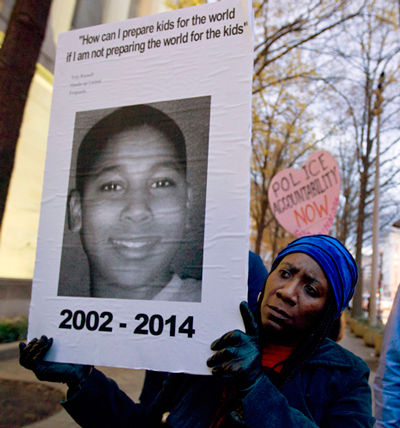 CLEVELAND — Acting on the recommendation of Cuyahoga County Prosecutor Timothy McGinty, a Grand Jury voted Dec. 28 not to indict police who gunned down Tamir Rice, a 12-year-old Black child playing with a toy gun in a park outside his neighborhood recreation center in November, 2014, The decision was not unexpected but was nonetheless widely denounced as a grave miscarriage of justice. In the final analysis, McGinty abdicated his duty to seek justice on behalf of the people and denied the community its day in court. He perverted his role as prosecutor and turned the Grand Jury into a secret trial where he sought to exonerate the police and he alone decided what evidence was presented and how.
"Prosecutor McGinty deliberately sabotaged this case," Samaria Rice, Tamir's mother, charged in powerful, emotional statement, "never advocating for my son, and acting instead like the police officers' defense attorney."
The family, she said is "devastated" by the decision not to charge the white officers responsible "for the murder of our beloved Tamir" and we "no longer trust the local criminal justice system, which we view as corrupt. In our view, this process demonstrates that race is still an extremely troubling and serious problem in our country and the criminal justice system."
Ms. Rice vowed to "continue to fight for justice for (Tamir) and for all families who must live with the pain that we live with. Referring to the video of the incident that has been seen worldwide, she said it showed "Officer (Timothy) Loehmann shot my son in less than one second" (after the squad car drove up on him). "All I wanted was for someone to be held accountable. But this entire process was a charade."
"I pray and hope the federal government will investigate this case."
Ms. Rice's sentiments were echoed by former State Senator Nina Turner who called the Grand Jury action "a travesty" and by Cleveland NAACP President Michael Nelson who denounced McGinty for "utter incompetence, racial bias and highly suspect actions."
What especially angered people throughout the community was that, instead of seeking incriminating evidence, the normal procedure for prosecutors, McGinty spent months scouring the country to find three people who issued reports that the police acted "reasonably" and "in fear for their lives," even though these "experts" never interviewed the police and could only speculate from afar as to their state of mind and what they knew and saw. Claiming he sought "transparency," but actually seeking to minimize public outrage to his preordained decision to exonerate the police, McGinty publicized these reports. This led to calls that he get out of the case and had the unintended consequence of forcing him to allow highly respected and unbiased experts provided by attorneys for the Rice family to testify that the police actions were not reasonable,. However McGinty's assistants so vigorously attacked and ridiculed their testimony in the secret hearing that the Rice family appealed to the Department of Justice to investigate McGinty's handling of the case. Far from acting as a champion of victims of crime, McGinty publicly maligned the aggrieved family saying their demand for justice was motivated by desire for financial gain. This caused highly respected Black pastors and Jewish rabbis to join the call for him to get out of the case and have a special prosecutor appointed.
In an unprecedented action, McGinty then allowed the police to give the Grand Jury their version of the incident, but to claim Fifth Amendment protection from cross-examination.
Under the U.S. system of justice, Grand Juries have no authority to try cases, but only to determine if sufficient evidence exists to charge suspects and make them stand trial in open court where a fair and adversarial process is supposed to occur.
In fact, last June, Ronald Adrine, Presiding Judge of Cleveland Municipal Court, after reviewing the video gave an advisory opinion that there was probable cause to charge Officer Loehman with murder, manslaughter, reckless and negligent homicide and dereliction of duty and to charge Officer Frank Garmback who drove the squad car with the same charges except murder. McGinty ignored Adriane's recommendation to charge the officers accordingly and it is unclear whether the judge's opinion was provided to the Grand Jury. He also ignored petitions signed by over 60,000 people to charge the police and did not acknowledge receipt of a letter from over 100 prominent public officials, clergy, labor and community leaders sponsoring the petition.
At a press conference to announce the Grand Jury decision, McGinty argued that the police acted legally and reasonably based on the information they had been given by a dispatcher that "a guy" was waving a gun outside Cudell Recreation Center. He stressed that the dispatcher had not told the police that the caller said it could be a toy gun, and the person was probably a juvenile, However McGinty left out one further and possibly decisive fact that the caller provided, namely, that Tamir was Black which the dispatcher relayed to the police saying there was "a Black man," waving a gun in the park. McGinty gave the floor to his assistant, Matthew Meyer, who spent most of 40 minutes citing cases and Supreme Court decisions making it extremely unlikely for officers to be convicted for killing someone while on duty. McGinty and his team then rushed from the room refusing to take questions from reporters.
Whether or not the police acted "reasonably" based on the information they had, in any case, was not the responsibility of the Grand Jury to decide. It was only their responsibility to decide if there was sufficient evidence to charge the officers and force them to defend their actions in open court.
The Grand Jury was given conflicting testimony from the various experts about that, but, as Cleveland Marshall Law Professor Jonathan Witmer Rich pointed out in an opinion piece in the Plain Dealer, legal experts have no more ability to judge "reasonableness" than ordinary citizens seated in a trial jury hearing the evidence and arguments presented by adversarial attorneys. That is why, Professor Rich concluded, the case had to be tried in open court. By conducting a highly unusual, one-sided defense of the police before a secret Grand Jury, McGinty deprived the people of Cuyahoga County of that fundamental right.
McGinty is running for re-election in November, but his handling of this case caused the County Democratic Party to withhold endorsement, which was unprecedented for an incumbent county prosecutor. To be endorsed, McGinty needed 60 percent of the vote at the meeting of the party's Executive Committee Dec. 17, but received only 27 percent. His opponent, former assistant prosecutor Michael O'Malley also fell short with 55 percent so no endorsement was made. Many delegates abstained since O'Malley had given no indication of understanding the issue of pervasive racial bias in the criminal justice system. O'Malley never called for charges against the police and his only criticism of how McGinty handled the case was that he made the opinions of the pro-police experts public. Evidently, O'Malley would have kept everything secret.
Nonetheless, the widespread anger in the Black Community and the desire to punish McGinty led Congresswoman Marcia Fudge, the region's highest Black elected official, to endorse O'Malley as did County Councilwoman Yvonne Conwell, who expressed hope O'Malley would commit to reforms in order to garner active support from the Black community in the race.
The Rice family is continuing to pursue a civil case against the officers and the city as well as pressing the demand for federal intervention. Mayor Frank Jackson and Police Chief Calvin Williams promised a full investigation would be conducted into whether the police, the dispatchers and others violated existing procedures and should face discipline or discharge.
As Eugene Rice, Tamir's grandfather, an active member of Teamsters Local 52 and a worker in a suburban factory packaging peanuts for commercial airlines, told the People's World, "Our fight for justice is far from over."
Photo: In a Dec. 1, 2014 photo, Tomiko Shine holds up a picture of Tamir Rice during a protest in Washington. Jose Luis Magana | AP
Article update by the author 01/04/2016.