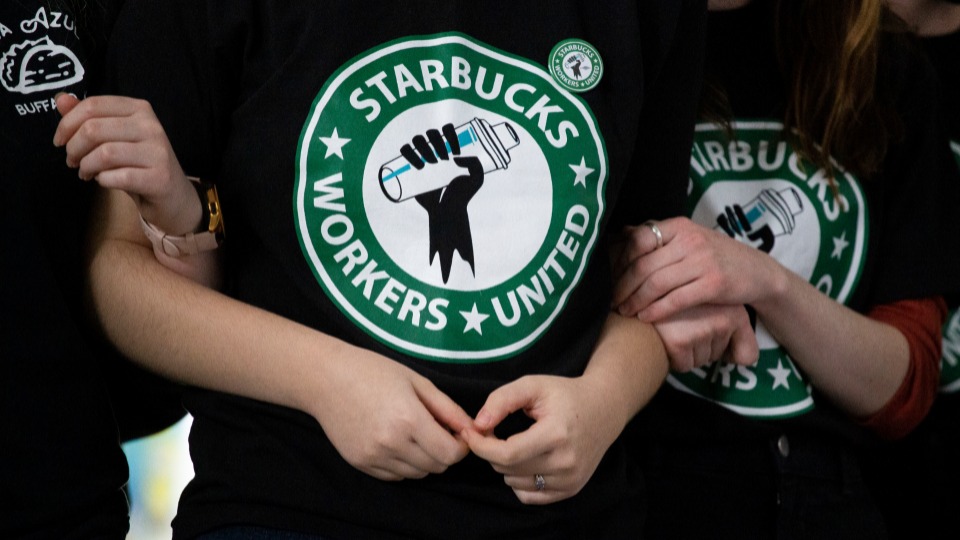 BOSTON (PAI)—Energized by the unionization vote win in Buffalo, N.Y., workers at two Starbucks cafes in Boston filed on Dec. 13 for union representation elections. And even as the Buffalo ballots were mailed in November, Starbucks workers in Mesa, Ariz., filed, too.
Workers United, the Service Employees sector that won recognition in Buffalo, filed all three union recognition election petitions, the National Labor Relations Board reported.
But in Boston, the NLRB records show, another SEIU branch, the International Association of Paramedics and EMTs, may be competing for workers' votes.
The victorious Buffalo workers, who won at one Starbucks there and are leading at a second—pending the count of challenged ballots—let the cat out of the bag in a tweet.
"A message from our Boston partners, who just filed for two union elections today: 'We are proud to stand in solidarity with our partners in Buffalo and throughout Boston, who have inspired us in the fight for equal bargaining power and a democratic workplace!'" Buffalo's Starbucks Workers United tweeted.
The Boston Starbucks workers are the latest in a legion of exploited, underpaid workers in retail establishments and other repressive firms to power union organizing drives this year. And like many others, the Boston workers are young and more diverse than current unionists.
Like their Buffalo colleagues, the Boston workers seek company neutrality and a "fair elections pledge," their Dec. 13 formal letter to management said. The two Boston Starbucks stores are on Commonwealth Avenue and on Harvard Street.
But they're unlikely to get it, as Starbucks lists the self-described "#1 corporate law firm"—aka union-buster—Littler Mendelson as its counsel against the organizing drive.
And when one Buffalo worker stood up in a "captive audience" meeting there to present the pledge to Starbucks founder Howard Schultz, he walked away.
"We are organizing a union in Boston because we believe this is the best way to contribute meaningfully to partnership with the company," the organizing committee for the Boston baristas and other workers wrote.
"We want to ensure that our voices are heard and that we will have equal power to effect positive change," they say later in the letter. "As partners and contributors to the company's success, we deserve respect."