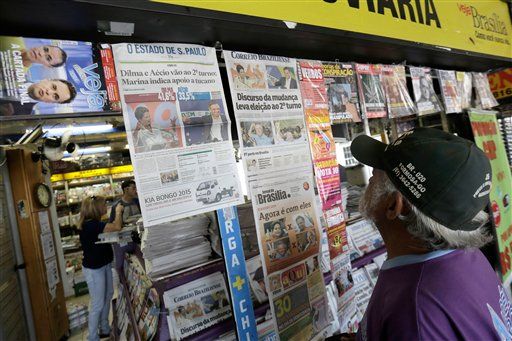 On Sunday Oct. 5, Brazil held its general elections, after a campaign that was anything but boring. Voters went to the polls to elect the president, the governors of Brazil's 27 states, all 513 members of the Chamber of Deputies, and a third of the 81 member Senate.
The leftist incumbent, Dilma Rousseff of the Workers' Party (Partido dos Trabalhadores) now will face Acelo Neves, candidate of the Social Democratic Party of Brazil.
Rousseff was fighting against the results of an economic slump, some corruption scandals and protests and rioting earlier this year against the hosting of the FIFA world soccer championship. But for a while, it looked as if he would win easily.
Then fate stepped in and removed, in an airplane crash, the candidate of the centrist Brazilian Socialist Party, Eduardo Campos, who had been polling in single digits. He was replaced by Marina Silva, a person with African ancestry and a humble background, who had made a name for herself in the ecological movement. Silva had been Environmental Minister in the cabinet of former President Luiz Inacio Lula da Silva, but had resigned in a dispute about the balance between developmentalist and environmentalist emphases in the government. Silva joined the Green Party for a while, before agreeing to be Campos' running mate.
After the death of Campos, Silva's figures in the opinion polls took off, and for a while it looked as she was going to push ahead of Rousseff on Oct.5 and beat her in a runoff on Oct. 26. Racism is a fact of life in Brazil, as it is in the United States, but it looked as if Silva was going to be able to overcome this.
Silva had also pulled ahead of Neves, the candidate whose party is misnamed as "social democratic." He was the chief right-wing candidate in the race.
But when the votes were counted after Sunday's election, it turned out that there will be a runoff, not between Rousseff and Silva, but between Rousseff and Neves. Almost at the last minute, Silva faded and Rousseff and Neves both surged. The figures are as follows:
Dilma Rousseff, Workers' Party: 41.59 percent
Aceio Neves, Social Democratic Party of Brazil 33.54 percent
Marina Silva, Socialist Party 21.37 percent.
The rest of the vote was divided among eight smaller parties, including the Brazilian Communist Party, which ran its own presidential candidate, Mauro Lasi. The Communist Party of Brazil (PCdoB) supported Rousseff.
Why did Silva fade? It would appear that in her effort to reach out to bankers, agribusiness and other wealthy and privileged sectors, she somewhat spoiled her original image as a humble outsider battling power. Rousseff benefited from this. Also, Silva is an Evangelical Christian, and created a bad impression by appearing to be influenced by her doctrinal background in changes she asked for in her party's platform, especially as regards gender issues.
This means that to win the run off, Neves will have to get almost all of Silva's voters, or motivate people who did not vote in the first round, or get people to abandon Rousseff, or some combination. So Rousseff is favored. But after so many surprises, nobody is taking anything for granted, especially not Rousseff and her team.
First off, both Rousseff and Neves are trying to get the endorsement of Silva. Then Rouseff will be pointing to the fact that Neves' party was in power from 1995 to 2003 under the presidency of Fernando Henrique Cardoso, a time of neo liberal policies, including large scale privatizations, when poor and working class Brazilians were suffering great privation. Rousseff will point out the huge advances the country has made under her and Lula's governments, including a reduction in the poverty rate of 55 percent and extreme poverty by 65 percent within a growing economy and only 4.9 percent inflation.
Neves will stress current and recent woes, and will try to convince workers that if elected, he will not take Brazil back to the pre-Lula days.
In the Chamber of Deputies, several large political parties lost seats, including Rousseff's Workers' Party and Neves' Social Democratic Party, as well as the PMDB (Brazilian Democratic Movement Party), a Rousseff ally. In governorships, the big news is that the candidate of the Communist Party of Brasil (Partido Comunista do Brasil), Flavio Dino, has won the governorship of the state of Maranhão by an overwhelming margin.
A Neves victory would be good news for multinational corporations and the Brazilian and international right. It would also be a big blow against the Bolivarian movement which has been working to promote Latin American independence from U.S. control while increasing cooperation in economic development among the region's countries. Although Brazil is not part of the most radical Bolivarian grouping, the Bolivarian Alliance for Our America (ALBA), it is still the largest and most industrialized country in Latin America, with its 200 million people. A Neves government might also pull Brazil out of the BRICS group emerging powers.
For the Brazilian and international left, these are things to be avoided at all cost.
Photo: A man reads newspaper headlines reporting the results of the Brazilian presidential election in Brasilia, Brazil Oct. 6. Eraldo Peres/AP