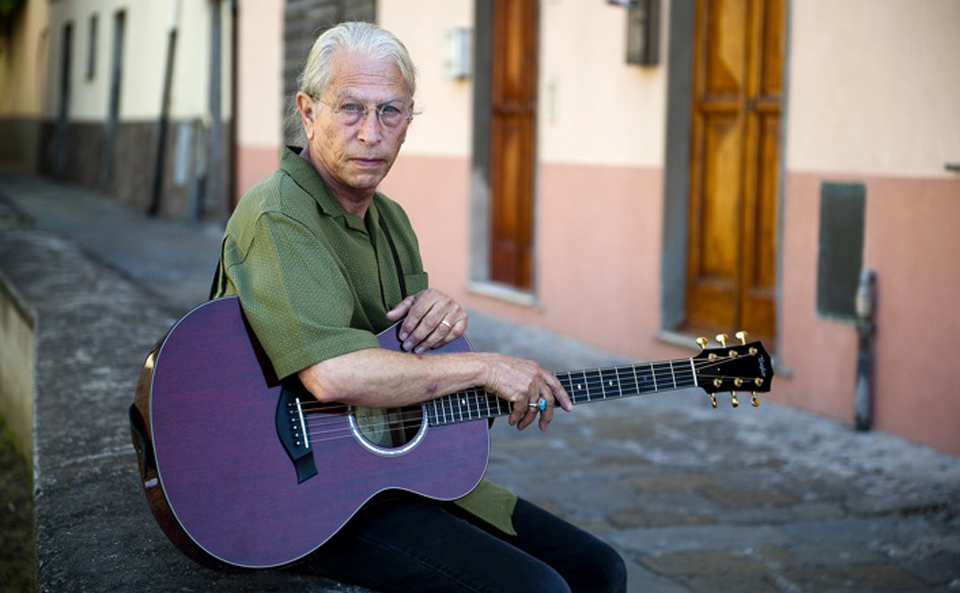 OKEMAH, Okla.—"I picked out ten different songs, that Nora (Guthrie) showed me," Joel Rafael related in an exclusive interview with People's World. "These song lyrics were Woody's own writing and never recorded." Five of those songs ended up on Joel's first of two albums of Woody Guthrie songs.
Joel Rafael and John Trudell's band, Bad Dog, will be the opening feature band at the 2018 Woodyfest in Okemah, Okla., July 11-15. Okemah is Woody's hometown, and this will be the 21st year of the festival.
"My first year playing Woodyfest, well, come to think of it, it was the first festival," Joel explains, "I did one of the songs from Woody's songs that had not been recorded. It was about a lynching in Okemah. So I came to Okemah for the first time to sing about a lynching in Okemah." The lynching was the Laura Nelson and family, which happened a few years before Woody was born. The song, Don't kill my baby and my son, is a haunting melody to Woody's words.
Joel Rafael has been performing and playing for over fifty years, as his website states. He was raised in California and after a stint in Portland, Ore., landed back in San Diego County. It was there he met a lifelong friend in Jack Tempchin, Eagles band songwriter. He honed his craft at Blue Ridge Guitar shop as he began to play his songs in front of a real audience. Rafael's songs no longer reflected the idealism of teenage years but focused on his life, family and what he saw in the world.
On his two-CD Woody Guthrie song compilation is an original song of Joel's. The song Sierra Blanca Massacre is about a bungled alien disaster, which could easily be about the immigration issue in our country now. Rafael captured the spirit of Woody in this song and one can tell he is Woody's student.
"I grew up in the 50s and 60s during the resurgence of folk music," Rafael states. "I kept hearing Dylan's name especially as it related to his paradigm of singer-songwriter theme. He was greatly influenced by Woody Guthrie." Joel sought out what he could of Guthrie and began to learn his music and instrumentation.
The late 1990s found Joel being invited to join Jackson Browne's Inside Recording. According to Joel's website, he spent six years devoted to recording Woody's songs. Rafael found himself again touring the country, but this time as part of a road show of songwriters dedicated to presenting Woody Guthrie through his songs and prose. And it was time to return to his own songs, so with more than an album's worth of material, he went to Austin and put together 13 songs with a band of musicians who backed Stillwater, Okla., native, and Austin icon, the late Jimmy LaFave. The resulting Thirteen Stories High (2008) introduced a new musical collaboration embracing his original work and including the songs of Steve Earle ("Rich Man's War") and Jack Hardy ("I Ought to Know").
The 2012 release of his eighth album America Come Home features the title track with Graham Nash and David Crosby. Throughout his career he has opened for Jesse Colin Young, Crosby Stills and Nash, Emmylou Harris, Jackson Browne, Joan Baez, and John Trudell, to just name a few.
His long friendship with Trudell opened up a new performing project for Joel. John  Trudell, a spoken word activist, helped lead the Occupation of Alcatraz Island in 1969 and was chairman of American Indian Movement from 1973-79. After hearing Trudell speak at Peace Sunday in 1982, Rafael became an advocate for Indigenous rights, sharing John's words and following his trail for over twenty years until the two began regularly performing and eventually writing together.
Upon Trudell's death in 2015, Bad Dog asked Rafael to carry on Trudell's work by performing with them. The 2017 20th WoodyFest featured them at the Pastures of Plenty, which became a real show stopper. Jackson Browne performed some benefit shows this past fall and winter with Joel and Bad Dog. Browne states, "The reason Bad Dog can perform John's music so well is because of Joel Rafael. When you hear Joel and close your eyes, you hear John. Joel is gifted with a particularly resonant voice that belies his light physical stature. He's very aggressive when he does John's songs and has steeped himself in Americana and the music of Woody Guthrie. And, like me, he's an old hippie who's been around since the revolutionary changes that happened in the '60s. So these concerts will be a great meeting of these two bands."
Tickets for the Wednesday night show will be $40 and go on sale Friday, July 1st. Doors will open at 7:30 pm for the 8:00 pm show. All seats are general admission. If available, tickets will be sold at the door for $45. All proceeds support the Woody Guthrie Coalition and their efforts to preserve Guthrie's legacy and to bring the best music to WoodyFest. The Crystal Theatre is located at 401 W. Broadway St., Okemah 74859.
Click here to listen to the full interview with Joel Rafael.