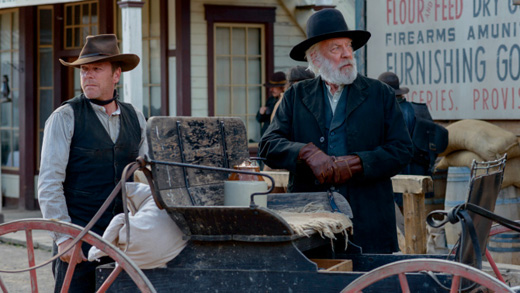 ZÜRICH, Switzerland – Kiefer Sutherland, who portrayed intelligence agent Jack Bauer in the pro-torture 24 Fox series from 2001 to 2010 and in a 2014 miniseries, stars in another Zürich Film Festival gala premiere, Forsaken, Sutherland's first Western since 1990's Young Guns II.
This Western (actually shot in Alberta) was directed by 24 alum Jon Cassar, with a script by Brad Mirman that's so predictable you don't have to be Nostradamus to figure out what happens next. Forsaken regurgitates endless tropes from the Western genre, reworking vintage films like 1953's Shane, with Alan Ladd as the hired gun trying to live down his gunslinging past. Here, the younger Sutherland portrays Civil War veteran and ex-gunslinger John Henry Clayton, who finally returns to his hometown to live a peaceful life with his father, portrayed by Kiefer's real-life dad Donald, playing a reverend who preaches a "turn the other cheek" gospel. But a railroad is being constructed nearby, making farmland extremely valuable, as an unscrupulous saloon owner (Brian Cox) hires gunmen to acquire the farms – by any means possible. It's only a matter of time before Clayton straps on the six-guns and with pistols a-blazing, in a specific rejection of pacifism, settles matters through violence.
In addition to some spectacular scenery, the best thing about this cliché-ridden horse opera is that for the first time father and son, Donald and Kiefer, get to act together. (Ironically, they both portrayed painter Paul Gauguin: Donald in 1986's Oviri, Kiefer in 2003's Paradise Found.) At a ZFF press conference Kiefer said that the 1981 Henry and Jane Fonda movie On Golden Pond inspired him to embark on a 30-year search for a script he could make with his father. There are some touching scenes between the offscreen father and son onscreen in Forsaken.
At the press conference I asked Kiefer Sutherland if he had any second thoughts about the harsh "enhanced interrogation techniques" depicted in 24 and playing Jack Bauer? The not-so-young gun replied: "I don't regret the torture, which was a fantastic device for drama. Jack Bauer was one of my greatest gifts as an actor." While I actually enjoyed Forsaken, unless you are a diehard Western fan you may find this godforsaken flick torture to sit through – especially in stress positions.
For more information see: http://zff.com/en/home/.
Photo: Forsaken website