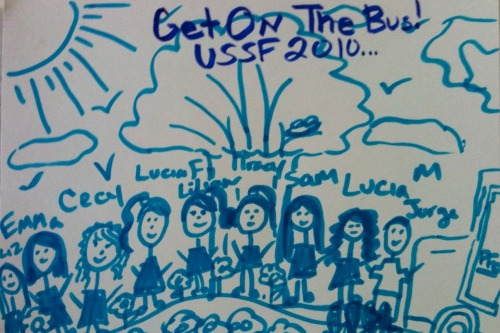 DETROIT – A 1,000-strong People's Freedom Caravan arrived here today in time to participate in the opening march and ceremony of the U.S. Social Forum, a gathering of thousands of progressive and left social and political activists.
Organizers of the U.S. Social Forum here say the caravan and the forum itself are a response to the economic collapse, inequality, "the resurgence of racism," and what they see is disregard for the environment by the powerful corporations.
Participants in the caravan walked, biked, bussed and drove here from cities across the country. On their way to Detroit, they linked up with people in struggle for jobs, economic, social and environmental justice.
Diana Lopez, named recently by Hispanic Magazine as one of the "Top 15 Latinas under 30," boarded a caravan bus in San Antonio, Texas, last Friday
"There are three enormous problems we face: social, economic and environmental," she said, before the caravan joined the march here
The people on her bus met with people affected by the crises everywhere the bus stopped, Lopez said. "In the Gulf of Mexico, we were there to lift up the voices of those struggling in the face of the oil spill."
The caravan stopped in Panco, Okla., whose residents are members of several of the 50 nations of indigenous people that live in that state. Caravan members went on an "environmental toxic tour," which, they said, showed that some of the same companies responsible for polluting the Gulf region are damaging Oklahoma, too.
The caravan also stopped in St. Louis, where members of local labor unions and community activists filled them in on struggles taking place there. In Louisville, Ky., on June 20, the caravan joined a rally at the gates of Rubbertown industrial complex, where 11 chemical plants tower over a local school. Residents there say poisonous chemicals are being regularly released into the air.
In Chicago yesterday caravan travelers joined a rally for jobs at City Hall and a march against repression of Puerto Rican political prisoners in Humboldt Park.
Photo: Center for Media Justice