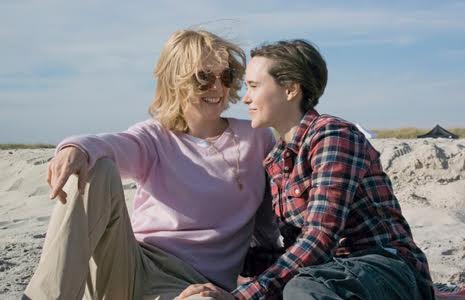 ZÜRICH, Switzerland – A number of the 161 European, Hollywood and international studio features, indies and documentaries screening at the 11th annual Zürich Film Festival have progressive subjects. From Sept. 24 to Oct. 4 this Swiss film fest is presenting films with gay rights, antiwar, Chile coup, anti-racist, sex abuse, and multi-cultural themes, among others.
At a ZFF press conference actress Ellen Page noted: "Gay women really haven't had the opportunity to have a movie [featuring male homosexuals] like Philadelphia or Milk" – that is, not until now. Page produced and co-stars in Freeheld, which is arguably closer in sensibility to the 1939 Frank Capra/Jimmy Stewart classic Mr. Smith Goes to Washington (written by Sidney Buchman when he was a Communist Party member). Although Freeheld starts off like a run-of-the-mill police drama, this well acted, well directed movie by Peter Sollett is anything but routine.
Inspired by a true story, Julianne Moore (Best Actress Oscar winner for 2014's Still Alice) portrays Laurel Hester, a closeted lesbian detective for the Ocean City, N.J., police department. She falls in love and moves in with Stacie Andree (Page), but after years of dedicated service when she is stricken with cancer, Laurel's domestic partner is denied her pension on budgetary and religious grounds by the Ocean City councilmen, known as "freeholders" (hence, the film's title). This leads to a battle royale largely played out in city hall between the freeholders and a dying Laurel, Stacie and their supporters.
The latter includes Laurel's other partner, detective Dane Wells (depicted by the intense Michael Shannon, Oscar-nominated for Best Supporting Actor for 2008's Revolutionary Road), who rallies the reluctant, conservative police force behind Laurel, complaining to the press that after fighting for justice her entire life, now the city government is going to deny Laurel justice. As Laurel's cancer worsens the exuberant gay rights advocate Steven Goldstein ("Daily Show" alum Steven Carell) provides much needed comic relief, as he rallies activists to fight for equality. This stand-up-and-cheer movie shows that ultimately, individuals will do the right thing and people can force the powers-that-be to change unjust policies. The precedent struck by Laurel and Stacie's struggle played a major role in the same-sex marriage movement.
The 2015 Zürich Film Festival is focusing on women and cinema and includes a panel called "Nouvelle Vague au Féminin" (the Female New Wave). I asked Ellen Page to discuss the role of women in general and lesbians in particular in the U.S. motion picture industry. "Statistically there are less women behind the camera, composing music, writing scripts and acting," replied Page. "There are less African-American and First Nations women [in Hollywood]. It's shifting towards more diversity. And audiences want more diversity and hope that films move in that direction."
The 28-year-old actress/producer, who first burst upon the scene playing the title character in the 2007 indie Juno, for which Page was Oscar-nommed, went on to say, "As a gay woman in Hollywood, there are not many out gay women in Hollywood. I'm very fortunate; I have great opportunities I'm feeling very grateful for."
According to IMDB.com Freeheld will be released Oct. 2 in the U.S.
For more information see: http://zff.com/en/home/.