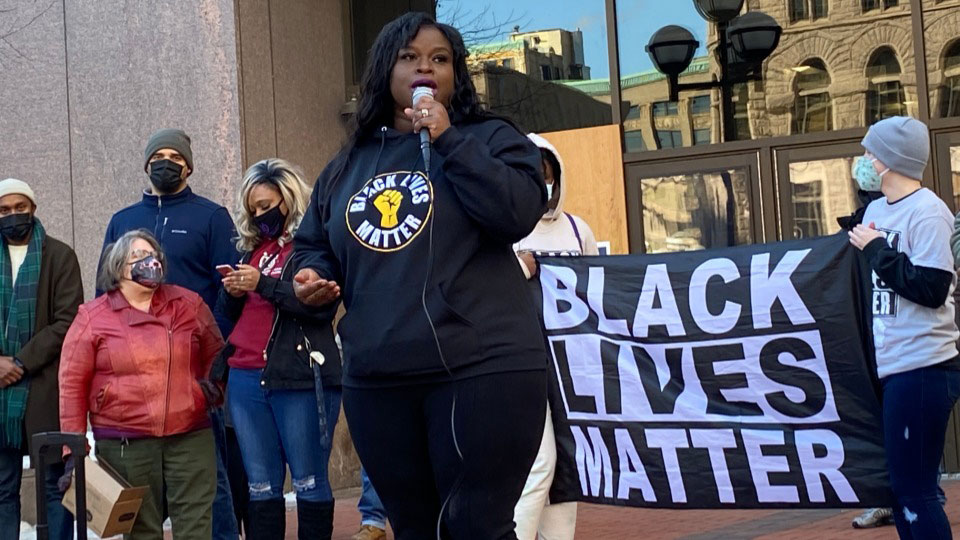 MINNEAPOLIS—At a press conference held in Minneapolis on Feb. 25, a coalition of groups demanding justice for George Floyd reminded city and state officials that they will fill the streets March 8 on the opening day of the murder trial of former officer Derek Chauvin.
They put the city on notice that no matter how many police, National Guard troops, or barriers are in place, they will not be deterred from winning justice for Floyd, who was murdered on May 25, 2020, by Chauvin and three other Minneapolis police officers.
In a firm message to city and state officials, Nekima Levy-Armstrong of the Racial Justice Network said, "I stand in solidarity with everyone here today putting our governor on notice, our legislators on notice, putting the mayor on notice…that we will not be denied, we will not move back, we will not be afraid…we will stand up and we will continue to protest, we will continue to take to these streets to demand justice."
Coalition members are outraged at Gov. Tim Walz's pushing for a $35-million fund to cover law enforcement costs surrounding the trial. Instead, Levy-Armstrong said the governor should be "using his power, his bully pulpit, and his authority to push for justice within the system."
City officials and Walz are mobilizing up to 2,000 National Guard soldiers and arranging for assistance from 1,100 law enforcement officers from 12 different agencies for security during the trial. They have dubbed their mission "Operation Safety Net."
Surrounding City Hall and the Hennepin County Government Center where Chauvin will be tried, security measures include two parallel rows of fences on concrete barriers with razor wire laid in between. It resembles an army base in a war zone rather than a place where justice is adjudicated.
Michelle Gross, a founder of Communities United Against Police Brutality, an organization at the forefront of this struggle since 2000, called out officials for failing to act. "This is a community that tipped off an entire worldwide uprising about police brutality. Yet in the nine months since George Floyd was killed, in those nine months, not one damn thing has changed. Nothing."
"We are tired of the lip service from elected officials who are claiming that they cared about George Floyd, that they care about justice, and we are saying. 'Prove it.' If that's the case, then we need to see all those killer cops off the force in the city of Minneapolis," she demanded.
In a press release, the coalition called for the conviction of Chauvin, the other three officers indicted in Floyd's murder whose cases are scheduled for August, as well as the opening of all cases of those whose lives were stolen by police violence.
According to the release, "Derek Chauvin represents what is wrong with police in Minneapolis and in the country, and now is the time to demand due justice for George Floyd and set the precedent in seeking justice for every stolen life."
Other groups attending the conference included Twin Cities Coalition for Justice for Jamar, Families Supporting Families Against Police Violence, Council on American Islamic Relations, Black Lives Matter MN, and Native Lives Matter.  The coalition is organizing protests beginning at 8 a.m. on March 8.