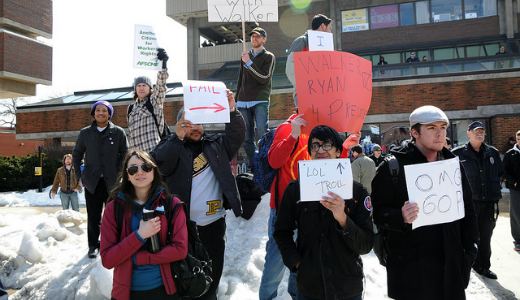 Before this year, using the words "Republican" and "online" in the same sentence conjured up images of your grandmother attempting to plug her phone cord into her typewriter to surf the Internets. This notion is now long gone as conservatives are storming Facebook and other social media sights with a full barrage of ads, misleading pages and misleading non-profit groups.
One of the most prominent is "Generation Opportunity" which runs the Facebook page "Being American" which seems like a very broad appeal that millions would appreciate. However, "Being American" is not as black and white as it seems. Many of the posts tout conservative values asking questions like, "Does the federal government need to assume a smaller role and allow the private sector to drive an economic recovery?" Or posts that ask fans to "LIKE this post if you think that the weight of the federal government's regulations on businesses is making it harder for the economy to recover and for companies to start hiring again." Or "LIKE this post if you think that a serious plan to reduce levels of government spending needs to be implemented as soon as possible." Any objective viewer would realize that to Generation Opportunity, being American means being a free market fiscal conservative.
Another example of the type of tactic being taken by conservatives is the Facebook page "The Constitution" which seems like the type of page any good American would "like." However, they buy ads for the page sporting the Gadsen flag, which has become the official symbol of tea party activists.
Youtube is another venue the Republican spin machine has poured money into. Now, if you search for nearly any video, you are greeted at the top of the page with a "promoted video" of "Michelle Bachmann for President".
With the enormous support President Obama received from his campaign's mastery of the Internet and social media outlets, progressives and Democrats are worried about the right-wing's swift penetration of these outlets in the run up to the 2012 elections. Progressives might simply chock this up to the fact that the GOP figured out Facebook at about the same time as their moms did, but the frightening fact of the matter is that the blitz is working. As it stands, John Boehner has 286,635 fans on Facebook while Nancy Pelosi has a mere 45,571. And, while President Obama's over 22 million fans still trump Republican presidential candidate Michelle Bachmann's 1,091, this trend could change all of that.
One thing is for certain: come election time, the president will not be able to simply rest on his laurels when it comes to social media and the Internet. Whether or not the online following of the conservative movement is comprised of the same elements who came out for Obama in 2008, the GOP is rounding up everyone who finally did figure out Facebook, and it is organizing them with great success.
Photo: marctasman // CC 2.0