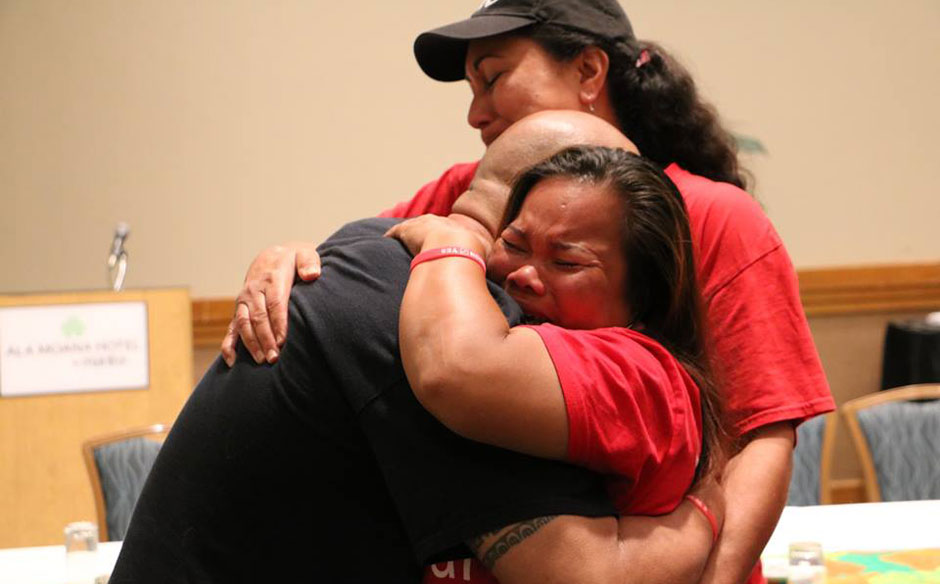 HONOLULU (PAI)—By an almost-unanimous vote—99.6 percent in favor—Unite Here Local 5 Marriott Hotel workers forced into a 51-day strike in Honolulu ended it Nov. 29 with a big win, ratifying a four-year contract with five hotels there. The pact covers 2,700 workers.
The Honolulu strike, including at hotels at fabled Waikiki Beach, was one of six nationwide the union was forced to call earlier this year against 20 Marriott hotels in big convention cities. Before the Hawaii vote, workers in Detroit, Oakland, San Diego, San Jose, and Boston also approved new contracts.
But 2,500 workers in San Francisco are still out, literally walking picket lines there in front of the historic St. Francis Hotel on Union Square, and other city hostelries, 24/7, chanting and marching to drumbeats.
Living wages was and is the top issue for the workers in Honolulu and elsewhere, along with dignity on the job and improved, safer working conditions, especially for housekeepers. "One job should be enough," was a constant picket line chant and sign slogan. Other union members in heavily unionized Hawaii picked it up and walked the lines with the Unite Here members, said Local 5 President Gemma Weinstein.
"The Honolulu contract includes hard-won gains: Job security, reductions in subcontracting, worker involvement in technology deployment, a child/elder care fund, a reduction in workload for housekeepers," and a $6.13-per-hour hike in pay and benefits over the life of the contract, combining raises, better pension contributions and better health and welfare benefits, Local 5 said.
"No matter how high your pay is or how great your benefits are, if there is no job security, those benefits will disappear if you lose your job," housekeeper Jowenna Ellazar told the union. "We want to have a handle on our future. This is an act of self-determination," added Royal Hawaiian front desk worker Jean Te'o-Gibney.