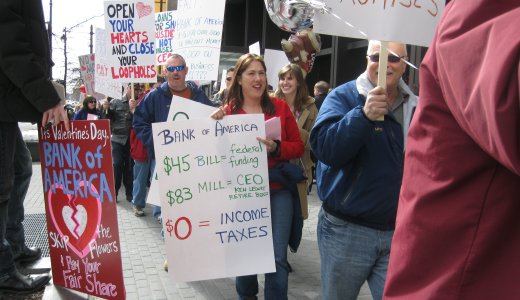 HARTFORD, Conn. – Bank of America got a Valentine's Day surprise Monday, Feb. 14, with a picket line, heart-shaped ballo0ns and a giant card protesting the bank's receiving "unrequited love" from the community in the form of tax breaks.
Over 200 faith, labor and community advocates gathered during the busy lunch hour with colorful home-made signs demanding the wealthy financial corporation, which is the largest bank in the state, "pay your fair share."
As Dannel Malloy, the state's first Democratic Governor in 20 years, was putting the finishing touches on his budget proposal based on "shared sacrifice," the rally put a spotlight on Bank of America's failure to pay their fair share of taxes, and their mortgage and lending policies which drive down home values and limit job creating lending to small businesses.
As state budget crises explode across the country, measures to increase revenue including closing corporate tax loopholes and increasing taxes on top incomes are being fought for by similar local coalitions as a means of protecting the jobs of public workers and the essential services they provide.
"We are sick and tired of the millions of dollars in tax breaks to corporations who say working people are the cause of the problems in the eocnomy," said Tom Swan, director of Connecticut Citizens Action Group, an affiliate of USAction.
"Bank of America took millions of dollars in subsidies and tax credits from the State of Connecticut, and they say there is too much being spent on health care, pensions and public schools. We are sick and tired of unrequited love!" he concluded.
Swan and a dozen others went into the bank and delivered a giant card signed by everyone present.
Health care workers, state and city workers were well represented at this first action of a new coalition of community, labor and religious leaders.
The angry protestors chanted, "We pay taxes, why don't you?"
According to Bank of America's SEC filing data, the group charged that despite earning $6.3 billion in net profits in 2009, not only did the corporation not pay taxes, but it received money from taxpayers.
"Connecticut ranked fifth lowest in total state and local business tax revenues," concluded a study by the nonprofit Council on State Taxation released last year.
Bank of America recieved $45 billion in federal bailout money under the Troubled Asset Relief Program, designed to allow for small business loans to help the economy.
Rally spokesman Matt O'Connor of SEIU told the media that in the past two years 25,000 small businesses closed in the state, leaving thousands of workers unemployed, but "Bank of America has made only eight loans in Connecticut through the Small Business Administration's main program – a 98 percent drop from pre-crisis levels."
At least one picketer had been foreclosed by the bank despite efforts to make arrangements to meet mortgage payments. Bank of America only agreed to loan modifications for 20 percent of those eligible, and is at the center of the national scandal of declaring foreclosure with lack of evidence.
The protests against Bank of America and other corporations are expected to increase in coming weeks.