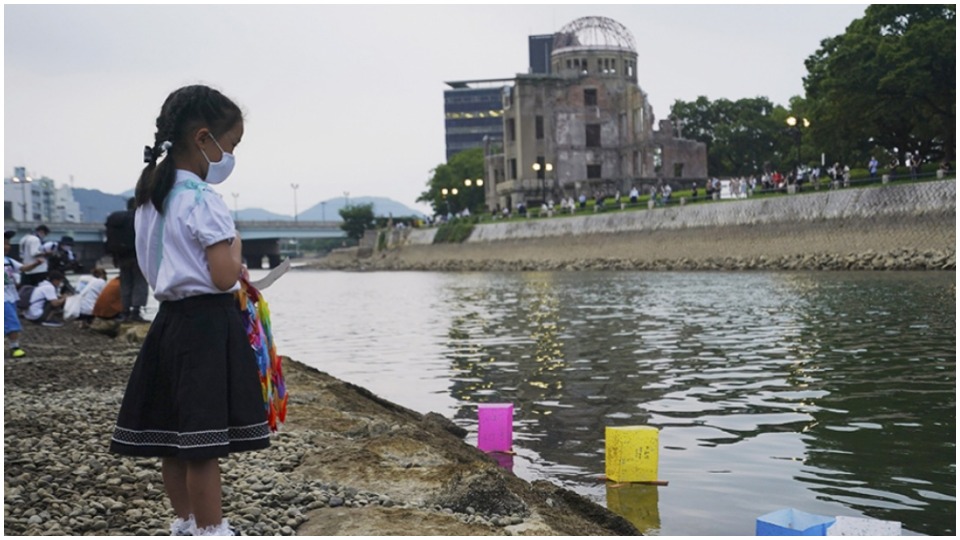 Survivors of the atomic bombing of Hiroshima 75 years ago confronted Japanese Prime Minister Shinzo Abe today over his refusal to support nuclear disarmament.
On the anniversary of the U.S. atom bombing, which killed an estimated 140,000 people, survivors gathered before the Hiroshima Peace Memorial—the bombed-out ruin of Hiroshima's prefectural industrial promotion hall—for a minute's silence at 8:15 a.m., the time the bomb struck.
But before and after the gathering—reduced in size because of coronavirus—many expressed their anger that nuclear-armed states were not disarming and that Japan's government declined to press the United States over disarmament.
Survivors' group Hidankyo member Tomoyuki Mimaki confronted Abe at the site, asking: "Could you please respond to our request to sign the Nuclear Weapons Prohibition Treaty? The milestone 75th anniversary is a chance" (to do so).
Under U.S. pressure, Japan has always declined to sign. The country is host to 50,000 U.S. troops, and the U.S. claims Japan is under the protection of its "nuclear umbrella."
Abe demurred that he shared the desire for a nuclear-free world but intended to pursue an unspecified "different approach" to reaching one.
But Hiroshima Mayor Kazumi Matsui said: "I ask the Japanese government to heed the appeal of bombing survivors to sign, ratify, and become party to the treaty. As the only nation to suffer a nuclear attack, Japan must persuade the global public to unite with the spirit of Hiroshima."
Manabu Isawa, son of a bombing survivor who recently died, said: "Abe's actions don't match his words. Japan apparently sides with the United States. It should make more efforts to eliminate nuclear weapons. It's frustrating."
And Keiko Ogura, a survivor who was eight when the bomb fell, said: "Many survivors are offended by the prime minister because he does not sign the nuclear weapons prohibition treaty." Survivors' groups called on the leaders of nuclear-weapons states to visit Hiroshima and learn about the atrocity.
UN Secretary-General Antonio Guterres addressed the ceremony by video message, urging: "The only way to totally eliminate nuclear risk is to totally eliminate nuclear weapons. Seventy-five years is far too long not to have learned that the possession of nuclear weapons diminishes, rather than reinforces, security. Today, a world without nuclear weapons seems to be slipping further from our grasp."