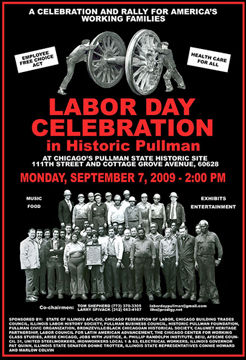 CHICAGO – On September 7 the Illinois AFL-CIO, Chicago Federation of Labor, Illinois Labor History Society, numerous other unions and social organizations join with groups from the south side Pullman community to host a rally and celebration of labor history this Labor Day. The event will begin at 2 p.m. and will take place in the famous factory building at Chicago's Pullman State Historic Site on 111th Street and Cottage Grove Ave.
Several speakers – including Gov. Patrick Quinn – will be celebrating the achievements of American working families and past and ongoing struggles for union wages, rights of citizenship in the workplace, and equal opportunity in the workplace. A special invitation has been extended to President Barack Obama and U.S. Labor Secretary Hilda Solis. The free program will be moderated by WCPT Radio host and longtime newsman Dick Kay.
Festivities include the annual Labor Day Bike Ride and rally, historical exhibits and presentations, music, food, performances and special guest speeches. Factory and Pullman Historic District tours will be offered following the event.
The storm center of one of the most famous industrial conflicts of the 19th century was the community where workers for industrialist George Pullman built the famous Pullman railroad sleeping cars.
It was here Gene Debs, a founder of the American Railway Union (ARU), became the presidential standard bearer for the Socialist Party. Later he received over 1 million votes while in federal prison for opposition to America's entry into World War I.
The charming and planned Pullman community, with its unique architecture and design, remains largely unchanged to this day. A centrally located neighborhood park and garden welcomes family picnics. A Visitor's Center offers artifacts to view and mementos for sale. The Florence Hotel, with its spacious verandah, provides an elegant centerpiece to the area.
Although the sleeping car factory is partially gone, the dramatic Clock Tower remains and industrial artifacts from the vanished steel industry are on display. The hotel and factory property are now managed by the Illinois Historic Preservation Agency.
The list of sponsors for the Historic Pullman Labor Day events includes the State of Illinois AFL-CIO, Chicago Federation of Labor, Chicago Building Trades Council, Illinois Labor History Society, Pullman Business Council, Historic Pullman Foundation, Pullman Civic Organization, Pullman State Historic Site, Bronzeville/Black Chicagoan Historical Society, Calumet Heritage Partnership, Labor Council for Latin American Advancement, the Chicago Center for Working Class Studies, Arise Chicago, Jobs with Justice, A. Phillip Randolph/Pullman Porters Museum, SEIU, AFSCME Council 31, United Steelworkers, UE Illinois, United Food and Commercial Workers, Ironworkers Local 1 & 63, Electrical Workers, Illinois Governor Pat Quinn, Illinois State Senator Donne Trotter, and Illinois State Representatives Connie Howard and Marlow Colvin.