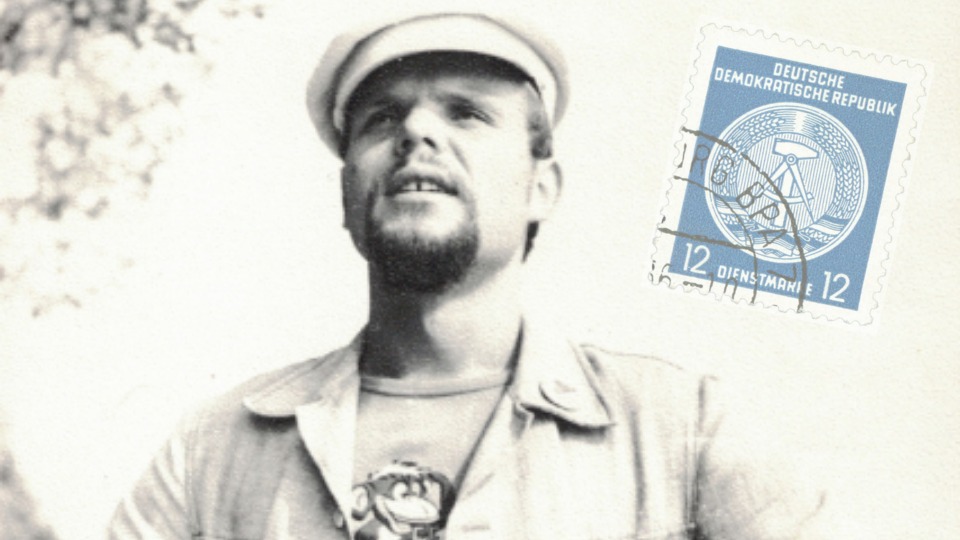 The World Federation of Democratic Youth, a pro-Communist network of student and young people's organizations based in Prague, published World Student News, a magazine gently trying to promote peaceful coexistence and socialist politics. The magazine carried a pen pal section. A vision of wonderful, colorful new stamps for my collection prompted my decision to submit a pen pal request for correspondents. I was living in New Orleans then as a graduate student at Tulane, but at that moment taking a year off. The magazine reprinted my ad several times, and I suddenly became inundated with letters from strangers in Algeria, Zambia, Poland, China, Cuba, the USSR, India, all over the world. I responded dutifully, but truthfully didn't feel much connection, and those correspondences quickly faded away.
One young man who answered my ad (on August 21, 1970), was 23-year-old Michael Kuschnia, a student at the Ernst-Moritz-Arndt University in Greifswald on the north coast of the German Democratic Republic (GDR). He wasn't into stamps himself, but he happily contributed to my collection as much as he could, with most of the recent GDR releases tucked into his letters. We shared interests in music, opera, theater, art, travel, politics, and languages; and we exchanged articles, magazines, holiday and birthday cards, and increasingly personal letters. This correspondence, and the friendship to which it gave birth, has now been going on for 50-plus years.
In his second letter, he said he was a member of the SED (Socialist Unity Party) of the GDR (the SED basically acted as the Communist Party there), of the Free German Youth, the Society of German-Soviet Friendship, and the trade union association. Aha! Now I had a real party member to correspond with. In one of my first responses, I wrote him an agitated Marxist critique of the Sidney Poitier film The Heat of the Night, expressing surprise it had even been shown in the GDR. He liked my Marxist approach to the opera in 19th-century Rio de Janeiro, the subject of my master's thesis, and replied that in his own work he studied the relationship of art and architecture, had researched the Mexican muralists in that regard, and would take a year of study in the USSR to further his knowledge.
I wrote to Michael in the spring of 1971 that to me the most promising sectors of activism now were the women's movement and homosexuals. That March our local movement demonstrated against the telephone company for hiring women only for operator jobs, and men for everything else. I told him that at my hotel job I would serve as operator during the night when the regular operator took her break, and people who called always expressed their shock to hear a man's voice.
After identifying feminism and the new gay movement as hopeful sources of new activism (the first Earth Day had also occurred in 1970), I got a raft of questions back from Michael in the GDR. (I will use the contemporary term "gay" where today we would generally say "LGBTQ.")
…what a power are the homosexuals? Have they the possibility to speak and demonstrate public, to proclaim their interpretations? About this problem we in the GDR hear few. The most people scorn these people for their sexuality. I know that the homosexuals in Scandinavia and other capitalist countries have many rights, have magazines, literature, that there is a great tolerance. How do you see this problem?
In my next letter to Michael, in May, aside from blasting the Soviet-bloc custom of interdicting media from capitalist countries such as the monthly Midnight Special our collective published, and preventing travel outside the bloc (I was something of an anarchist then), I returned to the subject of homosexuality. I'm amazed today that by then I had even done this much research on the subject:
…you asked about homosexuality in the U.S. There are laws in most states and cities against homosexuality, but slowly now they are beginning to be challenged, and within a few years I think a more enlightened view of the subject will become dominant. Some employers do not employ homosexuals, and there are many pressures in society against it. But there are complete legal rights to run bars, for instance, which cater to homosexuals, where homosexuals meet, and there are now quite a few "Gay Liberation" newspapers and groups of people, in practically every major city, and on a lot of university campuses. "Gay" is the word for homosexual that most homosexuals prefer. As far as I think, any society which represses the individual's sexual preferences and scorns them is not a free society. To me, it is no business of anyone else or of society what people wish to do sexually with each other, and there should be no laws or any kind of repression against anyone on this matter. Many people in the political movement in this country see with some unhappiness that the Cuban government places homosexuals in work camps to "make men out of them," which is ineffective anyway, and furthermore the government only reveals its own attachment to the morals of capitalist society in that way. After the Bolshevik Revolution there were positive steps to begin breaking down the family; all laws against homosexuality were abolished; and the liberation of women, encouraged under the leadership of Alexandra Kollontai, was under way. Around 1930, under Stalin…many of the old czarist ways were brought back, in family life, in morals, in education, in workplaces, etc., and the old régime of authoritarianism was reinstated. Despite the 1956 and later criticisms of Stalin, these laws still remain; among other reasons, this is one reason why I do not really see the USSR as a revolutionary society, i.e., one which is constantly challenging the established ways of doing things, and permitting its citizens to seek out and develop new ways, a new morality, a new family structure, etc. One of the slogans of the gay movement here is "No Revolution Without Us" because they have seen so many times that a revolution is made which only later turns against homosexuals and restores the old bourgeois morality. Why, indeed, should a homosexual be active in a movement which only oppresses him?
My assessment of the current state of the gay movement, as I saw it admittedly from some distance, was likely a rare statement reaching "behind the Iron Curtain." Certainly, Michael had shown interest in the subject, but I also felt the need to share my perspective with him, both out of a desire to express my own politics and to bring some enlightenment through my pen-palship to a rather benighted part of the world. It's a safe bet that he had never in his education stumbled on the sexually liberating aspects of the early Bolshevik years. The growing intensity of my conversations about homosexuality at the same time revealed and overshadowed my personal concern over being accused of "being one" myself.
Gay life in the GDR and USSR
I went to Amsterdam in 1971 to further research on my doctoral dissertation and would have visited my friend in the GDR, but Michael had already left for a year's study in Leningrad. Though censors blocked benign opera magazines as well as political publications, they clearly did not recognize the significance of the "Gay May" poster I sent him, which he understood and appreciated.
From Leningrad, he wrote expanding on this subject, with a clear, well informed, intimate look at gay life in the GDR and the USSR in those years:
I have read your last letter with great interest, specially the remarks about your love, about the sexual live. I know, in the capitalist countries are more possibilities in the sexual live too, more possibilities for homosexual men to meet (bars, clubs a.s.o.[and so on]). That is proper. In the GDR are some restaurant for homosexuals too (but only in the great towns). That's all. There is the possibility to meet and become acquainted. But all that is unofficial. The majority of the people can't understand the homosexuals and their problems, they abuse the homosexuals, make fun about homosexuals. The policy knows, where are the meeting-places of the homosexuals men, but they don't arrest.

I also know, that are in the capitalist countries, in Scandinavia, many magazines only for men with photos of naked, handsome, fine young men, with advertisements and possibilities for becoming acquainted. Unofficial in the GDR some men have these magazines too. It is illicit of course. Many homosexual men in the GDR, in Soviet union too, have their meetings in the toilets. That is not good. With official magazines, clubs, bars a.s.o. it is possible to have contacts with other men, who have same sexual interests. Altogether, in our country are many homosexual men (I think 4-5%), they have some possibilities but their sexual life is unofficial.

In the USSR is homosexuality illicit. If the miliz (policy) meets homosexuals, so the miliz arrests they, I know some schoolboys of the two ballet-schools here in Leningrad. They are homosexuals. One of them, 25 years old, was two years in the prison, only for his homosexuality. All homosexuals here in USSR have many anxiety. Bars, clubs, are not here in USSR, of course. Here in Leningrad is only one inconspicuous place, were the homosexuals can meet each other. They feel discriminated and the most of them are against the socialist government. They want also the same rights for their life. It is true.

I have also made love with boys, at first, if I was 17 years old. Then with girls, then with boys. In the GDR are many married young men, who also love boys. I love boys also, and it gives me much pleasure. Above all I love the beauty of the male body. But this feeling also knew the Old Greeks. Here in Leningrad, in the theatre I became acquainted with some nice boys. With one of them I had made love. Sex in groups I don't know….

If it is possible, send me please photos of naked fine young men or of homosexual love. But inconspicuous, that the post don't notice that. I also collect photos. I have some of them in the GDR, but no many…. Or if it is possible, that you can get adresses of homosexuals who have interest to write homosexuals in USSR or in GDR, send me the adresses please. It gives not other possibilities to get contacts. That will do! I write so many about homosexuality and nothing about the heterosexual love. But I think it isn't necessity. That is here the same like in other countries.
Michael's letter came like a carrier pigeon across a vast abyss of Cold War politics and culture. So my East German pen pal and I came out to one another, the high point of my far-flung correspondence. Who, reading these words, would not feel moved by Michael's openness and his so many unmet, dangerous desires? It's so telling about those times, and about the socialist systems, that he makes such a hard distinction between what is "official" and "unofficial," what is illicit, and the simple, natural behavior that could bring a guy two years in a Soviet prison. I am struck by the risk Michael took even to write me such a letter, knowing that mail gets intercepted.
How could he imagine my sending him photos of handsome young men, not to mention the trading of names and addresses of homosexual correspondents, and not getting himself—and them—in unimaginable trouble? He was a Party member and a youth leader! He could easily have been expelled from the USSR and sent home, or imprisoned, or made to inform on friends, roommates, and fellow students. No wonder gay people turned anti-socialist and anti-government. Of course, we in the West also had our many horror stories—beatings, arrests, jail, getting fired from jobs, kicked out of home, shock therapy, and so on. That is why the gay movement existed, to address those issues.
A week in the socialist GDR
I returned to Amsterdam the next summer. Michael had completed his ten months of study in Leningrad. He had written his thesis on the integration of art and architecture in recent Soviet construction, mostly housing complexes and subway stations. We stood at comparable points in our evolution, educational and sexual. And now, back in the GDR, he invited me for a week's visit, to his hometown of Schwerin, where his mother lived, to Rostock and Stralsund, and to Greifswald, his university town, then to Berlin (East, of course). Travel to East Germany presented its difficulties. You had to stay in government hotels, and you had to have reservations for each night. Toward Americans, with whom there were no diplomatic relations, they behaved highly suspiciously. Most people would have been discouraged from visiting the country. It was no tourist destination. But I had my reasons. I spent the week of July 29-August 6 there.
I wrote a postcard home to my sister: "Well, here I am in that forbidden land, and everything seems quite similar to Western Europe, although there is a certain absence of the freakiness we enjoy there. A friend of mine is showing me around (a party member, no less). There is much less dogmatism here than PL [Progressive Labor Party] always had." I had brought Michael some articles of men's clothing a grade or two more fashionable than he could acquire in the GDR and some photo books of handsome young men. Naturally, I saw much less commercialism there, hardly anything of a luxury nature for sale; it was a pleasant backwater of European life that had seemed to skip a generation. Historic preservation and restoration from the war rated as high priorities in the GDR: They wanted to showcase the achievements of socialism by saving the best of the past and adding a collective policy overlay. Restaurants and public facilities had a bland utilitarian cast, but people are people everywhere—laughing and joking, studying, traversing the streets, going to their jobs, taking trams and trains, visiting museums, swimming in the North Sea. I used to wince when I'd hear Western descriptions of Eastern European life as grim and gray: In spy movies, the weather was always overcast. I remember beautiful summer days. I don't mean to gloss over intellectual and political repression, even some very harsh measures the system practiced. I would likely not have felt comfortable living there. But through my visit of solidarity and friendship, I wanted to do my small part in overcoming the mutual distrust and help to improve relations.
Michael spent four or five of those days with me. He had committed himself to that and carried through most honorably. Possibly I turned out not to be the person he expected. When I saw him with close friends he was loose and jovial, while he seemed formal and "correct" with me. Perhaps I only observed the problem of two nationalities and two cultures, and two well-intentioned people struggling to communicate in foreign languages.
But I did feel some attraction. Whatever fantasies I may have entertained about a torrid East-West affair with Michael never materialized. He may have been too nervous about being caught at it, or maybe I just didn't interest him in that way. Germans today have let go of some of their renowned "correctness," but at that time, and in the highly controlled society of the GDR, I should have expected it.
An atmosphere open to the world
I had embraced what I would refer to jocularly as "anarcho-Stalinism." In other words, I had an anarchist sensibility, but with enough authoritarianism thrown in to get things done! I had known anarchists and liked their radical countercultural ideas, but had scant tolerance for their generally meager accomplishments. After the November election, which George McGovern lost spectacularly, I sounded off to Michael about my disgust with the Soviets, adding some prognostications about the future of Marxism in the two Germanies:
I was shocked…that in our press it was reported that the Soviet press favored Nixon—that is, it not only predicted that he would win, which is understandable, but it also supported him over McGovern. I guess when it comes to politics the USSR is interested only in grain sales and cultural exchanges, as well as peaceful coexistence, and not in encouraging the most progressive forces in the USA or in other countries. McGovern promised—and I think he would have honored his commitment—to get out of Vietnam completely within three months after he became President. And now the Soviets have to look on while Nixon continues and even expands the murder in Vietnam! Is that revolutionary leadership?…

I know that there are a lot of reactionaries in the FRG, and that it is a capitalist state, etc., but still, I hope that if there are more West Germans who come to the GDR, especially leftists, that you will talk with them and learn how Marxist thinking is developing in a society without controls on ideological thinking and research. There are a lot of excellent Marxist critics and writers in the FRG, and when your government warns its citizens not to fraternize too much with West Germans, I think it is also…preventing you from talking with the leftists as well as the bourgeois people who will also be in the GDR more now. I believe that this movement will take place anyway, though, and within two or three years there will be in the GDR a number of young people who, remaining Marxists, will be very critical of the government for being too conservative in a number of ways.
And Michael soon had his reasons to express his shock at the United States, when Nixon executed his infamous Christmas bombing of North Vietnam, against which the whole world exploded in protest. Well, at least the year 1972 was one of success for the GDR insofar as it established a large number of diplomatic relations with other countries, though not the U.S. In early 1973 Michael acquired an important assignment, to prepare a scholarly interpretation and exhibition on the work of 19th-century German Romantic painter Caspar David Friedrich.
That year Michael took a quick crash course in Swedish because that July Berlin hosted the 10th International Youth and Student Festival, "For Anti-Imperialist Solidarity, Peace and Friendship," and he had been placed in charge of hosting a Swedish delegation. He wrote me a full account of his experience. In my translation:
The political discussions in the streets were very interesting. Here everyone could voice their opinion, and everyone distribute their propaganda material. Participants included extreme left Maoists, Trotskyists, Liberals, Communists, Social Democrats, and right-wing forces. Thus the discussions were always very interesting. FDJ (Federation of German Youth) members conversed mostly with members of the reactionary CDU (Christian Democratic Union) from West Germany, who always wanted to instigate provocation. So in Berlin we had an atmosphere open to the world, such as I have never experienced before. There was a very big solidarity movement with the peoples of Indochina and Latin America. There were a huge number of meetings for Vietnam, Laos, Cambodia, Chile, etc. The Swedish youth had a meeting with the delegation from Vietnam. That was a high point for the Swedish delegation, because they have been conducting active solidarity work in Sweden for years. It was a moving demonstration.
Michael went on to describe an open-air performance of Beethoven's 9th Symphony for 30,000 listeners, a concert by South African performer Miriam Makeba, and "countless impressions, all of which I can hardly remember." It must have been truly remarkable for East Germans to celebrate with young people from all over the world and hear how they were thinking. The spontaneity and candor of those days would not endure long beyond the festival, of course.
Modest progress on the gay front
In my own brief academic life, I did a three-year stint at a community college in Connecticut, but was still "ABD": By 1975 I had completed the requirements for my doctorate in history, All But Dissertation. I admit to a certain sense of competition with Michael, who in April that year had achieved his doctorate and had begun signing articles with his new title of "Dr."
In the last months of 1977, after I wrote to him announcing my breakup with a lover of one and a half years duration (also named Michael), GDR Michael wrote to me saying that he was still happily paired with his boyfriend Rolf: He seemed to be doing better in the romance department than I was! But he had some exciting news to share: There existed now in the GDR the beginnings of a gay organization, now mostly periodical discussion groups about questions of culture, art, and special problems unique to us. A few weeks back there had been a report on the gay movement in the USA. And he added, there was nothing anti-state or anti-socialist about it, just the desire to make life a little better for a country with a lot of difficult problems. He and Rolf planned to attend the group's New Year's Eve party. Belated news, yes, but I received it with pleasure. Socialism and gay liberation/sexual freedom just might not be 100% incompatible in actually existing socialist countries!
A few months later Michael sent me a document Auf Deutsch called "Five years gay-group in the G.D.R.," by "Kurt Martin," a pseudonym he used for this article (his initials reversed). I translated it, with the help of some German-speaking friends of mine in Hartford. It spoke of a country manor in the Berlin suburb of Mahlsdorf where every other week the only gay group in the GDR met, just as Michael had described in his letter, but now in greater detail. Toronto's gay paper The Body Politic condensed this "Report from East Germany" into a news brief, but the whole translation never got published.
I moved to New York City in 1979 and was a founding member of the Peoples' Voice Café, a radical Saturday-night coffeehouse for performers—which is still going strong, by the way, after 40 years! For our program of March 1, 1980, we scheduled the singer Mara Goodman in a set of Hanns Eisler and Kurt Weill songs. To kick off the evening, I offered a guest set of seven songs by Marc Blitzstein, the leftist composer whose biography I was researching, to honor what would have been his 75th birthday the following day. That performance marked my official début as a solo singer with a voice that, while untrained in a systematic way, came across naturally and effectively, and gave me the confidence to use my singing voice for many years to come. Through the efforts of Michael, the leaflet for that night got reprinted in the April issue of Brecht-Notate, newsletter of the Bertolt Brecht Center in East Germany, although Mara's title, "We Have a Choice!" curiously got mistranslated as "Wir haben eine Stimme" (We have a voice). Oh, well, at least it rhymed.
The year 1979 marked the 30th anniversary of the German Democratic Republic, and a U.S. Committee for Friendship with the GDR emerged, sporting a long list of supporters. Their unidiomatic Preamble of Purpose horrified me, so I sent in my $3 membership with an offer to rewrite their statement into idiomatic English, which they accepted. The Committee no doubt contained a number of CP members, but like so many other "front" groups, it served both Party and larger purposes—professional exchanges, commerce, friendship, avoidance of nuclear war. At one point the New York Times published my letter urging the U.S. to finally face facts and grant diplomatic recognition to the GDR. Eventually, it did.
Berlin, capital city of the GDR
Michael had moved to Berlin, the capital city of the GDR, to prepare a huge celebration for the centennial of the Deutsches Theater. With his degree in hand, Dr. Michael Kuschnia obtained a commission, to research a book about the theater, a project in which Michael's backgrounds in art, history, music, and criticism would all come together in a large-scale public statement of national significance. I felt pleased for him and terribly envious of the public support for his work. He visited West Berlin for the first time, his first excursion into a non-Soviet Bloc society, to dig into the archives housed in that part of the divided city. Subsequently, the authorities let him out to Austria and elsewhere in West Germany for further research. And all this time, as he was preparing his book with state funding, I was applying for grant after grant to write my Blitzstein book, and never received a penny. His stunningly beautiful volume, hundreds of pages long, studded with historical photos, appeared in 1984, and he sent me a copy.
Much of my correspondence with Michael in the 1980s reflected my rage at the damage Ronald Reagan was doing to the United States. I felt a little self-conscious continuing to work so hard on the Blitzstein book when the country needed full-time activists against Reagan. I did my best to balance my research (which I also considered my political work) and my activism.
As the 1984 election loomed, only Jesse Jackson excited my attention. "When November comes," I wrote to Michael in the GDR, "I will surely vote for anyone who is not Ronald Reagan, but I feel offended that once again…we are reduced to the sorry position of voting for someone who is not as awful as the other guy. There is simply no vision, no bold break, no enthusiasm, no movement toward a qualitatively different life—of course not, how could there be?" It now seems ironic that I complained to Michael about my voting choices—I simply had to vote for the Mondale/Ferraro ticket—when he couldn't vote at all!
For a couple of years, 1984-86, I worked as publicity manager for the historic music publishing house of G. Schirmer, which represented the catalog of Soviet composers in the U.S. The firm had also published some compositions by the Czech exile composer Bohuslav Martinu, and we received a visit by a lawyer from the Czech Music Fund in Prague to sign some new contracts. This fellow and I hit it off with some cordial conversations, and to my surprise he invited me, as a (quite insignificant) official of the international music publishing industry, to attend the Prague Spring music festival in May 1987. In the event, Schirmer was bought out in 1986, and my job was eliminated, so I had to inform the Czech lawyer that I wouldn't be able to attend. To my even greater surprise, he honored the invitation as promised, and I started planning my trip.
While in the neighborhood I wanted to visit Michael in the neighboring GDR again after 15 years. We'd kept up our correspondence all this time. By now he had a new position too, a rather high one, as a kind of employee relations manager with the Berlin State Opera, reporting directly to the company Intendant. He had now traveled with the company to various other socialist countries, and recently to Japan for a month. I tried booking some nights in Dresden or Leipzig on the way to Berlin, but the East Germans, hungry for Western currency, insisted on reservations only in the best hotels, and I couldn't afford that additional expense. Maybe I should have bitten the bullet and paid, but was unemployed then and decided instead on a train straight through from Prague to Berlin. Through my own decade-long career with the New York City Gay Men's Chorus, I had met a West German singer, B., visiting the U.S. with his Berlin gay men's chorus, and he offered to put me up in West Berlin.
I spent a week in Berlin, West and East, passing through Checkpoint Charlie to visit with Michael on a few occasions—not every day because his work responsibilities kept him quite busy. I saw his company's working-class production of Carmen, directed with singing actors in Brechtian style, a sort of "Carmenhagonny"; and in the West, at the Deutsche Oper Berlin, a wonderful guest Boris Godunov brought by the Kiev State Opera. I also attended a rehearsal of B.'s gay men's chorus, and it instantly brought me back to our first wobbly beginnings close to a decade earlier. In the GDR, too, a book had just come out with positive recommendations for improved conditions for gay people. East Berlin struck me as quite developed and clean, and not so commercial as West Berlin, and nowhere near so sad-looking as Prague. Information about AIDS saturated West German TV; the GDR had seen only a few cases so far.
Beginning of the end
Michael finally received his copy of Mark the Music, my Blitzstein biography, after it had languished in a Berlin post office for several weeks in 1989 without notice of its arrival. He wrote to thank me and included an update both on his personal and professional life, as well as on events and trends in the GDR. In my translation: "The GDR presently has a lot of problems with people who are leaving the country. Just this year, there are probably some 100,000 fewer people in our country. And in the year of the GDR's 40th anniversary! Not a pretty situation, no ground for optimism. It's not an easy time." The signs of leakage were apparent to all, but the outcome still cloudy: Just six weeks or so later, on November 9, 1989, the Berlin Wall opened, and East Germans literally streamed across the border, many of them stepping outside their borders for the first time. An era came to an end.
Michael wrote to me in the dimming light of the German Democratic Republic on July 18, 1990. A few months earlier I had moved to Los Angeles. I'll quote it at length (again, my translation) because it is so telling a document as an authentic contemporary cry from the heart. Michael's insights informed my version of events in Eastern Europe for years.
Yes, we now have a "revolution" here, capitalism is coming to Greater Germany, from which many had pain in the past, and perhaps will again.

Naturally there is much that is positive for the future of GDR citizens. Above all, contact with the West is possible, everyone can travel wherever they want (if they have the money for it). And there's a free press, free newspapers, no censorship, no more secret service. But what is the price for it? Before, there were no unemployed, and now there are already 200,000 in a country of 16 million. And that is only the beginning. For two weeks now we've had the good West German money. But people here receive three times less money for their work as in the West. And the prices in the supermarkets, etc., are as high as in the West (up to two weeks ago bread cost 0.80 [GDR] marks, and now 3.20 Deutsche marks).

There are many social problems. Social institutions are being lost to private business, and taxes are rising. There's no money for culture. The State has no money; until now, the government supported artists. The State Opera has huge financial problems, and personnel will have to shrink.

And then all of a sudden we see open neo-fascism, bands of terrorist skinheads, and an unattractive German nationalism. I believe the countries surrounding Germany are very skeptical of future developments. The fact is not that two states are uniting, no, but rather the GDR is being annexed by West Germany: No more GDR identity will remain. I have lived 40 years in a state that suddenly exists no more. A strange feeling. Everything comes from the West, in the supermarkets only Western goods, the West German school system, and unemployment right after the end of schooling. That was previously unacceptable. Vacation camps for children, recreation resorts for workers for little money, all gone. You see I am not very optimistic.

I am still working at the opera. But my boss was a member of the SED. Therefore no one knows how long he will remain as our chief executive. And when he goes, I will have to go also. I was also in the party. Most members of the SED had ideals, and no one ever believed that [Erich] Honecker and others, these corrupt party leaders, were criminals. Ideals are gone, the country is gone. Where are the ideals now? In capitalism? Who could believe that so easily, after 40 years of the GDR? There are also more cases of suicide in the GDR. People see no way out, but they do see many social and human problems. It's all happening so fast, you can't absorb it all, time is running ahead of people, who are becoming nervous and frantic.

Berlin is once again a city without a wall. When you come to Berlin again you won't recognize it. It's naturally wonderful that we have freedom throughout the city. Especially the older Berliners, who knew the city before the wall, enjoy the experience of a unified Berlin.

Myself, I'd rather not stay much longer in Berlin. I'd rather return to the Ostsee [the northern coastal strip]. Berlin is now so hectic, so nervewracking. Maybe it's also that I'm older. Maybe you too left New York because you're older, and prefer more peacefulness and beautiful landscape. That's the case with me.

But there I'll need a new job. And that's difficult today, for there's so much unemployment, above all for intellectuals and artists.

So yes, in theory I could visit you now in California. It's possible. But it's expensive and costs a lot of money. And I have none. I didn't save, neither in the old time nor in the new time. But it's my great wish sometime to travel to America and visit you. I wonder how many more years that will take. How nice it would be now to be in Venice and look out over the Pacific from your apartment. But one day I will come.

So, dear friend, this is the news from here. But don't worry, even if the West is open now, I will never forget our friendship of some 25 years. And not even if the mail doesn't get any better. I think of you often and well. Greetings to your friend Rick from me.
In his next letter, he enclosed mint copies of the last postage stamps issued by the GDR. There would never be any more.
A disturbing report
It had been some time, maybe as long as a year, since I last heard from Michael, so I contacted B., the West Berlin gay singer I had stayed with in 1987, and asked him what he could find out, now that no borders separated them. On December 23, 1991, he wrote to me:
the assistance of the Intendant (Director), who leaved the opera house nearly a year ago. After the change (you know, the big change from DDR to big Germany!), he became Director of the Opera-Bibliothek, but after a while he leave the house by night (!). It was not a secret, that he worked with the Stasi (secret-service). Sorry to have no better information. Nobody knows, where he is now. You know, that in this time here are big skandals about Stasi-Membership's, it's like Ent-nazifizierung [de-Nazification] after 1945 and it's for lot of people realy hard, you can imagine!
I hardly knew what to make of this report. The specifics about Michael's professional identity were accurate enough that B. couldn't be confusing him with anyone else. Nor would he have had any reason to make wrongful accusations. Not knowing his current address, I had no way of contacting Michael at this point. I just figured I would wait and see what happened. As to the truth of the allegation, I have to admit that it sounded consistent with the kind of position Michael occupied. Here was someone with a high level of responsibility in a closed and repressive society. He no doubt knew a great deal about the personal lives and opinions of many of the musical and theatre figures he dealt with on a regular basis. He also had the opportunity to travel abroad, not only to Western Europe but to Japan. Besides which, although being homosexual was legal in the GDR, that might have been held against him in any number of ways. He had gay correspondents in foreign countries, such as myself, with whom he shared profound intimacies about his life, and who sometimes sent him printed materials, recordings, or photos that the postal censors confiscated. And he was a Party member and a writer who published reviews, articles, and books. So, with all his relative privilege, it hardly seems implausible to me that he cooperated with the state authorities if only to preserve his own skin and his fragile status.
Throughout the Vietnam War period, and certainly from my eye-opening trips to the Soviet Union, the GDR, and Czechoslovakia—and events have confirmed this for me a thousand times since—I have concluded that just about all of us are "good Germans," so to speak. We all make our compromises with the systems we live in. I have developed the habit of restraining my instinct to condemn, not at all sure what I might have done in similar circumstances. In Michael's shoes I might well have believed that an offhand remark from a baritone in his opera chorus about the lack of "freedom" in the country constituted a signal that on a trip with the company to the West, he might defect and give the GDR a bad name.
So I do not know the veracity of this report. It's something I never cared to discuss with Michael. My personal need to ascertain the truth about his Stasi connections never outweighed my desire to spare my old friend embarrassment and shame. And I do think he had a sizable portion of both: His letter of July 18, 1990, expressed his fears for the capitalist future but also reveals a degree of shock at his corrupt country and leaders. Plunk in the midst of it all, we barely even know what we are looking at. In a society as deeply compromised as the GDR was, as thoroughly enmeshed in the system as just about everyone had to be, few people could truly escape a charge of collaboration. The masters of the new unified Germany made heavy use of the Stasi files to discredit not only the individuals found to have cooperated with it, but indeed the whole East German historical experience, much of which, after all, can be seen in a positive light. It may ultimately be a cop-out on my part, but here I prefer to side with the ancient adage, "Judge not, lest ye be judged—who among you will cast the first stone?"
Eisenach
Michael had not forgotten me, however. To be sure, there were times in between jobs when I heard from him only perfunctorily, with birthday or New Year greetings. But now he seemed pleased with his new work as the Number 2 guy at a regional theatre in Eisenach. Eisenach sits in a beautiful region of Thüringen (Thuringia), in the southwest corner of what had been the GDR, a part of the country I had never seen. Assuming he kept working there, I thought maybe one day I'd visit him again.
As it happened, before I would visit him again, Michael came to visit me. In August 2003, Michael made his first, and so far only trip to the U.S. He visited a couple of East Coast cities, then came out to L.A. to see me. I was now living in my own home, my first ever. We did some of the tourist things and enjoyed ourselves. Our conversations had a peculiar edge politically speaking: He had made his adjustment to a capitalist society over the past 13 years and came across nostalgically resigned about the earlier years of his life in the GDR. I had been leading trips to Cuba, feeling some of the same enthusiasm for socialism that I had experienced in the GDR and the USSR, wanting to appreciate the positive factors but knowing all too well that vast improvements could be made. After L.A. Michael moved on to the Grand Canyon and some of the other big national parks, and back home.
I saw Michael once more. I had an invitation to give a lecture in Florence about Marc Blitzstein. It was 2005, the composer's centennial year. I was traveling with Rob, my then-boyfriend. After a week in Italy, Rob and I rented a car and drove up to Eisenach. From there we would fan out each day for side trips to Erfurt, Weimar, Apolda, and other nearby locales. It amused us to discover little reminders of socialism still extant, like the stained glass window-mural at the Eisenach train station, showing the happy farmers and workers of the socialist imagination. We were pleasantly shocked when Michael arranged our quite romantic room in the penthouse of the Galleria Frauenberger Hotel (located on Karl-Marx-Strasse!) for almost a week and refused to take any reimbursement for it. He got us in to see a couple of performances at his theatre company facing the town square.
Eisenach is the birthplace of Johann Sebastian Bach, and the town features a number of Bach-related points of interest. It is also the home of the storied Wartburg Castle, with an almost thousand-year-old history, long a sought-after destination which Rob and I toured. Its Hall of Minstrels is celebrated in Wagner's opera Tannhäuser. The famous soprano aria "Dich, teure Halle" is addressed to this hall. In a room in this castle, too, Martin Luther translated the Bible into German. This part of Germany remained out of bounds for so many years to Western tourists. I believe it is still neglected now, simply out of ignorance of its storybook beauty.
Meeting Michael again in Germany, I had the chance to ask him a question I'd wanted to for many years. "All the time you were in the Party and going forward in life," I said, "what percentage of your commitment to the cause was out of genuine belief in the rightness of socialism, and what percentage looking out for your own career advancement?" He didn't hesitate long before answering (perhaps he'd already pondered this question himself): "Sixty/forty." I felt satisfied with that response. It seemed humble and honest, and I believe it was. The longer I thought about it, it occurred to me that anything less than the political 60%, and any more than the career 40%, would have made him appear an opportunist: Better he should comfort himself (and me) with the idea that he felt fully invested in the success of this unique socialist experiment in the German Democratic Republic, and at the same time did not overlook the advantages and opportunities available to educated, politically clean professional people. After all, everyone wants to earn the respect of others around them and enjoy a few of the finer things of life—mainly travel in his case, as I don't think he ever earned much money. There is nothing about Michael and his life choices that I am in a position to criticize. He managed as best he could under a system I know I would not have been content living in, although had I been born into it, as he was, I would likely have made my peace with it as he did. He lived modestly, enjoyed his romantic affairs when he could, and never exploited anyone personally so far as I know.
In 2012, I stumbled on a book I had not seen before, Gay Voices from East Germany, a collection of interviews conducted in the 1980s and edited by Jürgen Lemke. By 1991, the year it found its way into print, by the Indiana University Press, the book was already dated, as the GDR had folded the year before. My more than 40-year friendship with Michael made me curious to see how other gays (all male in this volume) handled their sexuality within the East German context.
In 2017, I traveled with a friend to Scandinavia and emailed Michael more than once inviting him to come to Copenhagen, our last stop, and spend a few days with me there at my expense after my friend had left. But I never heard from him. Of course, I feared the worst, as he had previously told me of an open-heart operation. Eventually, he explained that at some point he had canceled his internet service, so our easy means of communicating electronically were now gone. He didn't even care to set up an account at the local library, or at the theatre where he was no longer working but could have had some access. I think he just wanted to simplify his life and cut out the noise and aggravation as much as possible. In recent years he has been helping Middle Eastern immigrants get settled in Germany, teaching them the language and customs. And he has been a volunteer walker at a dog rescue center. He sent me a clipping from the local paper about his work there.
I have gone back to writing snail mail letters to Michael, but my informative narratives of the events and developments in my life have gone unreciprocated. After 50 years of an intense, devoted yet distant relationship, I think I just have to be grateful for the perfunctory greeting cards I receive each year, for Christmas and my birthday, reminding me, thankfully, that he's still alive.
"My Dear Eric," he writes this year," I hope you are safe, warm, and healthy in the true Corona-times! and you are doing well. May Santa arrive at your house with goodies for everyone…. Your Old German friend Michael."
Sometimes I wonder, when one of us goes, and of course it will happen, will the other ever know?
This year's Christmas card had a striking photo of Eisenach's wintry Wartburg Castle draped with snow.