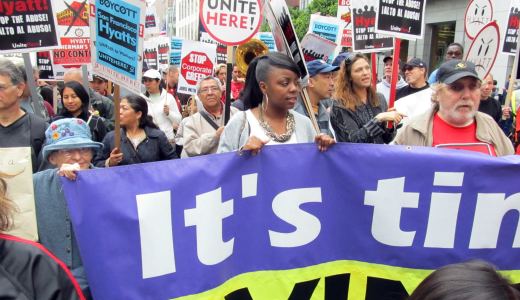 SAN FRANCISCO – Hundreds of hotel workers and their supporters thronged through the heart of downtown Sept. 5, marking Labor Day with a lively, noisy march from posh Union Square to two prime hotels still holding out in prolonged contract struggles.
As marchers wound their way past the Hotel Frank and then to the Grand Hyatt where they picketed and rallied, a sea of banners proclaimed the participation of dozens of area unions, and dozens more community and faith organizations.
Asked why he was giving up part of his holiday weekend to march with the Progressive Jewish Alliance's contingent, conspicuous in bright orange tee-shirts, marcher Sam Ruben said he thinks society "is only as good as the way we treat our lowest paid workers. As a Jew it's my duty to speak out for those who can't speak for themselves, and to amplify the voices of those who are fighting for their rights."
College student Samatha Wu said she came with a friend, because she wanted to learn about the workers' struggle. "It's good that people fight for what they need and want," she said.
Josh Williams, founder and captain of the International Longshore and Warehouse Union's famed drill team, said he had joined hotel workers locked out from their jobs in nearby Pleasanton earlier in the weekend, because "I wanted to spend the weekend doing something constructive for labor."
With Williams and other ILWU members was pensioners leader Leroy King, a union member since 1946, and currently a member of the city's redevelopment commission. King said proudly that he's "been at every solidarity march" for decades and has been arrested many times.
As the crowd rallied near the Grand Hyatt, Mike Casey, president of Unite Here! Local 2, which represents some 9,000 hotel workers in the city, recounted the long and continuing contract battle. With over half the city's hotels including other major chains having signed agreements, he said, the Hyatt is a major holdout, with struggles continuing in Los Angeles, Chicago and Hawaii.
The big issue now, he said, is Hyatt's refusal to recognize the right of unionized Hyatt workers to support workers in nonunion hotels.
Unite Here! says Hyatt is the worst employer in the hotel industry, imposing dangerous workloads, firing career workers and replacing them with temporary minimum wage workers, and in several locations refusing to recognize workers' right to form a union.
Victoria Guillen, who works in the stewarding department at the Grand Hyatt, addressed the crowd in Spanish. The hotel "tried to fire me for becoming pregnant," she said. "My job was saved by my coworkers who are the union, as well as the community." Guillen, accompanied by her now-toddler daughter, pledged to keep up the fight until the rights of Hyatt workers everywhere are respected.
Mark Norton, a longtime Local 2 member who has worked at Hotel Frank since 1998, described what happened after Wells Fargo took over the hotel in a foreclosure sale, and sold it to a financial speculator. The new management then refused to recognize a union contract in effect for over 40 years, has cut staff and ratcheted up workloads.
"We hear a lot about democracy here … but when do we get to vote about the money the Hotel Frank has, because we earned it for them?" he said. "We don't! We need workers in charge of running this country, the world. Then we'll have democracy!"
In other Bay Area labor actions, workers at the Castlewood Country Club in Pleasanton, locked out for over a year and a half, turned out in uniform, ready to work, after the National Labor Relations Board last month charged management with keeping the workers from their jobs because of their support for their longtime union, Unite Here! Local 2850.
In Santa Clara, workers and supporters picketed the nonunion Hyatt Regency Santa Clara, which is refusing to sign a card check neutrality agreement.