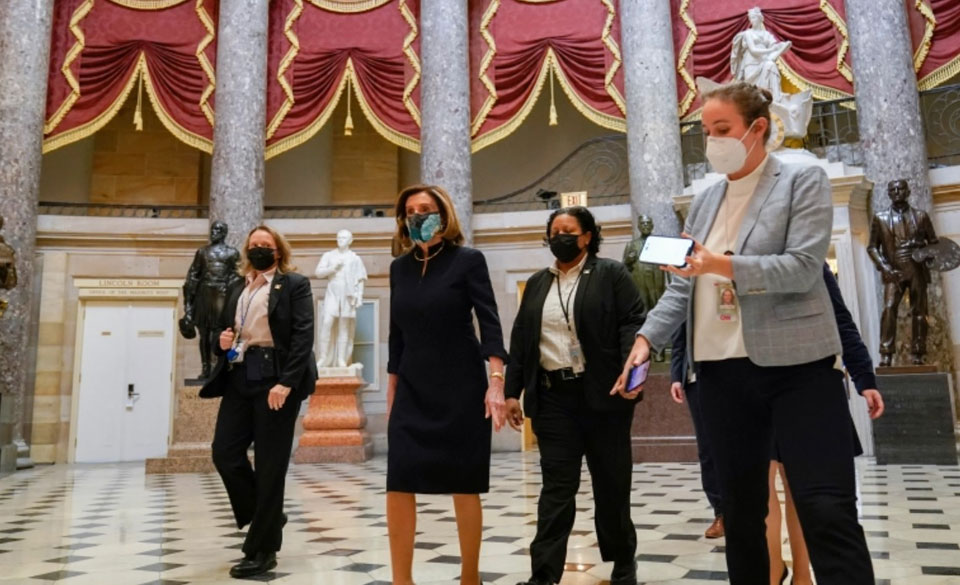 WASHINGTON—In a bipartisan move, with 10 Republicans joining Democrats, the U.S. House has voted to impeach GOP Oval Office occupant Donald Trump for "incitement of an insurrection"—the Jan. 6 rebellion to overturn the U.S. government and keep himself in power.
"The president of the United States instigated a coup. If this is not an impeachable offense, I don't know what is," said Rep. Jim McGovern, D-Mass., during the floor debate.
The debate was underway all day Wednesday, culminating in the vote for impeachment in the 4 p.m. hour Eastern Time. A total of 232 House members voted in favor of the impeachment resolution, which also includes citing him for repeated false statements asserting the presidential election results were the product of widespread fraud and should not be accepted by the American people; 197 Republicans voted no.
"The president of the United States is an insurrectionist," Rep. Sheila Jackson-Lee, D-Texas, declared. "He led an insurrection against the United States of America. His words, 'We have to take the nation back with strength'…tell domestic terrorists, many of them white nationalists, who support him politically" to invade the Capitol.
"The actions of the president of the United States demand urgent clear action by the Congress of the United States" to impeach Trump, House Majority Leader Steny Hoyer, D-Md., said. "There is no doubt in my mind the president…broke his oath and incited this insurrection."
"This was not a protest. This was an insurrection," said McGovern, opening the debate. "It's a miracle more people didn't die" than the two Capitol Police and four Trumpites, one of whom was fatally shot while trying to lead the mob into the House chamber.
Rep. Kathy Castor, D-Fla., called the Trump-backed attack "the single most depraved betrayal of the U.S. Constitution by a president."
Progressive organizations and unions spent all day organizing members and supporters to call or text lawmakers, urging them to impeach Trump for that high crime and misdemeanor.
"The Jan. 6 attack on our country by right-wing, white supremacist vigilantes was directed by the president and complicit Republicans who refused to honor the will of the people to certify a free and fair election," the Office and Professional Employees said, before providing a toll-free number (855-942-0208) to call.
"This is what treason looks like: Confederate flags in our Congress, while some who swore to serve and protect us and others who pledged to govern in our name enabled these armed insurrectionists.
Every elected official who incited these attacks and whose lies fueled these flames must be removed or resign. Never again can we allow any elected leader to marshal forces to attack our democracy."
Some Republicans have announced they will vote to impeach, the first of whom was Rep. Adam Kinzinger, R-Ill. One of the most notable is Rep. Liz Cheney, R-Wyo., the House's #3 Republican and daughter of former GOP Vice President Dick Cheney. Her father is a noted advocate of presidential tyranny.
"The president of the United States summoned the mob, assembled the mob, and lit the flame of this attack. There has never been a greater betrayal by a president of the United States of his office and his oath to the Constitution," Rep. Cheney said. Hoyer praised her remarks.
And an angry Senate Majority Leader Mitch McConnell, R-Ky., has let his colleagues know they can vote their consciences when the single article of impeachment, charging such sedition, comes over there.
But McConnell refused to call the Senate back to consider it before Trump's term ends at noon on Jan. 20. He did, however, reportedly speak with Democratic President-Elect Joe Biden about a two-track Senate procedure, splitting time between handling Cabinet nominations and an impeachment trial.
But most GOP defectors are doing so only after backing Trump to the hilt for the last four years. And most Republicans pleaded, hypocritically, for unity, and McGovern called them on it.
"Some of our friends"—the Republicans—"are preaching unity but not acknowledging they gave oxygen to Donald Trump's big lies," he retorted. He also quoted an unnamed House Republican telling the Trumpites beforehand "today is the day we start taking names and kicking ass."
Outside Capitol Hill, analysts pointed out that leaving Trump in power leaves the country in peril due to uncertainty over Trump's potential conduct between now and Jan. 20.
A more immediate peril is Biden's inauguration that day. At least 15,000 members of the National Guard from D.C. and other states, as far away as Illinois, will be mobilized. An eight-foot-high fence has been erected around the Capitol.
The Secret Service, not the disgraced U.S. Capitol Police, will command security. Thousands of other police and tactical officers will be called in, and police agencies are already coordinating plans—unlike what happened on Jan. 6.
"We have asked Americans not to come to Washington, D.C., but to participate virtually," D.C. Mayor Muriel Bowser told a Jan. 13 press conference. A "special national security period" with "stepped-up deployment" by the military was approved, she said.
She's also urging the government "to cancel any and all applications" for demonstration permits through Jan. 22. Parking garages were closed on Jan. 15, and she urged people to stay out of downtown D.C. unless they had essential business.  "Clearly we are in uncharted waters," Bowser commented.
Like free stuff? So do we. Here at People's World, we believe strongly in the mission of keeping the labor and democratic movements informed so they are prepared for the struggle. But we need your help. While our content is free for readers (something we are proud of) it takes money — a lot of it — to produce and cover the stories you see in our pages. Only you, our readers and supporters, can keep us going. Only you can make sure we keep the news that matters free of paywalls and advertisements. If you enjoy reading People's World and the stories we bring you, support our work by becoming a $5 monthly sustainer today.