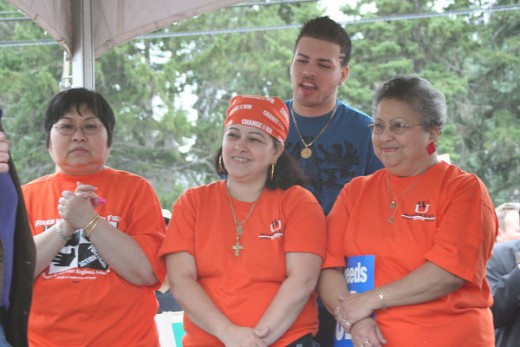 BROOKLYN, Ohio — With pressure escalating on Hugo Boss to cancel plans to shift production to Turkey, hundreds of workers, their families and supporters rallied in front of the embattled men's suit plant in Brooklyn, Ohio here, April 7.
Ohio Gov. Ted Strickland told the cheering crowd, "If Americans are good enough to buy Hugo Boss suits, if they are good enough to wear Hugo Boss suits, then they are certainly good enough to make their suits."
Strickland said his administration would do everything legally possible to keep the plant open, but "if they are unwilling to negotiate in good faith, Ohio will do everything it can to make sure the company pays the price."
Negotiations with Workers United, the union, representing the plant's 375 workers resumed Thursday, after the National Labor Relations Board threatened to uphold charges Hugo Boss engaged in unfair labor practices by canceling talks last December and announcing it would close the plant. The union had rejected a company demand to cut wages from $13 an hour to $8.30.
The German company has admitted its U.S. plant is profitable and that it wants to expand its share of the U.S. market. It simply wants to take advantage of $1 an hour wages in Turkey, the union has charged.
"We are strong. We are dedicated," said Wanda Navarro, a member of the union negotiating committee. "We are the people that made the company their profits. Please save our jobs!"
"The workers at Hugo Boss deserve our support," Congressman Dennis Kucinich said as cars and trucks on the adjacent roadway honked in solidarity. "Your struggle is emblematic of the fight for job security. You are asking for the opportunity to keep working, to continue the craft that you do so well."
To wild cheers, Kucinich introduced actor and social activist Danny Glover, who had taken the cause of the workers to the Oscar ceremonies and toured the plant meeting with the workers two weeks ago.
Glover said people in many parts of the world were aware of the fight.
"I am here because of the stand you have taken," he said. "We win when we stand together."
Jesse Gannon, representing U.S. Sen. Sherrod Brown, said he was wearing a suit made in the plant and the Senator planned to hold hearings to investigate the policies of Permira Advisors, the British private equity firm that holds majority ownership of Hugo Boss. Public employee retirement systems of a number of states have substantial investments in Permira. This includes Ohio, California and Pennsylvania whose retirement funds have sent sharply worded protests to Permira about the plan to close the Brooklyn facility, union officials said.
Over the past three weeks Hugo Boss has begun closing its assembly line and laying off workers. Only about 100 are still employed with total shutdown set for April 27, the expiration date of the union contract.
"There used to be 1600 workers when we were owned by Joseph and Feiss," said John Parente, who worked at the plant for 45 years before being laid off last week from the recut department. "I hope that, with all the help from the community, something good will happen. The union is doing a great job. The company never expected to face this kind of fight."
Photo: Hugo Boss workers wait for their turn to speak at the rally. Debbie Kline/with permission