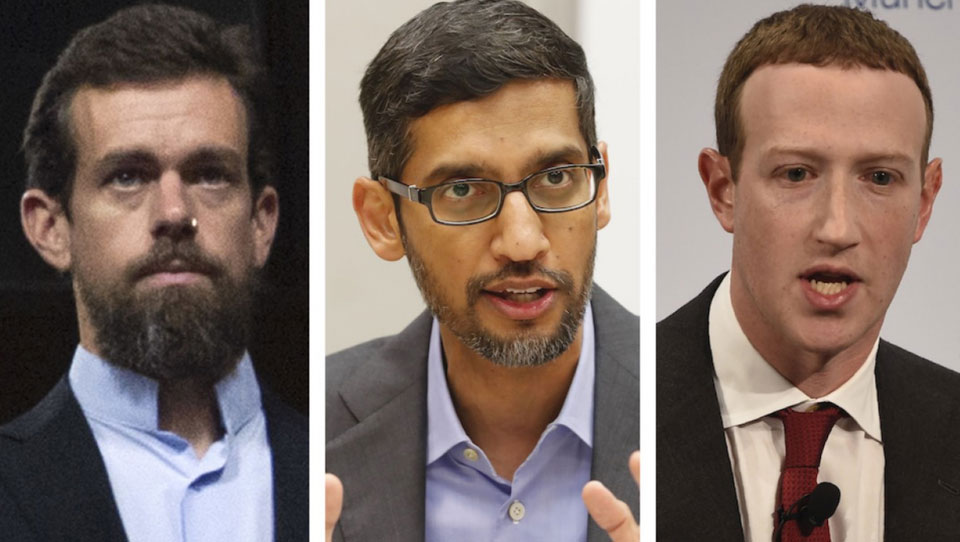 WASHINGTON—Call it the height of hypocrisy: Right-wing Republicans who spread lies and disinformation about "election fraud" on social media last year—and even about fighting the coronavirus this year–are questioning the CEOs of Google, Facebook, and Twitter about…spreading lies and disinformation on social media.
That's not to say Google's Sundar Pichai, Twitter's Jack Dorsey, and Facebook's Mark Zuckerberg are innocent lambs on the issue, which the House Energy and Commerce Committee took up on March 25.
Only that the GOPers don't have clean hands either—far from it. And if the panel's ruling Democrats don't expose their political foes' role, some outside groups and analysts already are, if only by implication.
The bluntest denunciation came in a Twitter exchange between free-lance writer and filmmaker Steve Beschloss and a reply from Sideline_Observer:
"It's been 78 days since the deadly insurrection and complicit members of Congress are still freely roaming the Capitol halls as if the laws don't refer to them," Beschloss tweeted. Replied Sideline_ Observer: "The fun is going to be the 'performance art' they put on today at grilling 'Big Tech.'
The lawmakers examined whether the three big high-tech media platforms have done enough to stop the flood of lies, disinformation, foreign propaganda, and more they've allowed into the U.S. political dialogue for years, from foreign and domestic sources.
The committee's five-page memo for members is blunt: "These platforms often ramp up their efforts against misinformation and extremist content in response to social and political pressure."
And the dangerous lies aren't just about politics. The memo points out the three media platforms have become conduits for misinformation, lies, and conspiracy theories about the coronavirus pandemic. Those fabrications even advocate resisting anti-virus moves, as do numerous Republican politicians.
Belatedly and half-heartedly, the three platforms have started to police their content, points that Pichai, Dorsey, and Zuckerberg made in the zoom-conducted hearing. Even so, they acted only after the damage was done to the 2020 voting—the Jan. 6 Capitol insurrection showed that—and after Google workers decided early this year to form their own union, Alphabet Workers United, affiliated with the Communications Workers.
Examples of lack of policing are obvious. Domestically, of course, there were the "Stop the steal" and "vote fraud" fulminations of former GOP Oval Office occupant Donald Trump, parroted by huge majorities of Republicans, from Congress down to city councils.
Three committee Republicans—Reps. Markwayne Mullin of Oklahoma, Billy Long of Missouri, and Earl Carter of Georgia—were among those "users" active in spreading the "Stop the steal" and similar lies last year, a Washington Post data reporting analysis of tweetstorms and social media posts found.
But the tech media firms willingly spread foreign and domestic lies and disinformation before 2020. Remember the Mueller report and its poster advertising "Miners for Trump" rallies in Philadelphia and Pittsburgh in 2016?  The platforms picked it up, misspelling and all, unquestioningly.
The Commerce Committee briefing memo for lawmakers, a nonpartisan analysis, doesn't mention politicians' promotion of lies via social media. It concentrates on the tech giants' role.
"Facebook, Google, and Twitter operate some of the largest and most influential online social media platforms reaching billions of users across the globe. As a result, they are among the largest platforms for the dissemination of misinformation and extremist content," it says. "Users of these platforms often engage more with questionable or provocative content, thus the (platforms') algorithms often elevate or amplify disinformation and extremist content."
Neither do most of the outside critics of the tech firms. They aren't talking about the sources as much as they're criticizing the conveyor belts of lies.
"Social media and tech platforms are vectors for extremism, racism, misogyny, lies, and violence," the Women's March says. "We saw the deadly consequences of this on Jan. 6 after Trump and his seditionist allies incited a riot, using social media to fan the flames.
"The effects of online disinformation, extremism, and misogyny are hurting women. To stop this, we have to demand Big Tech end their hate-for-profit business model once and for all." Their e-mail concludes with a link to a detailed letter to send to lawmakers on how to battle the online hate. "Self-regulation has not worked. It's past time for policymakers in Washington to confront the hate-and-lie-for-profit business model of tech platforms."
"We, as the UCS community, cannot stand by as our very democracy is attacked by President Trump, his henchmen in Congress, and his rioters attacking the Capitol," said Andrew Rosenberg of the Union of Concerned Scientists after the Jan. 6 insurrection.
"And let's not lose sight of the fact the lies about voter fraud come from a long history of racism," added Rosenberg. "These lies are squarely aimed at disenfranchising voters of color, under the unspoken and abhorrent premise that Black voters, Indigenous, Latinx voters, and other voters of color are second-class citizens who are unfit to participate in our democracy. Whose very votes are suspect. The overwhelmingly white crowd of domestic terrorists that broke into the Capitol were surely aware of that fact. That's why they were there."
The Free Press Action Fund summed up the case, but not specifically against hypocritical politicians.
"Internet subcultures take advantage of the current media ecosystem to manipulate news frames, set agendas, and propagate ideas. Far-right groups develop techniques of 'attention hacking' to increase the visibility of their ideas through the strategic use of social media, memes, and bots—as well as by targeting journalists, bloggers, and influencers to help spread content," it said.