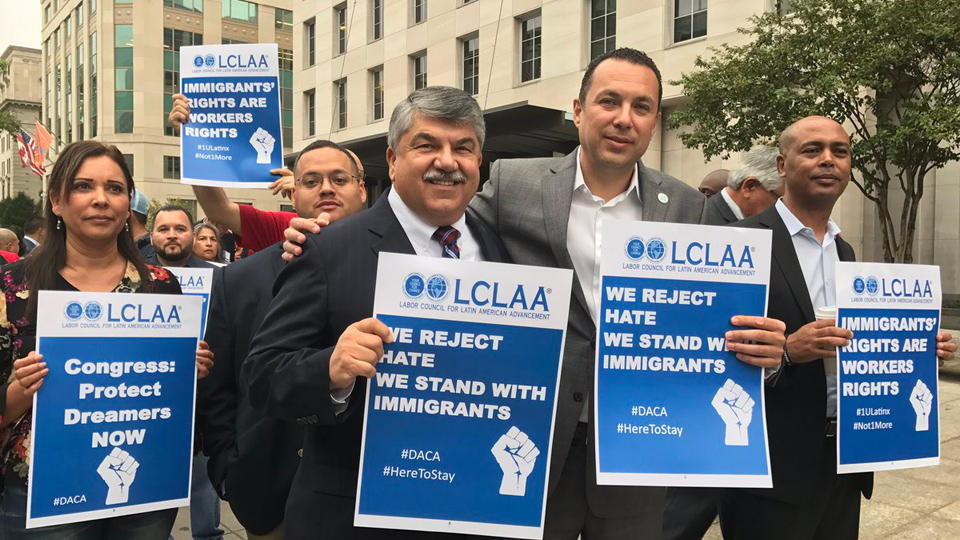 HOUSTON — Many local unionists and leaders are unaware of the AFL-CIO's strong policy for comprehensive immigration reform and its reasons for defending undocumented people, a panel discussion during the federation's Martin Luther King commemorative conference revealed.
And that includes defending the "Dreamers" when they come under federal government attack, the discussion showed.

The issue of unionists' knowledge, and attitudes, towards immigration took over the panel discussion, originally called to explore the positive impact immigrants, including undocumented people and the Dreamers, have on unions and the U.S. economy. The Jan. 13 immigration panel was one of many small-group breakouts during the 4-day MLK conference in Houston.
The Dreamers are 700,000 people—now in their late teens, 20s, and early 30s—brought to the U.S. as undocumented children. President Donald Trump, catering to his nativist and anti-Latino backers, wants to evict them all, starting March 5.
Unions are campaigning to protect the Dreamers and another group of refugees Trump schemes to eject. That Temporary Protected Status group fled natural disasters, wars, and national breakdowns.
Responding to his nativist and anti-Latino base, Trump has killed the Obama-era DACA program which kept the Dreamers legally in the U.S., and is throwing out the TPS permit-holders, national group by national group. Salvadorans are the latest, all black or brown-skinned, he wants to evict.
U.S. District Judge William Alsup in San Francisco temporarily stopped Trump's dreamer eviction scheme and Trump is appealing his ruling. But GOP leaders of Congress range from dithering to hostile when asked if they're going to enact legislation to permanently keep the Dreamers here.
And while AFL-CIO policy is to protect the Dreamers and campaign for them to stay here and eventually become citizens, the reality on the ground is different, the panel discussion showed.
Trump is "using the Dreamers" as a bargaining chip for his own anti-immigrant, nativistic goals, said Alina Yeh, executive director of the Asian-Pacific American Labor Alliance (APALA), who chaired the discussion. Those goals include building his Mexican Wall and forcing businesses to use the fault-ridden "E-verify" federal ID program to accept or reject employment applicants.
"He's saying he wants more white folks and fewer people of color" to enter, added Yeh, the daughter of Vietnamese refugees. Meanwhile, employers "want a large exploitable labor force" of undocumented people "and that makes union organizing that much harder."
Many unionists, however, have left immigrant workers, including undocumented people, to their own devices when federal agents raid workplaces, she noted.
The first thing Immigration and Customs Enforcement (ICE) agents often do is separate workers into two lines, by demanding which ones have papers and which ones don't, said Angel Gonzalez of the United Food and Commercial Workers' Civil Rights Department. Workers with papers, by agreeing to such a division, automatically endanger their colleagues.
One building trades union has countered that, said fellow panelist Linda Scott of the Texas Gulf Coast Labor Federation. It runs workshops for all its members, including issues such as what to do when ICE comes in, "know your rights" seminars and—most importantly—how to seek and get citizenship.
Some unions, including UFCW, UNITE HERE, AFSCME, and the Teachers, are doing the same thing and crafted materials to help educate leaders and members. Others, including the Sheet Metal Workers, the Iron Workers, and the Laborers, "are changing their thought processes" on the ground within their locals, said Scott, whose council includes a large building trades component. So are the Electrical Workers, "after years and years of us harping" on the subject.
Even those education materials can be incomplete. The Teachers' booklet and website describes "robust training about what to do to protect students and their families from being deported" in the first place, said the union's Cesar Moreno Perez. But it doesn't tell teachers what to do when facing an hysteric student whose parents have been arrested by ICE and may never be seen again.
Further, some unionists still seem or are hostile to keeping undocumented people in the U.S., the panelists admitted. "In Texas, we have 1 million lawful permanent residents" who hold federal green cards giving them rights in the U.S., including labor law coverage, though not the rights to citizenship or to vote, Gonzalez said.
"We still get comments and questions like 'Why don't they become citizens?' or 'Go get a goddamn passport,'" he explained. What those members don't realize is how difficult the citizenship process is and how one misstep as a green card holder can set you back, or throw you out of the country.
"The passport application alone can cost $725 plus lawyers' fees," Gonzalez explained. "And if you're out of the country more than 180 days and you hold a green card, they can yank it." UFCW winds up training its business agents in how to help applicants fill out green card and citizenship forms, going so far as doing the work for them.
Otherwise, Gonzalez said, green card holders could wind up "like the Somali grandmother in Chicago," a green card holder returning from a long visit to check on family members in their war-torn homeland. "She was held at the airport for eight or more hours with no food or drink and finally forced to turn over her green card. She was then sent back."