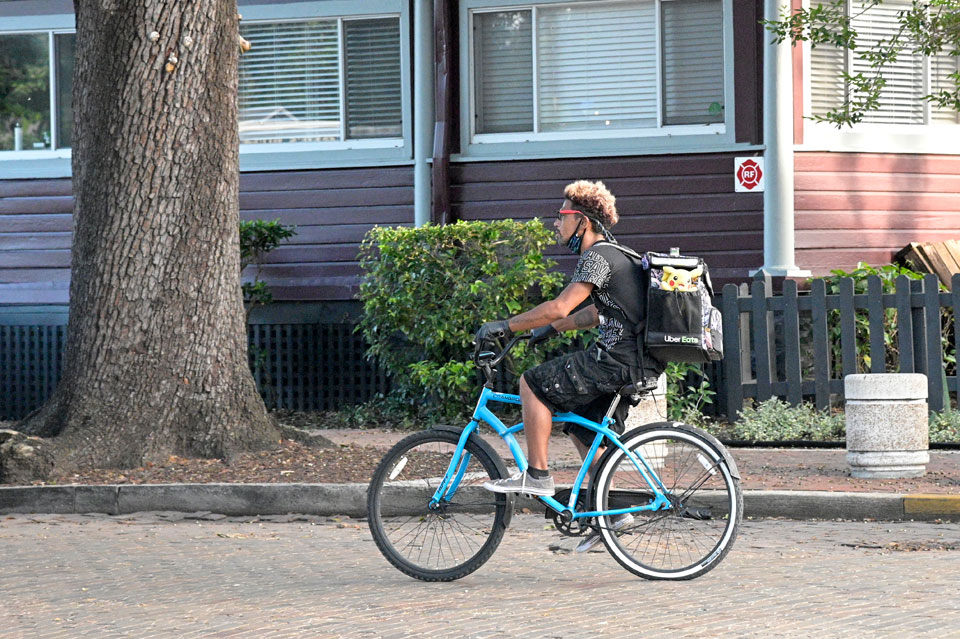 SYDNEY—Five young food delivery workers lost their lives in Australia in the space of just two months. No one has been held accountable or is likely to be. Their work is unregulated, underpaid, unsafe, and precarious in a climate where between one and two million unemployed are denied the federal government's JobKeeper wage subsidy program and its JobSeeker unemployment benefits.
The Transport Workers' Union (TWU) has called on the Safe Work agency of the New South Wales government to investigate these tragedies as workplace deaths. It has also called on Industrial Relations Minister Christian Porter to hold an inquiry into food delivery companies such as DoorDash and UberEats.
"Riders are being put onto bikes with no training or protective gear; they are working our streets day and night for little pay. They have no right to insurance, and when they get injured or die, it is at the discretion of their companies as to whether they and their families get supported. This is an utter disgrace and the federal government is refusing to hold companies to account for flouting our standards and allowing workers to die without protections," TWU national secretary Michael Kaine said.
At present, the union's fighting a case over an unfair dismissal of a worker by Deliveroo and appealing in a case over an unfair firing at UberEats. The TWU is also in court over a wage theft case against Deliveroo. The TWU won a case against Foodora in 2018 for unpaid wages and retirement account contributions after which Foodora left Australia. It only paid a fraction of the money owed before leaving the country.
Rights denied
These "gig" employers provide none of the usual entitlements such as workers' compensation or public liability insurance. The riders must provide their own transport and protective gear; cover any fuel costs; and provide for all leave, holidays, retirement savings, etc. On average they are paid $10 an hour after costs have been deducted, according to the findings of a survey conducted by the TWU. Rarely is there any training. $10 an hour is barely more than half of the minimum wage of $19.49.
The survey, conducted in September this year, asked 200 food delivery riders employed by Deliveroo, UberEats, DoorDash, and other similar platforms about their working conditions during the pandemic. The "results were pretty grim," according to the union. They are underpaid and have no recourse to unfair dismissal laws.
A stunning 90% of food delivery drivers said their pay had decreased during the pandemic, despite skyrocketing demand for food delivery, while 70% said they are struggling to pay their bills and buy their food. Almost half of the riders had either been injured on the job or knew someone who had. Nearly three-quarters (73%) of respondents believe they should be engaged as employees rather than contractors.
TWU national secretary Michael Kaine said, "It is a shameful indictment of our system that workers who allow people to receive food while self-isolating at home and who help restaurants to stay in business are treated this way."
Just over half of respondents indicated they had not been provided with sufficient personal protective equipment during the pandemic, including masks, sanitizers, and gloves.
"[…] Almost half of all respondents who work in the gig economy don't have insurance. Those doing transport work are amongst the most vulnerable: They are young, likely to have temporary residency status, and come from non-English speaking backgrounds. We should be protecting these workers and regulating to ensure they have rights, have minimum rates, and are covered when they are sick or injured. Instead, the federal government is ignoring the abuse and protecting the Silicon Valley executives who are exploiting them," Kaine said.
"Contractors," not employees
These corporations claim their workers are not employees, but rather independent contractors. Hence their workers are required to take out an Australian Business Number, essentially registering themselves with the government as companies consisting of just one person. The delivery apps claim that they provide an online technology platform that enables the "independent contractors" to sign when it suits them to provide delivery services for restaurants and other businesses to customers.
They say that these workers are free to choose when they work, for how many hours, and provide their own transport.
This is not completely true. The companies use a system of algorithms to allocate work. In many instances, it rewards workers who work Mondays and Tuesdays, when there are few orders, with shifts at the busier end of the week. Faster riders may get more work, and so on. Anyone who is deemed to be "too slow" can be cut.
The job can be quite dangerous on wet, dark nights. Speed is of the essence, resulting in careless behavior on the part of some riders.
These corporations work in an unregulated industrial relations context. They have found a means to wipe out the hard-won gains by trade unions over more than 150 years of struggle. As they exert continuous downward pressure on the wages of their own employees, this also places pressure on the wider workforce.
This form of "contracting" labor is rapidly spreading to other areas, such as home care, electrical, plumbing, and other work, raising serious concerns about licensing and safety as well as undermining the conditions of other workers.
The federal government refuses to take action to protect these workers, shifting responsibility onto the states and territories.
Reserve army of the unemployed
With the closure of many restaurants and cafés during the pandemic, business in food delivery has boomed. At the same time, close to one million temporary visa holders and another million or so casual, and mostly young, workers lost their jobs. They are not entitled to receive JobKeeper or JobSeeker payments and so have been left without an income and unable to return home to their families due to border closures.
This has created a pool of unemployed labor, desperate for any job and any income. At the same time, the demand for take-away food delivered to the door ballooned, fuelling the rapid expansion of delivery platforms.
Another study, commissioned by the Victorian government, found that transport and food delivery workers in the gig economy are paid less, work more hours unpaid, and are less satisfied than other workers. The study surveyed 14,000 people from across the workforce.
This inquiry was chaired by Natalie James, a former Fair Work Ombudsman. The government is now in the process of consultation with those involved in the sector prior to drafting legislation.
It is estimated that up to one million workers have worked in the gig economy. The report recommended that work status be codified and clarified to give workers and employers certainty regarding status, entitlements, and rights.
Food delivery monopolies
These food delivery platforms multibillion-dollar companies. The largest food delivery apps in the world are Alibaba's Ele.me and Meituan Dianping, which operate in China, with combined revenue of $51 billion USD. They monopolize 95% of the Chinese market and have made more than 650 billion deliveries.
Outside of China, there are three companies that monopolize 94% of the food delivery market:
* DoorDash with 55%,
* Uber Eats with 30%, and
* Grubhub with 18%.
DoorDash is the most aggressive of the companies when it comes to building market share. The number of deliveries has risen exponentially from four billion in 2018 to 10 billion in 2019, and 20 million in 2020.
It has been heavily criticized for allegedly adding restaurants onto its platform without contacting them first; for hiking up prices; and for sending their riders to collect deliveries from restaurants without their consent. It has allegedly stolen tips from riders. It employs more than 200,000 "dashers" delivering food.
* DoorDash raked in an estimated $1 billion USD in 2019 and made a bookkeeping loss of $450 million.
* Uber Eats operates in 45 countries, more than 10,000 cities, and estimates its takings for 2020 will be $25 billion USD in gross bookings. This revenue is accumulated from seven billion trips.
* Grubhub's revenue in 2019 was $1.3 billion. It reported a loss of $18 million. It was located in 4,000 cities and had 225,000 restaurants on its books in the same year.
* In 2020, Grubhub made a failed bid to take over DoorDash but Just-Eat Takeaway was successful in taking over Grubhub with a $7.1 billion offer on $5.9 billion of sales.
Urgent regulation required
It is ridiculous to say that food delivery riders are running their own businesses. They are, for all intents and purposes, employees. They have been denied the terms and conditions of employment that other workers are entitled to. This is a deliberate ploy by the companies who set them up, using what they perceive as a technical loophole to employ them outside the regulated industrial relations system. That loophole must be slammed shut with national legislation.
It is vital that delivery riders and other on-demand workers have the same protections and rights as other workers—the same rates of pay, minimum rights, paid sick leave, workers' comp, retirement, and protection from unfair dismissal.
They should also have the right to collective bargaining, to union representation without fear of dismissal, and to other basic trade union rights such as the right to strike. They are employees and should have employee rights.
Food delivery riders, like all other workers, should have the necessary training, protective equipment, and allowances for work-related expenses. Like all other workers, they should come home from work. No more deaths on the roads.
The Guardian (Australia)