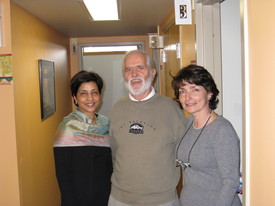 FLINT, Mich. — "It's a sad story," said Dr. Rima Kudish, as she talked about the devastating effect the economic crisis is having on residents of this city and the surrounding county. Kudish is executive director of the Genesee County Free Medical Clinic here, and she sees the effects of our health care crisis on a daily basis.
Flint was the birthplace of General Motors in the early 1900s, and GM long dominated the life of the city, employing nearly 80,000 people here. Now that number is down to less than 8,000.
Before the economic collapse hit home, Kudish said, "20 to 30 percent of patients coming in to the clinic had things like a cold, things we could resolve on site. Now we see very serious issues: complications from diabetes, hypertension and more cancer cases — people who haven't been to a doctor before and then come in with serious problems."
This free clinic serves those whose income is under 200 percent of the federal poverty level and who have no health insurance of any kind. The clinic doesn't charge a cent. And if someone doesn't qualify for its services, the staff doesn't let anyone go away without a phone number or contact, Kudish said.
The clinic also doesn't advertise — both because it doesn't have the money and because if it did, it would be overwhelmed by people seeking care, she said. People come because of "word of mouth." Unlike other free clinics, it even has a pharmacy.
Dr. Allen Turcke, the clinic's president, told me, "Particularly in this community, where we used to be totally GM, what wasn't taken care of by GM was taken care of by the Mott Foundation [a private philanthropy set up by one of GM's founders, Charles Stewart Mott]. Nobody worried and nobody recognized that, contrary to popular belief, there is a whole vast segment of the world out there — people who have nothing or are working for someone who cannot afford health care – and those are the people we drum up." In this economy, that segment is growing by leaps and bounds, and everyone is paying attention now.
On a limited basis, the clinic can arrange for dental care for its patients. As with other health conditions these days some patients come in with serious dental problems. People "worrying about whether they should get their car fixed or heat, are not going to worry about going to the dentist," Turcke said. "As a result, just like their health care, they wait until they need an extraction or antibiotics before seeking help."
He went on to say, "A good thing about people having a connection to this clinic is that they stay out of the ER." At hospital emergency rooms, he noted, "You go in with an abscessed tooth; you know what that bill is going to be." Yes, too many in Michigan can imagine what that bill could be.
Kudish said the clinic plays an educational and preventive role and works with patients to get them to follow the doctor's orders. "We can sometimes achieve better results than a regular doctor because patients have a responsibility to follow recommendations or we don't have to take care of them."
When patients come in they are greeted by a staff that takes great pride in serving their community.
One of those is Carolyn Fitzpatrick, a nurse, who described the harrowing circumstances faced by some of the people who have recently come to the clinic.
One was a couple. The husband had worked in a small factory, auto-related, but was laid off. "They came here. They both had significant health problems," Fitzpatrick said. "He got hired back again and regained his insurance. Two months ago they came back and he said, 'I'll never work there again. They've closed the plant.' They have lots of problems. When you're in your middle to late 50s and your plant is never going to reopen, who is going to hire you? If they stay here in Flint, they are never going to have health insurance again. But they have a home here, it's paid for. They are not going to get anything for it by selling, so what do they do?
"When they first came here he was kind of depressed," she said, "but the last time I saw him, I could hardly get him to talk to me."
"Another man, in his 30s, fell and seriously hurt his back," Fitzpatrick told me. "He had surgery and later when he came in he cried and said, "I cannot tell you how you helped me." A $20,000 surgery and the clinic arranged for it to be done at no charge.
She said if the man hadn't come to the clinic he certainly would have had to pay for the surgery, but in reality he would not even have gotten diagnosed in the first place. Why? "Physicians won't take patients without insurance," said Fitzpatrick.
"Their option would have been no care," emphasized Turcke.
Fitzpatrick also spoke of people who "come after the fact."
"One patient came with kidney cancer," she said. "He had just started a new job with a car company but as soon as they realized he previously had kidney surgery, they let him go. He's in a serious financial situation but couldn't get Medicaid because he had a house on six or seven acres. He said he'd sell it tomorrow but no one would buy it." There are not a lot of buyers in an area with double digit unemployment.
Fitzpatrick said, "I think we have three kinds of patients: Patients who have always had hope and they know they are going to get it back again because their circumstances are going to change. Patients who had some hope and have lost hope that their life is going to be any different. And people that never had any hope, and can't even ever imagine anything but a day-to-day existence. I think that's kind of everybody in the world. But it's exacerbated by not being able to get the medical care you need."
She continued, "We give good care. The patients that come here get the same kind of care that I get at my doctors office. Maybe we have to jump through more hoops to get them specialists or testing done, but because of the medical community in Genesee County who donate their services, we can get that done."
Because it is a free clinic, it is covered by "what amounts to a 'Good Samaritan Act'," Turcke said. In Michigan, "unless the doctor does something that is completely berserk," free health care provided in a responsible manner is exempted from malpractice suits.
He explained the importance of this for a clinic that constantly has to raise money to stay in existence. "When we first started this clinic we would not have gotten off the ground if we didn't have a subsidy to pay for the malpractice insurance. The first few years we had a significant malpractice premium. Then they passed the act and we don't even think about it."
The clinic does not deal with private insurance companies and consequently has the luxury of not dealing with "a nightmare of paperwork," Turcke said. Dealing with the insurance forms would mean "we'd have to have a whole new building." He expressed concern that federal programs not increase that part of their work.
Kudish said she is for a national health care plan but wants to make sure it would take care of those the clinic now serves: people without money. She also said it's important that it cover dental care.
Jay Kommareddi, a volunteer member of the clinic's board of directors, said she believes "health care should be a right, not a privilege." She said she is "thrilled" a conversation on fixing our health care system is finally taking place.
The Genesee County Free Medical Clinic is a special place where everyone, from doctors to nurses to volunteers at the front desk, works as a team and "pitches in" when needed. There are "days when I don't want to come to work," Fitzpatrick said. Everybody has those days — I don't want to deal with it, but I think I'm supposed to be here, and when I get through with it I go home and think I did something good today."
It's an example of what a truly not-for-profit, people-centered, universal access health care program can be.
jrummel @ pww.org