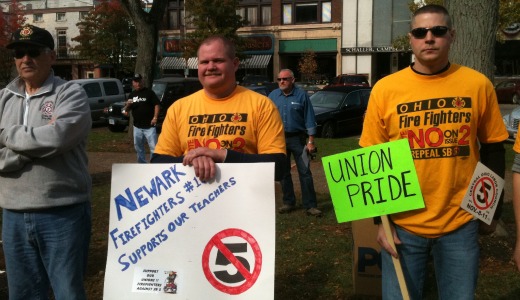 NEWARK, Ohio – Two hundred union members and their friends rallied on the courthouse lawn in this small town Oct. 30 at a "Solidarity Day" calling for repeal of Ohio's union-busting SB 5 law. Spurred by wide outrage over SB 5, 1.3 million Ohioans signed a referendum petition, putting the new law on the Nov. 8 ballot as Issue 2.
"When you're attacking one class of workers, you're attacking all workers," said Ohio AFL-CIO President Tim Burga. "And certainly when you're trying to scapegoat nurses and teachers and police officers and firefighters and correction workers, highway workers and librarians, that's an economic injustice and that's wrong." He praised the private sector unions for standing shoulder to shoulder with their brothers and sisters in the public sector
With a Teamsters semi-trailer as their platform, speakers and singers appealed to the crowd to get out the "No on Issue 2" vote. The crowd included firefighters, teachers and other public employees as well as steelworkers from the nearby Kaiser Aluminum plant, coal miners, autoworkers from nearby auto parts plants and members of the Glass Molders and Pottery Workers Union employed at the local Owens Corning insulation plant.
Newark, a town of 48,000 and seat of heavily Republican Licking County, is located 33 miles east of Columbus.
Singer Allen Schwartz sang "SB-5 Blues," a rewrite of the Si Kahn song, "I feel so good, got that union in my soul."
"It's not wrong that public employees have these rights and benefits. It's wrong that other people don't," said David McElfresh, president of Firefighters Local 109. "We will repeal SB 5. We will stand together in solidarity to make it happen…Because of your help, we've had the high ground on the message all year long – that this is an attack on basic workers' rights. It's unfair. It's unsafe. And it's going to hurt us all. We're here today to kick off the nine-day campaign to overturn Issue 2."
Eugene Branstool, beloved former state senator and original sponsor of the 1983 law that brought collective bargaining rights to Ohio public employees, told the crowd that it is hard for a worker to represent himself without union protection.
Branstool is a produce farmer in the nearby village of Utica and member of the Farmers' Union representing small family farmers. He said collective bargaining has enabled public employees to earn a living wage and keep communities safe while avoiding the strikes that were prevalent before 1983.
Several candidates for local office including Max Sutton, Democratic candidate for mayor, received warm applause as they called for repeal of SB 5.
Gloria Smith, president of the Licking County Democratic Club, said the rally was organized by public and private sector unions along with the Democratic Party and the Newark Freedom School, a center of progressive activism. Smith told the People's World that organizers originally planned to hold the rally on Labor Day. However, the local Jaycees, the youth arm of the U.S. Chamber of Commerce, booked the courthouse lawn for Labor Day, then failed to hold any event there.
Nurse Kathleen Stewart, secretary-treasurer of the Ohio Civil Service Employees Association, noted the hypocrisy of Ohio Gov. John Kasich, who has called for "shared sacrifice" in order to weather the recession. "The governor's aide just got a $70,000 raise in March. Hell, I don't even make $70,000!" Stewart said.
Rev. Michael C. Menefield, pastor at Trinity African Methodist Episcopal Church, implored the crowd to walk down the street to the board of elections and cast their ballots. Sunday was the last weekend day for Ohioans to vote early in person.
Menefield told the People's World, "This bill is attacking everybody … We know how this is going to affect the churches because churches are made up of families, and if you start affecting the family members, you're going to affect the church."
Doug Greiner, president of Teamsters Local 637, "thanked" Gov. Kasich "for bringing us together" before chiding the governor as "a snot-nosed brat [who] needs to get out here and apologize to us."
Speaking about what has been the openly stated agenda of the Ohio Republican Party, a local firefighter told the crowd, "The last thing we need is to become another 'right to work' state." In 1958, 64 percent of Ohio voters rejected a proposed state constitutional amendment to turn Ohio into a "right to work" state. Voters go to the polls Nov. 8 to approve or reject SB 5 in what has been viewed largely as a referendum on Republican Gov. John Kasich's corporatist union-busting agenda.
Photo: Tim Wheeler/PW.