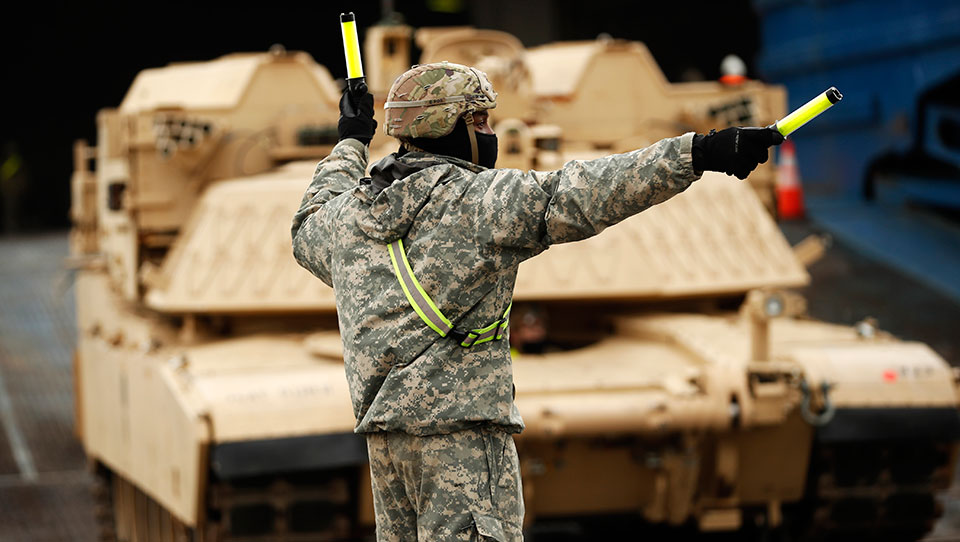 LONDON—The European Union authorized the United States, Canada, and Norway to join its Military Mobility project Thursday, allowing those countries' troops "unhindered" movement within the bloc.
EU foreign policy chief Josep Borrell said the move would "make EU defense more efficient and…strengthen our security" by speeding up the transfer of armies across the continent. The U.S. has over 70,000 soldiers stationed in Europe and is currently leading nearly 30,000 allied troops in the Defender Europe 2021 military maneuvers along Russia's borders from the Baltic to the Black Sea.
The decision is likely to be seen as a threat by Russia, coming the same day that Ukrainian President Volodymyr Zelensky asked visiting U.S. Secretary of State Antony Blinken to speed up Kiev's integration into NATO and the EU.
German Defense Minister Annegret Kramp-Karrenbauer praised a "quantum jump" in military cooperation that would boost "transatlantic connectivity and the co-operation of the European Union and NATO."
Military Mobility is the flagship project of what the EU terms "Permanent Structured Co-Operation" (PESCO), a framework for integration of member states' militaries that is seen in some quarters as a step towards a European army. Its goal is to "simplify and standardize cross-border military transport procedures…to enable the unhindered movement of military personnel and assets within the borders of the EU."
The integration of the U.S. will amplify fears that the E.U. military scheme is a cloak to undermine the official neutrality of countries such as Ireland, Austria, Finland, and Sweden, which stand outside NATO but inside PESCO.
Britain's Communist Party leader Robert Griffiths said bringing the U.S. into the scheme was "a dangerous escalation of the new cold war which highlights the growing military role of the EU." He called for socialists to strengthen the peace movement in Britain and internationally through the World Peace Council.
And former Trade Unionists Against the EU chairman Doug Nicholls said the "increasing belligerence and militarization" of the EU was one reason that many British socialists had voted to leave.
PESCO was "very much about getting U.S. Army boots on the ground," he told the Morning Star. "U.S. imperialism and Wall Street have been the strongest supporters of the EU since its inception."
Morning Star