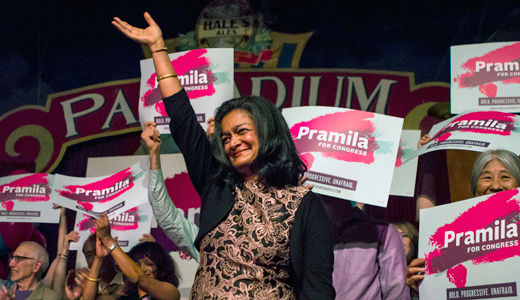 SEATTLE – If she wins election to the House in November, Pramila Jayapal, who won the Democratic Party's 7th Congressional District primary race August 2, could very well become one of the most effective leaders for progressive change in the U.S. Congress.
Washington State's District 7 seat has become available because Representative Jim McDermott, one of the most progressive legislators in Congress, is retiring after 37 years in the U.S. House. The District covers Seattle.
As a state senator, Jayapal, who was born in India, championed protections for immigrants and minorities and voting rights for all. She was also a leading advocate for a raise in the state minimum wage.
Jayapal's victory in the primary was greeted with jubilation here in the Emerald City as hundreds of her grassroots supporters cheered her at a post-election celebration.
Jayapal told the crowd in the Hale's Palladium Ballroom in Ballard, "You have fueled the flame of our movement with the clear belief that we can and will reclaim our government to work for all of us."
If her words sounds like those of Vermont Sen. Bernie Sanders, it is not surprising. Jayapal is seen as an ideological soulmate of the Bernie Sanders grassroots "political revolution."
Sanders endorsed Jayapal. Her 1,000 campaign volunteers were overwhelmingly Bernie supporters who helped Sanders win in a 72 percent landslide in the Washington State Democratic Presidential caucus meetings.
Under Washington State's election law, the top two vote getters in primary races, no matter what their party, run against each other in the general election. Jayapal will face Brady Walkinshaw November 8. Like Jayapal, He is currently a Washington State senator.
Walkinshaw is also a strong progressive and is expected to run a very competitive race against Jayapal.
If Jayapal wins in November, she will be the first woman of color ever elected to represent Washngton's 7th district and the first Indian American woman ever to serve in the U.S. House.
Elena Perez, community organizer for United Food & Commercial Workers (UFCW) Local 21 told Seattle Weekly at the election night celebration, "Pramila is one of the rare candidates I will do anything for….I trust her implicitly. I feel like if she is in Congress then I'm in good hands."
Jayapal was endorsed by OneAmerica Votes, UFCW Local 21, UNITE HERE! Local 8, the Service Employees International Union, International Association of Machinists District 751, the American Federation of Teachers, and many other labor and community groups. The campaign knocked on 70,000 doors and made 140,000 get-out-the-vote phone calls.
Jayapal got her start in Seattle politics right after the Sept. 11, 2001 terrorist attack when the Bush-Cheney campaign unleashed widespread assaults on civil liberties targeting especially immigrants, Arab Americans, Muslims, and people of color. She organized a grassroots movement called "Hate Free Zone" later renamed "OneAmerica" to defend immigrants from instant deportations and mass detention.
Imogene Williams was one of scores of members of Puget Sound Advocates for Retirement  Action (PSARA) who worked hard to Jayapal in the primary. PSARA does not endorse candidates but Williams said she attended a house party for Jayapal at the home of PSARA President, Robbie Stern, who personally endorsed her.
"I'm very, very enthusiastic about Pramila," Williams told the People's World. "She is a wonderful candidate to work for. I asked for 400 pieces of her literature to cover my own precinct and the neighboring precinct to the north and distributed all of them.
"Pramila won both of these precincts," Williams said. Walkinshaw will be her contender in November so we have our work to do. Pramila is a truly progressive candidate. Washington is moving forward."
Writing in The Nation magazine, John Nichols quoted Jayapal as saying, "We're building a movement that can clearly stake out a positive vision for the future of America at a time when too many people feel cynical about change, and when too many people are struggling to make ends meet and put food on the table."
When she announced she was running, Jayapal ripped into "people like Donald Trump [who] are whipping up hate and fear across the country, resulting in a rise of anti-Muslim violence."
According to Nichols, Jayapal argues that "corporations and special interests have their voice in Congress, and they have too many members scared of their power. What Congress needs is a progressive voice who is unafraid to take on these powerful interests-who is willing to fight for all Americans, not just the wealthiest one percent."
Nichols writes that Jayapal joins "a number of the Democrats … being nominated for the House [who are] progressives who really could change the chamber and the country."
Aside from Jayapal, Nichols cites "Civil rights and voting rights champion Jamie Raskin-a brilliant constitutional scholar and state legislator [in Maryland]" … and "Anti-corruption and anti-monopoly campaigner Zephyr Teachout [who] has a real chance to take a Republican-held seat representing New York."
Photo: 7th Congressional District senate candidate Pramila Jayapal waves to her supporters as she finishes her celebratory speech at Hale's Palladium on Aug. 2, in Seattle. Lacey Young | seattlepi.com via AP