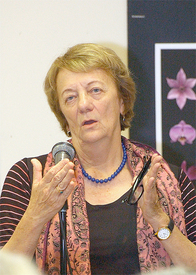 NEW YORK — Dozens gathered April 25 to hear Dalia Sachs, co-founder of Women in Black in Haifa, Israel, speak on the impact of 40 years of Israeli occupation on Palestinian life, and the impact of a militarized society on Israeli people, particularly women.
The Israeli women's peace movement is known for its silent protests, she said. They stand at major intersections with signs reading, "Stop the violence, negotiate!" Sachs got a laugh from the crowd when she said, "I think this a good activity for women because they are more persistent and more patient and more willing to do things for a longer period of time without talking too much."
Contrary to widespread misconceptions, she said the occupation is not popular with either Israelis or Palestinians. "About 75 percent of Israelis support a two-state solution," she noted. "But the Israeli government ignores them."
Women in Black was founded in Israel in 1988 as a response to Israeli Defense Forces' harsh repression of young children during the first Palestinian Intifada (uprising), Sachs said. It conducts a variety of activities, including observing checkpoints to monitor IDF activity as Palestinians cross the border.
The organization has spread throughout the world and includes groups in 39 U.S. states, the District of Columbia and Puerto Rico.
This event, hosted by the New York City chapters of United for Peace and Justice and Women in Black, was a kickoff for a Washington, D.C., June 10-11 national march, rally and congressional lobby to end U.S. government support for the Israeli occupation.
The demonstration, sponsored by UFPJ and the U.S. Campaign to End the Israeli Occupation, will advocate a change in U.S. policy to one that supports a just peace between Palestinians and Israelis based on equality, human rights and international law, and full implementation of all relevant UN resolutions.
Jenn Perna contributed to this article.