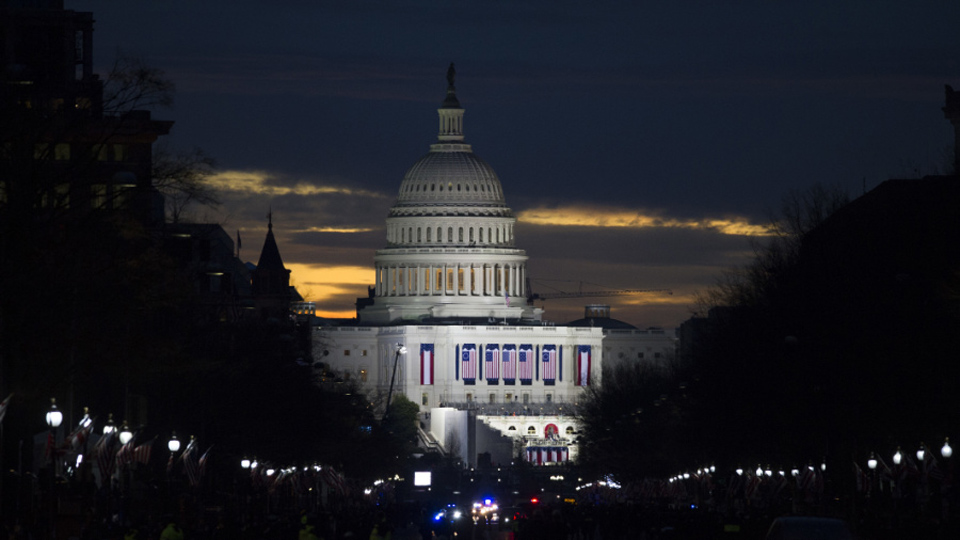 WASHINGTON — Donald Trump has been sworn in as 45th president of the United States. The store is officially open. The government is now for sale.
At the same time, the resistance to Trump is being launched in communities across America. Hundreds of thousands of people are expected here tomorrow to protest Trump's announced plans to curtail the rights of women and many more thousands are expected to demonstrate in cities across the nation.
Moreover, the resistance has reached the halls of Congress. Over 60 members of the U.S. House of Representatives boycotted today's inaugural ceremonies.
On the other hand, Hillary Clinton did attend. She tweeted: "I'm here today to honor our democracy and its enduring values. I will never stop believing in our country and its future."
In his inaugural speech, Trump invoked the slogan used by American fascists in the 1930s and '40s. Thrusting out his jaw Mussolini-style, he said, "From this day forward a new vision will govern our land. From this day forward, it's going to be only America first. America first."
He stressed that "starting right here and right now … we are transferring power from Washington, D.C., and giving it back to you, the people."
He said "For too long, a small group in our nation's capital has reaped the rewards of government while the people have born the cost. Washington flourished, but the people did not share in its wealth.
"That all changes starting right here and right now, because this moment is your moment.
It belongs to you."
But Trump's words seem to be directly contrary to his actions so far.
He has announced that within hours – maybe today – he will repeal protections for undocumented immigrants brought here as children and that he plans to make deep cuts in the social safety net.
These are not the actions of a president who plans to help people prosper.
"Trump First?"
Furthermore, he has assembled a Cabinet of men and women who stand to make huge bundles of money from their influence in government. Tom Price, Trump's choice for Secretary of Health and Human Services owns major shares of healthcare companies. Betsy DeVos, slated to take over the Department of Education, has interests in private education corporations. The list goes on and on.
They are required by law to put their businesses in blind trusts while in office, but the profits their companies make will be waiting for them when they leave office.
Meanwhile, even while in office, Trump will be able to enjoy raking in big bucks from his corporations. U.S. presidents are exempt from conflict-of-interest laws, and Trump is taking full advantage of this loophole.
Unlike all other presidents, Trump is retaining full ownership of his vast business empire. He's leaving day-to-day management to his sons, Eric and Don Jr.
As the Washington Post points out, "Airplanes belonging to Donald Trump's businesses will be inspected over the next four years by employees of the Federal Aviation Administration that he will lead.
"Disputes over Trump's trademark registrations could be reviewed by judges appointed by his hand-picked commerce secretary. Trump's Environmental Protection Agency will have the power to roll back clean-water rules that he and other golf course owners have said are harmful to their industry."
Worse yet, the Post says, "[Trump's] Department of Housing and Urban Development could reverse its past opposition to a potentially lucrative sale of a large subsidized housing complex in New York partly owned by the president-elect."
In fact, during his Senate confirmation hearing, Ben Carson, Trump's pick for Secretary of Housing and Urban Development, did not rule out the possibility that President Trump could sell this housing complex and make a fortune for businessman Trump.
It gets worse.
Trump has business partners in areas of the world rife with potential conflicts with American foreign policy: Turkey, Dubai, Indonesia, Malaysia, the Dominican Republic, India, United Arab Emirates and Azerbaijan.
Will Trump's policies in these areas of the world be "America First" or "Trump First?" Nobody can predict.
And what about the American ideal of actually helping people in other countries? Trump seems to have thrown that concept out of the window.
At the inauguration
People came from long distances to stand in the cold and damp to watch the inaugural parade. The PW chose some at random and asked: "why?"
Reid, from Seagrove, North Carolina said he came to the inaugural because "I wanted to see a president who I know will change America … Trump will run it like a business; I guess you can say not like a wuss."
Dustin, from Pasadena, Texas, who was decked out from head to toe with Trump slogans said "I came for the experience; [there is] nothing particular about Trump; [I came] for the event itself. I think we should wait and see what he does.
Couple: Matt and Charity. Matt from Kingsport, Tenn. and Charity from Greensboro, N.C.: "I came to see the event of the inauguration. We love Trump."
Matt, added: "[Trump's] support of Israel is my top [priority]."
Charity said, "He is not a politician; he's everything that Obama's is not. Jobs are really going to change and immigration. I'm all for immigration as long as it's legal."
Jack, from Alexandria, Virginia, said that he came to D.C. because "I want to see the beginning of the end so I can say I was there. It will be something to tell my kids about one day."
Resistance:
Opinion polls show that Jack is in the majority. Trump is entering office as the most disliked new president ever.
Performer after performer refused to appear at the inauguration; the inaugural committee couldn't get enough people to come to all the parties they planned, so they had to cut them back.
Even dress designers refused to work for inaugural attendees.
A group of soldiers demonstrated at the office of Sen. John McCain, R.,Ariz., to protest Trump's pick of Rex Tillerson for Secretary of State.
In fact, this past week the AFL-CIO, and just about every women's rights group, immigrant rights organizations, civil rights organizations, and advocates for peace in the Middle East have written letters of protest or conducted demonstrations calling for resistance to Trump's policies.
By far, the number of people taking part in protests have outnumbered the people attending Trump's inauguration.
And the biggest protest march here is scheduled for tomorrow.
Today, the day of Trump's inaugural was like his speech – cold, damp and bleak. Tomorrow all weather reports say the weather will be unseasonably warm with plenty of sunshine.