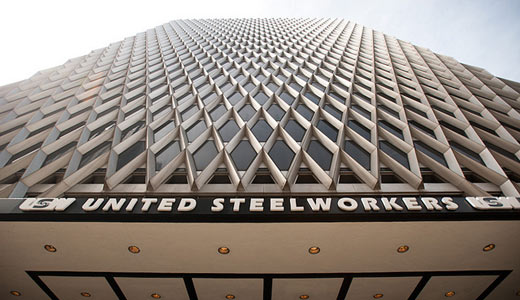 KANSAS CITY, Mo. – A weeklong company lockout at Milbank Manufacturing, a Kansas City, Mo., electrical parts producer, ended Nov. 26 when its 194 Steelworker members overwhelmingly ratified a new three-year contract, the USW said.
Jubilant workers marched back into the plant having won a raise, three days of back pay for the time managers locked them out, and having pushed Milbank to back down from a health care premium payment plan that would have taken 25 percent – $620 – of workers' monthly paychecks, USW Local 13-07 said. The raise is $1.10 per hour.
In return, the local dropped unfair labor practices charges it had filed against the firm after the lockout began one week before. A federal mediator helped "bring this company to its senses" and back to bargaining, chief union negotiator John Wiseman said.
Local President Janet Kirk, a Milbank worker, said "union membership solidarity against the employer lockout said 'enough is enough.' We were not going to accept another increase of our contributions for a family healthcare plan. So we won our position and we even got paid for most of our wages lost due to the lockout."
The lockout drew wide publicity, and support from consumers and other workers, in the Kansas City area. Locked out workers holding signs along major roads were greeted with a chorus of supportive honks.
Milbank workers manufacture electrical meters and circuit-breaker boxes, and union officials said it was particularly ironic that the firm tried to impose a $620-per-worker monthly health care premium at a time when it was making money and had a huge backlog of orders due to power breakdowns as a result of Hurricane Sandy.
Photo via U.S. Department of Labor.