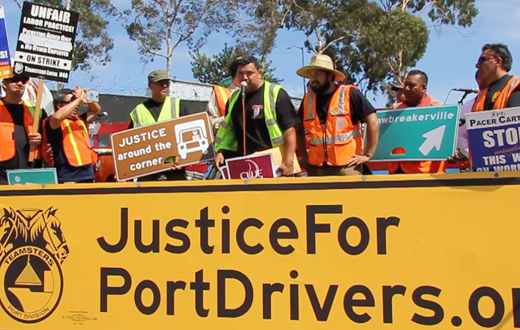 Wage theft, lousy working conditions and continued company misclassification of port truckers as "independent contractors" not covered by labor law all combined to again force the hundreds of port truck drivers in Los Angeles-Long Beach to strike.
The top demand of the drivers, who voted overwhelmingly on April 25 to walk out, is that the trucking firms recognize them as employees, covered by labor law, and thus bargain with them if and when they select the Teamsters – who are backing their campaign – to officially represent them.
The forced strike began on April 27. It is the second at the port, the nation's largest, and over the same issues, since November 2014. A string of federal and state court and state agency rulings have found that port drivers are misclassified as "independent contractors." So far, 56 have won their cases, and the firms owe them $5.5 million in back pay and damages.
The trucking firms misclassify the drivers, who move goods from the two ports to inland warehouses for Walmart, Home Depot, Target and other major retailers, as "independent contractors." That means labor laws – including the National Labor Relations Act, minimum wage and overtime laws, and workers comp – don't cover the drivers.
Misclassification also means the drivers must foot their own bills for everything from gasoline to insurance to repairs, even though the trucking firms, called drayage companies, control their schedules, workload and more. Drivers say that as a result they often make less than minimum wage or even end up owing the companies money.
With one exception — announced just before the walkout began: the firms still refuse to recognize the drivers as "employees" under labor law, with the rights to organize and bargain.
The Justice for Port Drivers campaign said the drivers struck Pac 9 Transportation, Pacer Cartage, Harbor Rail Transport and Intermodal Bridge Transport. Green Fleet Systems (GFS) settled on the eve of the strike by announcing it recognizes the drivers as employees.
Hector Flores, a driver at Intermodal, told the union while walking the line that he's striking to end wage theft and to ensure a better life for this daughters. "We are here to make sure that these companies stop their lawless behavior. They cannot keep engaging in wage theft. We demand re-classification to employees. We know what we are doing is right, and we are not going to stop striking until these companies stop breaking the law," he said.
Drivers and their supporters, including top officials of the Los Angeles County Federation of Labor, picketed company trucks that entered marine terminals at the ports of Los Angeles and Long Beach, rail yards throughout the region, and customer warehouses as far east as Mira Loma and as far south as the U.S. Mexico border, the Teamsters said.
"We had no choice but to go on strike again because my company is continuing to violate the law," Pacer Cartage driver Humberto Canales told the union. "The courts have ruled that I am an employee and that their illegal deductions from my paycheck must stop. But they keep fighting me, so I am fighting back."
Meanwhile, one drayage/port trucking firm, Green Fleet Systems, signed what GFS and the Teamsters called "a comprehensive labor peace agreement designed to ensure Green Fleet's drivers have an opportunity to exercise their rights under the National Labor Relations Act and, if they choose, to select an exclusive representative for purpose of collective bargaining."
The truckers are also taking their campaign to the Internet, posting a petition for backers to sign demanding Los Angeles Mayor Eric Garcetti and San Diego Mayor Robert Garcia ban company profit-making from labor law violations at the two ports on April 28.
Photo: Justice for Port Drivers Facebook page