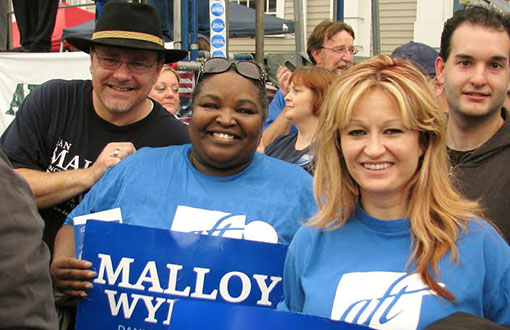 HAMDEN, Conn. – "When we stick together, we win together!" exclaimed Lori Pelletier, executive secretary treasurer of the Connecticut AFL-CIO at a pre-Thanksgiving celebration dinner for Labor 2014 volunteers held at the Operating Engineers hall.
The re-election of Democratic Gov. Dannel Malloy defied all odds. His favorability ratings were below 47 percent. He was a top target of Republicans because of the progressive policies enacted during his first term. At the same time early mistakes displeased some union members.
The Malloy administration made a decision to campaign on its record of creating economic progress for working families. The governor also made changes in education policy in response to demands from labor. Families in Newtown took on the NRA and supported the governor for passing strong gun safety legislation. President Obama and Michelle Obama actively campaigned with Malloy.
Most significant was the intensive door knocking campaign, which began in the beginning of the year. The main focus was on the cities which had to turn out big if Malloy were to be re-elected. Unions took the lead in many suburban towns which vote more heavily Republican.
Connecticut continued to buck the national trend on election day as voters returned Gov. Dannel Malloy and Lt. Gov. Nancy Wyman to office, ejecting Republican Tom Foley for the second time.
Foley had said Connecticut needs a "Wisconsin moment" referring to the anti-worker measures by Republican Gov Scott Walker who ended collective bargaining rights for state workers.
Standing up for workers' rights, Malloy signed an order in his first term allowing state home health care and home child care workers to unionize. He initiated the first state-wide raise in the minimum wage to $10.10 and the first state-wide mandatory paid sick leave law. Instead of cutting funds to cities like in Wisconsin, he sent more funds to municipalities, preventing layoff of public workers in the economic crisis.
As well, an Earned Income Tax Credit for low-wage workers and Circuit Breaker tax relief for seniors were enacted, alternative sentencing and other policies have lowered the incarceration rate of African American young men by 40 percent, state pension funds have been shored up, a green bank was established, the Dream Act was signed into law, and the death penalty was repealed.
Unions in the state studied the issues, communicated with their members, and organized hundreds of volunteers. Gun safety, environment, women's rights and grass roots community groups like New Haven Rising whose top issue is jobs also knocked on doors and made sure that voters understood the issues at stake.
During door knocks to union members and their families, volunteers often encountered voters who were confused by the flood of negative ads and media coverage blaming Malloy for Connecticut's poor economy as if there were no national economic weakness. But when the accomplishments won by mass action of raising the minimum wage, paid sick days and funds to cities were brought out, voters began to realize the importance of the election. The union member turnout was significant in putting Malloy over the top.
The celebration dinner featured awards to unions who met and exceeded their goals for involving members in door knocking, phone banks and work-site leafletting. Each union was asked to involve at least one percent of their membership. While many unions succeeded in involving up to five percent of their members includin the largest unions, the top awards were to the Iron Workers who reached ten percent, the Painters who reached 15 percent and the Operating Engineers at 20 percent member involvement.
"We put everything aside and we prevailed in a big way this year," said Melodie Peters, president of AFT Connecticut and executive vice president of the Connecticut AFL-CIO, who also announced that 260 technical professional workers at Danbury Hospital had voted to join the union the night before. The election campaign served to strengthen union organizing.
Also announced at the dinner was the successful union election in October by United Food and Commercial Workers Local 371 with 175 workers at Auroa Products in Orange.
Voters also re-elected all five Democratic members of Congress and all Constitutional officers. While Republicans picked up several seats in the state legislature, Democrats maintain the majority in the General Assembly.
The new same day voter registration law increased participation. In New Haven, over 1,000 people stood on long lines at City Hall to register and then vote.
During the campaign, many activists committed to continue organizing year round for good jobs, workers' rights and the needs of youth and the cities. Already, the governor has strengthened the Trust Act protecting immigrants with minor violations from being turned over to ICE by the Department of Corrections.
The People's World Amistad Awards to be held on Sunday, December 7 will celebrate the Connecticut election victory and look forward. Awardees include Meg Riccio, chief steward of Local 35 service and maintenance workers at Yale; Alberto Bernandez, area director SEIU 32 BJ union of janitors; Daniel Durant, community organizer for AFT Connecticut. Tickets and information at 203-624-8664.
Photo: The presidents of three unions at L&M hospital rally for Governor Malloy in appreciation of his joining their picket line last year. | Larry Dorman, AFSCME Council 4