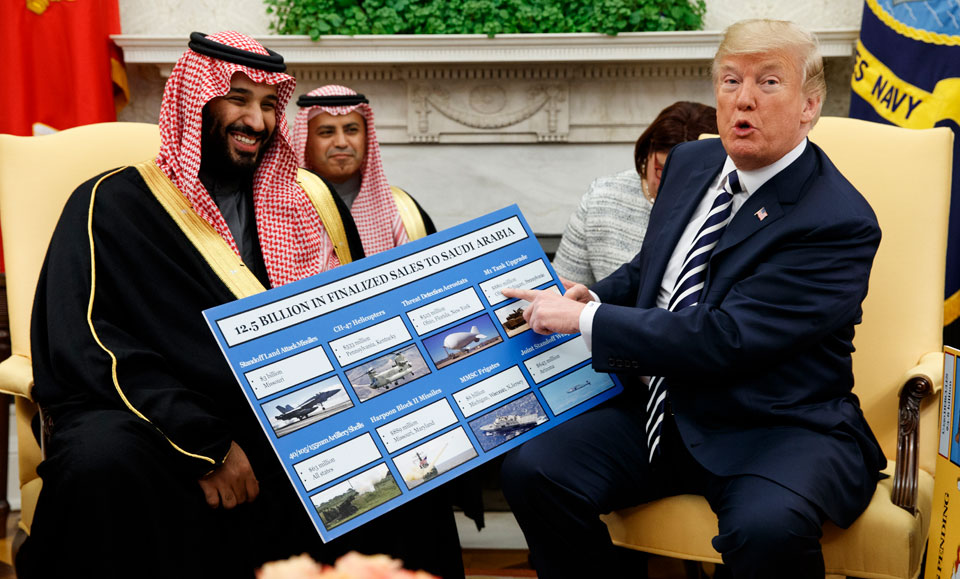 WASHINGTON—A bipartisan group of senators will try to block President Donald Trump's latest $8.1 billion, in 22 separate arms sales, to Saudi Arabia and the United Arab Emirates. They challenge Trump's justification—the supposed threat from Iran—for invoking "emergency" arms sale law loopholes to aid the Saudis.
One of the group, Sen. Jack Reed, D-R.I., worries about Saudis getting their hands on nukes, too. Another, Sen. Chris Murphy, D-Conn., says more arms to the Saudis will only make a bad situation in Yemen—where the Saudis are waging a brutal war with U.S. assistance—worse.
Senators introduced 22 joint resolutions against the Saudi arms sales, with one resolution bouncing each sale, as arms sale law requires. Their resolutions, which have the force of law if approved, are part of the ongoing bitter contest between Trump and Capitol Hill over aiding the murderous Saudi regime led by Crown Prince Mohammed bin Salman, also known as MBS.
Over in the Democratic-run House, Foreign Affairs Committee Chairman Eliot Engel, D-N.Y., and top Republican Michael McCaul, R-Texas, are working on unspecified joint legislation on the arms sales and promise hearings on it soon, Engel said.
"The notion that there's an emergency that justifies upending our checks and balances is false, plain and simple," Engel added.
With U.S.-provided arms and intelligence data, MBS has led Saudi intervention in Yemen's murderous civil war. Saudi planes, armed with U.S.-made bombs, have bombed civilians—including hospitals, kids on school buses and at picnics, and even a wedding—while creating widespread hunger and half a nation as refugees.
The Saudis and Trump use the threat from Iran as their justification. Iran, the Saudis and Trump allege, supports the other side in the war.
Earlier this year, both houses of Congress approved a joint resolution to end U.S. military involvement in the war on the Saudis' side. Trump vetoed it, and there weren't enough votes to override him, so the involvement, in arms and intelligence-sharing, continues.
This time, Sens. Robert Menendez, D-N.J., Lindsay Graham, R-S.C., Murphy, Reed, and others say Trump is taking advantage of a 43-year-old arms sales legal loophole to aid the Saudis.
The bipartisan opposition is important, as the GOP controls the Senate. But Graham, usually a Trump ally—given South Carolina politics—breaks with him on the Saudis and Yemen. Menendez is the top Democrat on the Senate Foreign Relations Committee and Reed is the top Democrat on Senate Armed Services. Those panels handle arms sales requests.
The catch is Trump is trying "an end run" around Congress, the senators said. Their joint resolutions, which can come automatically to the full Senate, are designed to stop him.
"The manner in which the administration has moved forward with these sales is unprecedented and is at odds with longstanding practice and cooperation between the Congress and the executive branch that results in the approval of billions of dollars of arms sales annually," the senators' joint statement said.
"The Trump administration's effort to sell billions of U.S. weapons to Saudi Arabia and the United Arab Emirates is yet another example of an end-run around Congress and a disregard for human rights," Menendez explained.
"We are taking this step to show we will not stand idly by and allow the president or the Secretary of State to further erode congressional review and oversight of arms sales."
"The best thing the Secretary of State can do right now is withdraw his emergency certification, immediately submit these sales for the normal review, and engage with senators to address our concerns. Failing that, I am prepared to move forward with any and all options to nullify the licenses at issue for both Saudi Arabia and UAE and eliminate any ability for the administration to bypass Congress in future arms sales," Menendez concluded.
"While I understand Saudi Arabia is a strategic ally, the behavior of Mohammed bin Salman cannot be ignored. Now is not the time to do business as usual with Saudi Arabia," Graham said. "I am also very concerned about the precedent these arms sales would set by having the administration go around legitimate concerns of the Congress."
Murphy bluntly said Trump's arms sales make a bad situation worse: "Selling more bombs to the Saudis simply means the famine and cholera outbreak in Yemen will get worse.
"Saudi Arabia treats us like the junior partner in this relationship, chopping up U.S. residents"—Washington Post contributing columnist and Saudi dissident Jamal Khashoggi—"and torturing others, all the while demanding we remain silent and sell them more weapons. The U.S.-Saudi relationship needs to change, and it's clear that only Congress can make that happen."
Reed also worried about the Saudis getting their hands on nuclear weapons at an Armed Services Committee hearing in March. "Proposals to sell U.S. nuclear technology to Saudi Arabia have generated significant interest and could have broader repercussions for the Middle East and global non-proliferation efforts," he warned Trump Energy Secretary Rick Perry, whose department has a role in preventing the spread of nuclear weapons.
In May 2018, MBS "stated that if Iran 'developed a nuclear bomb, we will follow suit as soon as possible.' That statement," Reed continued, "combined with apparent Saudi insistence on the right to produce fissile material—whether it be enriched uranium or plutonium—requires we carefully evaluate whether we could unintentionally encourage a nuclear arms race in the Middle East by selling Saudi Arabia nuclear reactors and associated technology."