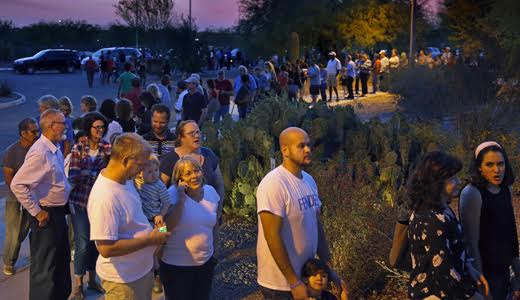 Let's talk Arizona, the land of reverse abortion bills, gun incentives, racial profiling and right-to-work-for-less laws. The Wild West of American politics, this is where the right-wing warms up its national policies and tests its boldest plans.
This is where the edge of the spear hits back hardest against a constant barrage, where organizers are born and often made against all odds, where protests are held to galvanize the base and solidify.
Let's start with 2008, the gleaming hope that is current President Obama. He brought with him "change." While we were all busy working on his campaign, there was a quiet specter haunting the United States and this was the birth and rise of the tea party.
They ran for small local, municipal, and state offices and were bolstered by entities like the Koch Brothers, ALEC, and then the Supreme Court's Citizens United decision. They gained national attention in 2012. By then they had been playing in the land of Barry Goldwater and John McCain for a long time.
That being said here are some facts about voting in Arizona:
2008: In Maricopa County, there were 400 polling locations. But in 2012 there were 200. This past week in 2016 there were 60.
2013: HB2305 almost destroyed independent voters in Arizona which are the largest voting block. This bill was fought thanks to a coalition of 12 nonprofits that work on voting rights, formally known as ONE Arizona.
Fall of 2014: While folks were awed at Selma the movie, many failed to realize the Supreme Court Struck down the Voting Rights Act of 1968. From a legal standpoint it makes sense because the court expects fair and equal justice and this act placed extra restrictions and parameters on southern states — for their history of voter suppression! The idea was that the Congress would then reenact the act to expand its protections to all states — which was never done thanks to the current makeup of Congress.
As soon as this happened the Dual-Track Voting system of Arizona was created. The Supreme Court of the United States stated that the federal voter registration form was fine for federal elections. Then Secretary of State Tom Horne therefore pointed out they had implied only federal elections and so he created a state form. Therefore, if you do not have a driver's license in Arizona that matches to a state form or social security number on a federal form you will only be registered for federal elections.
Spring of 2014: The Arizona Students' Association, which registered 10,000 students the previous year, was defunded. This has severely limited voter registration. Note that the Republican-controlled budget committee of the Wisconsin state legislature moved – with little debate, and after refusing a stand-alone vote – to eliminate the primary funding stream of the nation's oldest and most respected statewide student association — The United Council of University of Wisconsin Students. This appears to be a national trend.
Note also the presidential preference primary which immediately pushed 1.2 million Arizona independent voters away from this election, most first time voters, students and those who prefer the "populist candidates" Trump and more notably Sanders. Bernie Sanders led 70-85 percent of the youth vote in other states.
A few weeks ago our gracious Gov. Doug Ducey signed a bill that outlaws ballot collecting (or harvesting depending who you ask), making it a felony.
Proof of Citizenship aka voter ID laws have been proposed and accepted in many of the southern states, but they are being fought because the expense in securing them amounts to a poll tax. Whether the ID is $1 or $1,000 dollars you are being charged for the right to vote, a right fought through the battles of the 15th and 19th and 26th Amendments to the Constitution. As for voter "fraud," there is only one reported case often brought up: Ten years ago a man in Montana who had a summer home here in Arizona accidentally voted twice. So if you can find proof let me know because even that story might not be true.
A conservative, almost passable, argument for reducing the number of polling places may be that most Arizona voters vote by mail — recently above 60 percent. Nevertheless, there were only 60 polling locations in Maricopa County where it was estimated 20,000 would vote. According to Phoenix Mayor Greg Stanton, "In Phoenix, a majority-minority city, county officials allocated one polling location for every 108,000 residents. The ratios were far more favorable in predominantly Anglo communities: In Cave Creek/Carefree, there was one polling location for 8,500 residents; in Paradise Valley, one for 13,000 residents; in Fountain Hills, one for 22,500 residents."
Another defense has been the "fiscally conservative" one: They cut about 70 percent of the County Recorder's budget. The 30 percent left allows for 60 of the 200 previous locations to be open — that is also proof of this by design. If this is meant to be a money- saving measure it did so with disregard for the sacred voting process. To save money one must adjust the current process, if necessary, not cut away from a broken system hoping some solution will arise spontaneously from the broken pieces.
Suppression based on identity is trickier to prove but not so difficult to prove when you examine the areas with the fewest polling sites. They were the Black and Latino communities.
Take Pima County, Arizona that had a bomb threat at four polling locations, closing them each down for about two hours during election day. Take Avondale, with a large Black and Latino community and with NO polling location at all for a population of over 76,000. Take Arizona State University with an estimated 86,000 students (largest public university campuses by enrollment during the 2013-14 academic year) and NO on- campus polling location.
Workers rights were also heavily violated. In Arizona some voting rules apply allowing all workers to vote (three hours paid time off between work and non-work time). Although there are penalties for employers who violate the rules (supervisors face fines of up to $2,500 if they block someone from voting, and the company itself can be fined as much as $20,000), these laws are hidden and often ignored in the workplace leading to lower voter turnout throughout much of the workforce in Arizona.
Others reported "procedural" problems, such as lifelong Democrats being registered as Republicans in the primary as well as the larger number of Independents who re-registered as Democrats — and some as Republicans — and lost their right to vote by a "fault in the system."
Photo: People wait in line to vote in the primary March 22, in Chandler, Ariz. Residents in metro Phoenix have been bristling for years over a perception that state leaders want to make it harder for them to vote, and the mess at the pollsTuesday only heightened the frustration. | David Kadlubowski/The Arizona Republic via AP