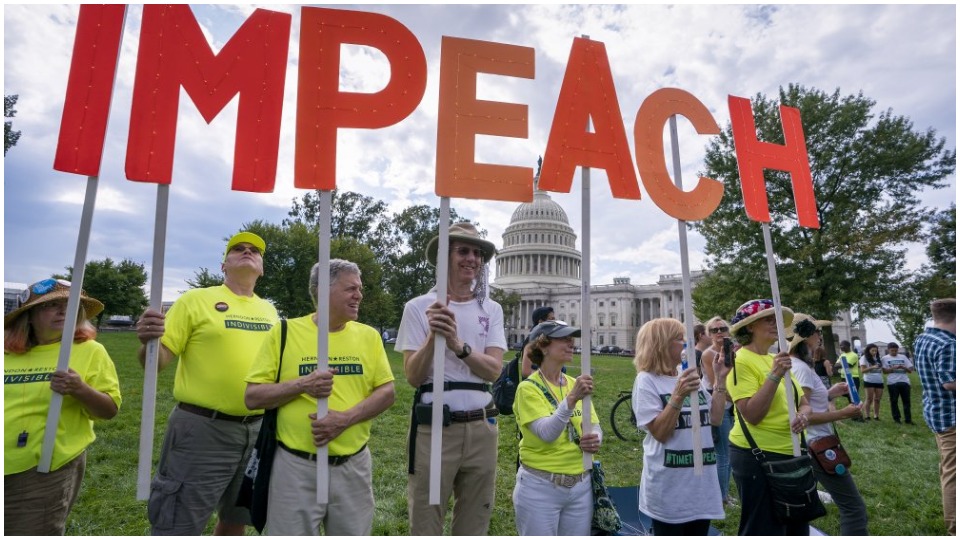 According to a new poll released early Friday morning, public support for the impeachment inquiry against President Donald Trump has now hit a majority. The milestone comes amidst the explosive revelation of a White House cover-up aimed at hiding the details of how Trump solicited election interference from the Ukrainian president.
Opinion polls conducted in the days since House Speaker Nancy Pelosi announced the launch of an official impeachment inquiry reflect public support shifting further away from the president. Most surveys show public backing for the inquiry hovering around the 50% mark, but a poll conducted Sept. 25-26 by Business Insider is the first to enter majority territory, with 53% saying Pelosi made the right move. It further revealed that 45% are already committed to impeachment.
As further details of the extensive cover-up carried out inside the Trump administration emerge, those numbers will likely continue their rise. With the release of the whistleblower's complaint yesterday, it was revealed that White House staff and lawyers attempted to hide the transcript of Trump's July 25 phone call with Ukrainian President Volodymyr Zelensky.
The cover-up
Realizing the gravity of what Trump had just done when he asked Zelensky to do him a "favor" by investigating a political rival, lawyers ordered notes of the call to be immediately placed into a codeword-protected server normally reserved for top-secret national security communications. A former CIA chief and former White House Situation Room staff have confirmed to the press that information from routine communications, such as a congratulatory phone call, would not usually be handled in such a manner.
But according to the whistleblower's report, multiple sources told him that "senior White House officials had intervened to 'lock down' all records of the phone call." Those officials were apparently lawyers acting on behalf of the president, ordering the immediate removal of the transcript in what the whistleblower says one source described to him as "an abuse of the electronic system."
"They told me," he wrote in the complaint, "that there was already 'a discussion ongoing' with White House lawyers about how to treat the call because of the likelihood, in the officials' retelling, that they had witnessed the president abuse his office for personal gain."
TRUMP IMPEACHMENT:

Impeaching Trump: Finally convinced, Pelosi opens formal inquiry

Congress hears testimony from intel chief on "smoking gun" phone call

Teachers, Service Employees become first unions to back Trump impeachment probe
More damning still is the whistleblower's claim that "this was 'not the first time'" that White House lawyers tried to hide "politically sensitive" presidential transcripts. Fresh questions are being raised about missile sales to Ukraine that were finalized by the Trump administration last summer right after that country ended its cooperation with the Mueller investigation. Could it have been an earlier case of political extortion by the president?
What other leaders or persons might Trump have previously had such compromising conversations with? What did he discuss? Have there been other phone calls soliciting election interference, or perhaps other crimes? How much evidence of other blatant abuses of office is locked away on classified servers?
The affair also recalls Trump's confiscation of an interpreter's notes after his first meeting with Russian President Vladimir Putin in early 2017. After that encounter, he ordered the interpreter to also never disclose what he had heard in the talks with Putin. A similar practice has been followed at every Trump-Putin meeting since.
Echoes of Watergate
The echoes of Watergate get louder when the full cast of characters implicated in the Ukraine case is examined. Not only Trump and his White House staff, but also Vice President Mike Pence, Attorney General William Barr, Trump's personal attorney Rudy Giuliani, former campaign chair Paul Manafort, and a dozen or more officials in the Justice Department, State Department, and intelligence agencies are linked to the crimes outlined by the report.
The whistleblower's complaint goes beyond just the phone call; it lays bare the existence of nothing less than an inter-agency conspiracy to disrupt U.S. elections and protect Trump. It suggests a prolonged pattern of criminal activity likely extending to cases touching on far more than just Ukraine. The call with Zelensky is an illegal shakedown, yes, but more than that, it amounts to a sellout of American democracy followed by a cover-up.
Giuliani has been running around Ukraine for months trying to prod its government into investigating moves by former Vice President Biden that may have benefited his son, Hunter, who served on the board of a Ukrainian gas company during the time his father was the Obama administration's point-man on Ukraine. Many State Department officials have confirmed that Zelensky's people were led to believe that getting a meeting with Trump to discuss policy matters depended entirely on whether the new president would "play ball" when it came to Giuliani's demands.
Barr was implicated by Trump himself, named in the Zelensky call as part of the coordination effort between Giuliani and the Ukrainian leader. When questioned by Congress in relation to the Mueller report earlier this year, he dodged questions about whether the president or anyone in the White House had ever asked him to investigate anyone. It is now clearer why he may have refused to answer.
Pence's involvement is also confirmed, as he backed out of a plan to travel to Kiev in May for Zelensky's inauguration on Trump's order—almost certainly linked to the shakedown effort, which involved withholding military aid in exchange for dirt on the Bidens. He is also implicated in helping disseminate cover stories inside the government as to why aid to Ukraine was being held up, saying it was related to corruption issues, but not divulging Trump's true aim of targeting Biden.
Acting Director of National Intelligence Joseph Maguire, despite only being in the job for days, has now also been pulled into the muck as part of the effort to suppress the whistleblower's complaint. As for Manafort, he has long ties to corrupt Ukrainian government officials and is currently imprisoned for other illegal activities on behalf of Trump.
Meanwhile, in his flailing response to the news yesterday, Trump couldn't help but commit more impeachable offenses. Speaking to an audience of U.S. diplomatic staff at the United Nations, Trump implied that execution was the appropriate way to deal with the sources who had shared information with the whistleblower. Trump opined on the appropriate ways to deal with what he called "spies," implying that anyone not personally loyal to him was guilty of "treason."
Although in typical Trump style the president did not directly threaten any government official, his words were a calculated attempt to silence any further whistleblowing or corroboration. It was an intentional effort to put a chill into anyone else who might be thinking of coming forward with information.
Stopping the possible avalanche of evidence coming down the pipeline will be difficult for Trump and his associates, though. His out-of-control claims of executive privilege are an effort to plug a leaking dam—to stop courts or Congress from evaluating what constitutes true national security matters and what is just criminal.
If information in the whistleblower's complaint is accurate, there could be dozens of government officials who have information that will no doubt be sought by the committees conducting the impeachment inquiry. Even without that information, though, there is already more than enough to merit impeachment.