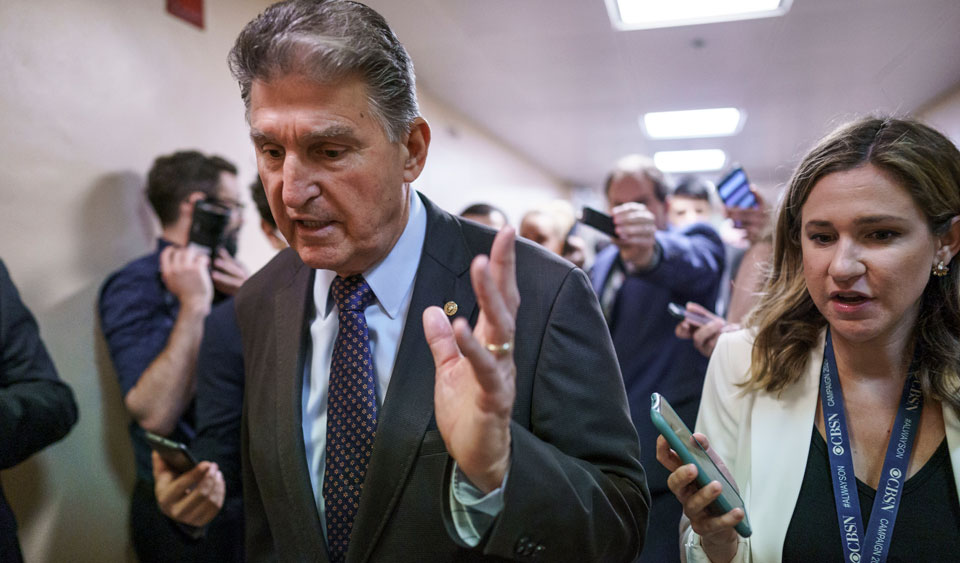 WASHINGTON—West Virginia Democratic Sen. Joe Manchin's announcement that he opposes the For The People Act (S-1 in the Senate) all but guarantees that the sweeping voting rights bill the Biden administration and Democrats in Congress have been backing is all but dead in the water now. The bill was the only chance to undo the restrictive voting rights laws Republicans are enacting across the country.
Even if the filibuster was ended, which Manchin says he also opposes, the senator's opposition to the bill is enough to kill it in the evenly divided 50-50 Senate.
The less sweeping John Lewis Voting Rights Act would restore the law gutted by the Supreme Court, but it would allow Justice Department intervention in state changes in election law only for future efforts by Republicans determined to curtail voting rights. It would have no effect on current voter restriction laws recently enacted.
Biden's infrastructure bill, already watered down by the president from his original $2.2 trillion plan, also looks as though it cannot be passed in a bipartisan manner. Biden has refused the GOP counteroffer to his stripped down plan, and he rejects the Republican proposal to take most of the money to pay for their plan away from funds intended for COVID-19 relief.
Republicans also refuse to pay for the bill the way Democrats want to pay for it—with tax money from large corporations and the rich. Manchin has said he wants a bipartisan bill on infrastructure but has not yet ruled out using reconciliation if it becomes the only way to get it done.
Unions and their allies are demanding that Congress pass the full Biden infrastructure bill and are pointing out that if Democrats cannot enact key parts of their agenda, they will be in trouble with voters who turned out in huge numbers as disease swept across the country because of promises that voting would bring significant change.
This makes the refusal of Manchin and a handful of other Democrats to come along on these issues almost a criminal move that can result in future victories for the neo-fascist Republicans and destruction of democracy as we know it in the U.S.
Bracing for possible disaster, Senate Majority Leader Chuck Schumer warned Democratic colleagues that June will "test our resolve" as senators returned to Washington Monday to consider infrastructure, voting rights, and the other stalled-out plans at this crucial moment in American history.
Six months into Biden's presidency it is clear that Manchin and a few others are holding back progress on all the president's major campaign promises.
Labor and its allies are not giving up yet, however. The AFL-CIO's building trades unions have just issued a call for passage of Biden's original $2.2 trillion infrastructure bill.
"We need to move the ball," said Yvette Simpson, CEO of Democracy for America, a liberal advocacy organization, told the Associated Press.
"We told everyone to come out against all odds in the pandemic and vote," she said about the 2020 election. The promise was that with Democrats in power, "we're going to have all these great things happen, their lives are going to be better. And what they're finding is that it looks like Washington as usual."
The days ahead this month may constitute the last chance at legislating before the August recess and the start of campaigns for next year's elections.
Schumer is challenging senators to prepare to make the right choices, but he is not doing what some Senate leaders and some presidents did in the past: almost literally twisting arms and banging heads the way President Lyndon Johnson did in the last century to pass Voting Rights and Civil Rights.
Manchin, in announcing his opposition to the voting rights bill Sunday as the "wrong piece of legislation to bring our country together," also restated his refusal to end the filibuster, denying Democrats a crucial vote needed to make the rules change that could help advance their agenda.
Without support from Manchin or others, including Sen. Kyrsten Sinema, D-Ariz., who also wants to keep the filibuster, Schumer is all but warning that Democratic senators will be forced to confront the limits of their fragile majority. That could exacerbate party divisions and expose Democrats to criticism from Republicans eager to show that Biden's party cannot govern.
"The June work period will be extremely challenging," Schumer warned. "I want to be clear that the next few weeks will be hard and will test our resolve as a Congress and a conference."
Manchin's opposition delivers a serious blow to the election bill, while the GOP encourages more and more voting restrictions changes in the states.
Manchin has no answer when he is asked why it is acceptable for Republicans to be in the favored position on these fights. They deployed the filibuster to block the creation of a bipartisan commission to investigate the insurrection and in their states, they are able to pass voting restrictions with simple majorities, never needing the 60% Democrats need to pass anything in the U.S. Senate.