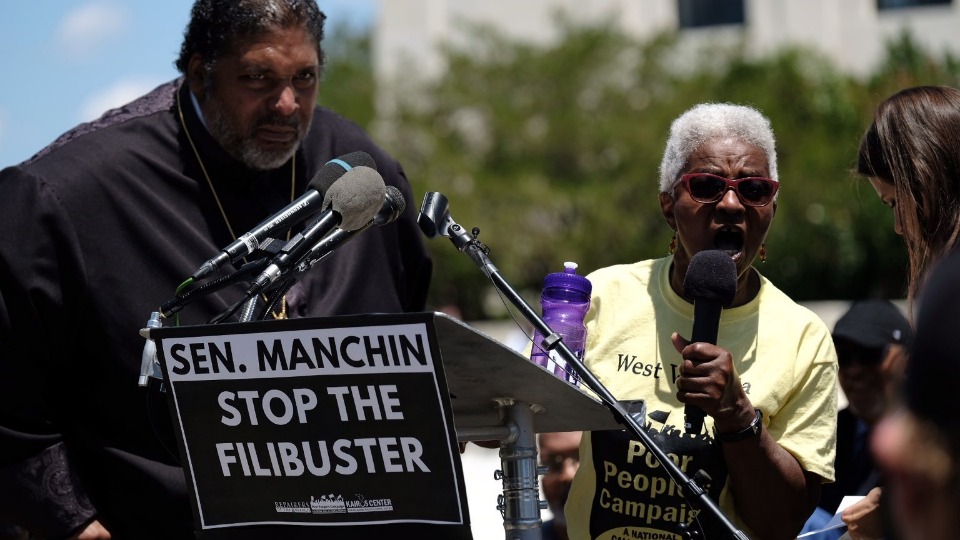 WASHINGTON—For former Freedom Rider Suzanne Walsh, the Jan. 6 Trumpite invasion of the U.S. Capitol was the greatest threat to democracy in general and voting rights in particular since she dodged racists' rocks while campaigning for Black voting rights in Birmingham, Ala.
So the soft-spoken grey-haired Walsh boarded a plane with 12 of her friends and flew to D.C., to join hundreds of other people, led by Poor People's Campaign co-chair the Rev. William Barber II and veteran civil rights crusader the Rev. Jesse Jackson, in demanding senators revive and pass the comprehensive pro-voting pro-reform For the People Act.
Shading herself with a white parasol emblazoned with the word "Freedom!" in yellow, Walsh and the others marched for full, unobstructed, uncompromised, voting rights for Black people, brown people, Native Americans, women, and workers as part of the Poor People's Campaign.
It just took her a while to get to Washington. The group flew in from Anchorage, Alaska.
"Voting rights is everything. Democracy is on the line," she told People's World in an interview as the crowd listened to pre-march speakers while gathered in front of the U.S. Supreme Court, the institution whose five-justice GOP-named majority gutted the Voting Rights Act exactly eight years ago.
"I'm 70 years old and I never dreamed I'd see anything like that in this country," Walsh said of the white nationalist invasion on Jan. 6. Of the Poor People's Campaign and its emphasis on June 23—and in its platform—on full and protected voting rights, the Alaska resident for 54 years declared: "This is right versus wrong."
That line is a constant refrain, repeated again on the march by Barber, who had a few other criticisms of Senate GOP Leader Mitch McConnell, R-Ky., whose phalanx of united Republicans in the 50-50 Senate sidelined the For the People Act—for now—on June 22, by defeating a motion to start debating it.
McConnell wasn't the marchers' only target as they paraded to his house on Capitol Hill. So was Sen. Joe Manchin, D-W. Va., who voted with all the Senate Democrats to open debate. But Manchin still refuses to kill the filibuster. That's the threatened GOP maneuver against the For the People Act. Only a 60-vote supermajority can prevent or halt that senatorial tactic.
"There is nothing moderate about using a non-constitutional filibuster to block protecting and expanding the constitutional right to vote," Barber told the crowd. "Not one Democrat ran last year and said 'If you elect me, I'm gonna join the Republicans in their interposition and nullification,'"—concepts antebellum Southern racists used to protect slavery before the Civil War.
"The Republicans have demonstrated that they don't believe there's a problem. So how can you compromise with people who don't believe they have a problem?" Barber asked.
"They have sided with the corporately-funded think tanks," he said of the GOP. "Six months after the Capitol was stormed by insurrectionists who wanted to overturn the results of the election, they have decided they are on the side of political insurrection.
"They've attempted to do it in our face and it's gone on long enough and it needs to stop, now…We're here to ask; 'Which side are you on?'"
Barber declared the Senate should abolish the filibuster, and then use "50+1"—the Senate Democrats plus Vice President Kamala Harris as the tie-breaker—to resurrect and approve S1, raise the federal minimum wage to $15, enact universal health care, and strengthen and broaden workers' right to organize. All are parts of the Poor People's Campaign's comprehensive platform to end U.S. poverty.
McConnell uses the filibuster, and threat of one, to be "The Grim Reaper"—his own description—against all those causes and more. That made him a march target on June 23. Stubborn defense of the filibuster and its 60-vote rule made Manchin the second target of the crusading crowd.
The Alaskans were part of that crowd of whites, Blacks, Latinos and Latinas, Native Americans, Christians, Muslims, Reform Jews, women, men, LGBTQ persons, and others who demanded lawmakers support and enact the comprehensive voting rights and anti-voter suppression legislation.
"This," said Walsh of voter repression, "has been going on for a long time." She said she has talked about it with aides to Alaska's senior senator, Lisa Murkowski, considered a conservative, but not a hard-right Republican.
The staffers listened politely but honestly told Walsh that Murkowski would vote against the "motion to proceed" to debate S1. Murkowski did. So did Alaska's other GOP senator, Dan Sullivan. He's so hard-right Walsh didn't even try to contact him.
The June 22 Senate setback didn't faze the marchers. At the end of the march on McConnell's and Manchin's D.C. residences, Barber was among marchers who peacefully stepped into Constitution Avenue, defying police orders, blocking traffic, getting arrested, and charged with misdemeanors for peaceful civil disobedience but released without being carted off.
Voter repression was the other speakers' point, too. Jackson, hampered by Parkinson's Disease and aided by his son Jonathan, ran through voter repression history from the end of Reconstruction through racist resistance from then-segregationist Democratic Govs. George Wallace of Alabama and Lester Maddox of Georgia in the 1960s. But the two major political parties have switched sides, he said.
"Today's Republicans are yesterday's Democrats," said Jackson, a onetime aide to Dr. Martin Luther King, Jr. "They are the children" of Maddox and Wallace. "We know they shifted from democracy to fascism. The lineage of those who tried to overthrow the government then," in the Civil War, is "trying to overthrow the government now.
"We the people are not giving in," Jackson declared in a preacher's call-and-response. "Use our dimes and use our dollars" in a boycott, as well as undertake nonviolent resistance, including going to jail.
Other marchers cited other planks of the Poor People's Campaign as their reasons for traveling to D.C. Kate Wood of San Antonio named the campaign's stand for legislation to curb climate change since such change overwhelmingly hits poor people. She stayed in D.C. for a June 24 march about that.
Heather Graham of Mountain Home, Ark., who is a single mother—and who brought her adult daughter with her—said politicians "keep making us promises and they don't follow through." That includes promises to aid the poor, which Graham has been most of her life, as a McDonald's manager, health care administrator, and now a substitute teacher.
"I'm one catastrophe away from homelessness," she said. Her daughter, a public high school teacher, added 90% of her students in her Texas school depend on free or reduced-price lunches for that meal.
As for McConnell, a leading beneficiary of corporate campaign dollars and right-wing "dark money"—another target of S1—one Kentucky Poor People's Campaign leader used his own description, then added the senator "knows his desk is where policy for the people goes to die. And he's proud of that.
"What policy does he have? Absolutely nothing," she continued. Some "37% of Kentucky is poor or low-income. When was the last time Mitch came down to talk with you?" "Never," the Kentuckians in the crowd replied.
The speeches, march, and the arrests can be viewed here.