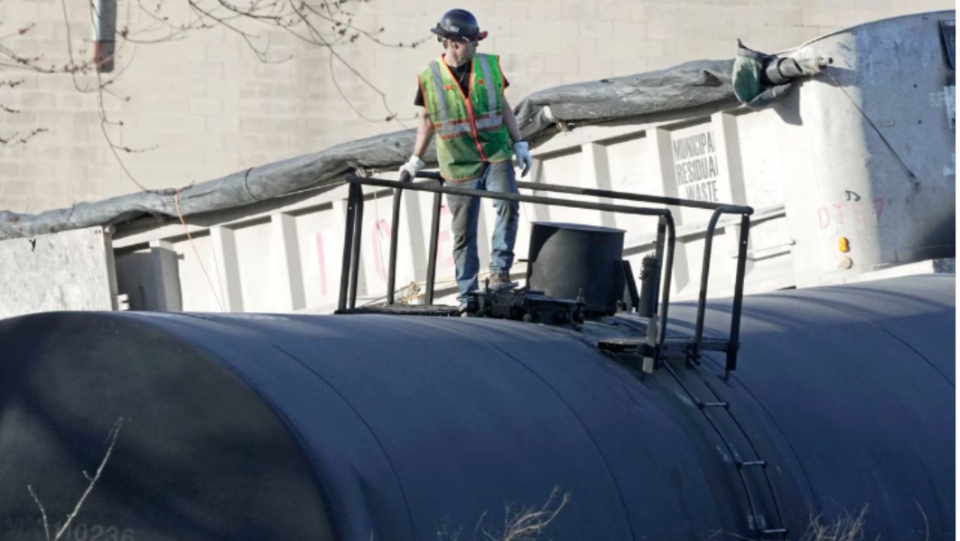 DETROIT—Last week was an eventful one in the state of Michigan. It all started with a "rare" ice storm that rolled through on Wednesday and left over 700,000 residents without power. Although most of those Michiganders lost power during the storm, the aftershocks were still being felt the morning after when even more people were left without electricity and heat.
Although Michigan weather is less than pleasant during the month of February—with a mix of plummeting temperatures, unpredictable snowfalls, and vibe-dissolving gray skies—ice storms are, in fact, quite rare. However, the question of whether Michigan's power infrastructure can handle a normal winter season remains an open one. Even Michigan's Attorney General Dana Nessel sounded off, calling for "a grid that [residents] can rely on."
Aging and faulty infrastructure is a known issue in Michigan, especially in Wayne County, where freeways remain flooded for days after summer storms, pedestrian bridges crumble beneath foot traffic, and "blight removal" is the second politest way of saying "gentrification" ("beautifying" being the clear number one). A failing electrical grid is less a surprise and more just another line item before residents find out something terrible about their water supply.
It is not that this is a new problem, either. The energy companies that battle over state control are quite proficient at running PR campaigns to cover for major outages. For example, Bridge Michigan ran an article in 2017 based on a study done by the power management company Eaton that claimed Michigan has more outages than most other states.
DTE Energy CEO Gerry Anderson wrote a guest article claiming that Eaton's study was incorrect at best and that Michigan is doing better than the national average. In fact, DTE's YouTube page chronicles recent advertisements and "continuous improvement" videos that suggest they have no other priorities than bettering Michigan's reliance on energy.
Although several energy companies exist in Michigan, Consumers and DTE have the most control of the game; and, Southeast Michigan, home to nearly half of the state's total population of 10 million people, is primarily DTE's turf.
Already unpopular among Michigan residents, especially in Detroit for trying to increase power bills by 8.8%, DTE asked the Michigan Public Service Commission (MPSC) for an additional $622 million in revenue at the beginning of February, which would translate to a 14% hike on residents' bills.
The MPSC, the governor-appointed body that regulates investor-owned utilities in Michigan, approved only a fraction of DTE's request last year. The power giant claims this latest ask for more money from residents would cover "investments in electric distribution, its tree trimming program, and other operations."
Much like a job description that slyly and innocently states "and other duties" near the end, these "other operations" seem to point toward nothing that DTE would be proud to write about in a guest article. Considering DTE Energy lines the campaign pockets of most of Michigan's state legislature—138 out of 148 senators, to be exact—"other operations" would appear to be the correct euphemism to end an otherwise clear statement.
Though it is worth noting that being conspiratorial today means doing a lot of extra (and unnecessary) work: The "conspiracy" tends to hide in plain sight—if it's not bluntly stated to our faces—and so it would make more sense to simply read "other operations" as, at least partly, the expense of lobbying. The irony is that the truly cynical move would be to leave the question of "other operations" open to meaning some actual energy-based work like grid improvements.
Unlike their customers this past weekend, Consumers Energy is feeling the heat: The MPSC ordered an audit of Consumers, along with DTE, following a massive power outage in August 2022 that left 500,000 without power. About 215,000 of their customers were without power after last week's ice storm.
Consumers Energy recently stated that it plans to spend $5 million over the next five years on preventative maintenance, such as heavy-duty poles, wires, and transformers. After raking in total revenue of $2.278 billion in the last quarter of 2022, it is hard to imagine that the veritable fraction of a cent that $5 million is in comparison will mean anything.
Where does the majority of the revenue go? Well, in comparison to what Consumers vow to put toward improvements, they spent $88 million in 2015-17 on trimming trees. Besides DTE's noted line item before "other operations" on which to spend their newly-requested $622 million, their YouTube page also has several videos dedicated to a tree trimming academy.
Trees, having been cited as the main cause of power outages—for example, trees were responsible for 85% of outages during a windstorm that hit Michigan in March of 2017—and being plentiful across both peninsulas, seem to be our biggest enemy (compared to fledgling infrastructure and profits). This is especially concerning when we consider that trees are growing almost all the time, sort of like profits, except most species of profits don't take the winter off.
But who is leading the way in this war against trees? Perhaps it's not just one of the top energy contenders.
Now for the toxic event
Corporations, not one to take losses in the war against nature well, were still able to eke out a victory over Michigan's ecosystem by transporting hazardous materials from the train derailment in East Palestine, Ohio.
After getting caught already doing so, Norfolk Southern Railroad openly stated that the toxic materials would be "transported to landfills and disposal facilities that are designed to accept it safely in accordance with state and federal regulations."
State officials and representatives did not learn about the supposedly pre-planned disposal until Friday of last week.
The solid waste was sent to the U.S. Ecology Wayne Disposal Inc. Hazardous Waste Landfill in Belleville, which is located across the street from Belleville Lake, a body of water that connects the Huron River on both ends. The liquid waste was sent 12 miles down the road to the Republic Industrial and Energy Solutions LLC facility in Romulus, right on the Ecorse River.
The derailment in East Palestine occurred on Feb. 3 and seemed uncannily similar to the plot of part two of Don DeLillo's White Noise—also released as a film of the same name earlier this year—which is known as "The Airborne Toxic Event." In this part of the story, a train derails, spilling toxic chemicals and unleashing a poisonous cloud over a midwestern town. Residents scramble to leave one safe area for another as the cloud billows onward, constantly receiving contradictory information about the poison's effects on people and where to go.
It appears Michiganders may not have to outrun the toxic cloud, though, because trucks will bring the vinyl chloride right to them.
"We have a right to know, 1.8 million people have the right to know," Wayne County Executive Warren Evans said about the disposal operation. "If it's being transported into our communities, how are you coming? What roads are you taking?"
Evans added that finding out only moments before a press conference makes the situation look "nefarious," and perhaps that is the only real lesson from all that happened last week in Michigan. Distracting us from appearances is the whole point. After all, if someone approached you on the street, told you trees are the real problem, and handed you a bag full of toxic soil, wouldn't it feel like someone just got away with something "nefarious?"