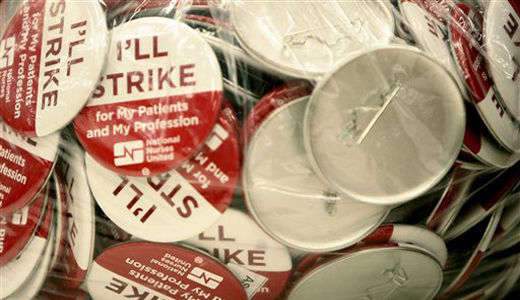 ST. PAUL – The Minnesota Nurses Association announced today that more than 12,000 Twin Cities nurses will conduct a one-day strike for patient safety on Thursday, June 10.
The work stoppage will be the largest nursing-related strike in U.S. history in terms of the number of nurses involved. Previously, the largest strike in history occurred when more than 6,000 Twin Cities nurses walked off the job for 38 days in 1984 before coming to an agreement with area hospitals.
"The hospitals left us with no choice," said Linda Hamilton, an RN in the Children's Hospital System and president of the Minnesota Nurses Association. "Our nurses always have and always will stand up in order to protect our patients and our profession. The Twin Cities hospitals have sent their message to our nurses loud and clear – they want to put profits ahead of patients. As nurses, we're not okay with that. We want working conditions that ensure our patients receive the safest, highest-quality nursing care possible."
Since mid-March, Minnesota nurses have been locked in contract negotiations with six different hospital systems that include 14 institutions. On May 19, more than 9,200 nurses voted by a better than 90 percent margin to reject the hospitals' labor contract and pension offers, thereby authorizing a strike.
Within hours of today's news conference, the hospitals' representatives met with MNA staff and a federal mediator to schedule additional bargaining dates. While MNA nurses had offered to meet every day until the strike date of June 10, the hospitals only agreed to meet on two days, June 2 and June 4.
"We are glad the hospitals have agreed to come back to the table," said Laurie Bahr, an RN at Abbott Northwestern Hospital and a member of MNA's Allina bargaining team. "That they are not willing to give us any more than two days before our strike date is alarming. I certainly hope they are coming back with the full intention of reaching an agreement and not engaging in the surface-level bargaining we have seen to this point."
Federal labor laws require nurses give a formal 10-day notice to hospitals of their intent to strike, and Twin Cities nurses are filing that paperwork today.
"We feel that a one-day, unfair labor practice strike for patient safety with a notice to our employers that our nurses will be returning to work the very next day has the maximum impact on our employers and the minimum impact on our patients and the communities we serve," Hamilton said. "All along, our nurses have wanted to avoid this situation, but the hospitals left us no choice. They literally did not respond to a single one of our proposals during more than two months of negotiations. They forced us into taking a strike vote."
The hospitals and nurses recently agreed to come back to the bargaining table in hopes of reaching an agreement on the labor contracts and pension programs that cover all 12,000 nurses, thereby potentially avoiding the June 10 strike.
"From day one, our nurses have been ready to bargain in good faith and reach an agreement that keeps our patients safe and ensures our nurses fair wages and benefits," Hamilton said.
The chief sticking points in Minnesota negotiations have been RN-to-patient staffing ratios and the hospitals' desire to cut the nurses' pension, which has been in place since 1962, by more than a third.
"Twin Cities hospitals are dangerously understaffed, and our patients are needlessly suffering and sometimes even dying as a result," Hamilton said. "As nurses, we're tired of seeing this happen shift after shift."
Hamilton added that the Twin Cities nurses' pension fund accounts for roughly 1.14 percent of the hospitals' nearly $7 billion in annual revenue, and that cost is not the issue.
"Twin Cities hospitals made nearly $700 million in profits during 2009. Despite what they say to the public and in the media, Twin Cities hospitals are not struggling financially. Far from it. In fact, they have told us at the bargaining table repeatedly that it's not that they can't afford to fund our pension – it's that they don't want to."
Photo: Elizabeth Flores/The Star Tribune/AP