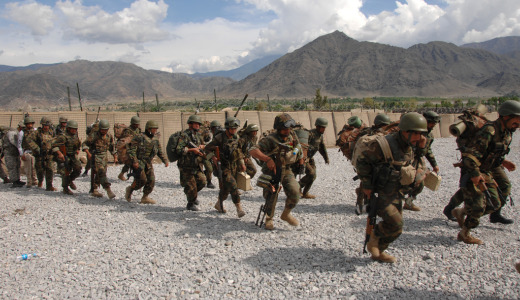 With President Obama scheduled to announce his Afghanistan strategy Tuesday night, polls indicate the U.S. public has very mixed feelings about the war.
The White House said today that the president has already issued an order sending some 30,000 additional troops to Afghanistan. Administration officials emphasized that this move is linked to a time frame for ending U.S. military involvement there.
In his speech to the nation tomorrow evening, Obama "will be more explicit about both goals and time frame than has been the case before and than has been part of the public discussion," a senior official told The New York Times. "He wants to give a clear sense of both the time frame for action and how the war will eventually wind down." He will also discuss how the plan will be paid for, officials said.
"This is not an open-ended commitment," Press Secretary Robert Gibbs said.
Obama will reportedly not try to tie the troop increase to "benchmarks" on the ground in Afghanistan and will not include a specific timetable. Instead, according to White House officials, he will say that the U.S. military presence will be cut back after the buildup. At the same time, he will seek to address concerns of neighboring Pakistan and India about the potential destabilization of the region, by saying that the U.S. will maintain a significant presence in Afghanistan for some time to come.
Recent polls show public sentiment on the issue in the U.S. is divided and contradictory.
In a USA Today/Gallup poll taken Nov. 20-22, 66 percent said things are going badly for the U.S. in Afghanistan. But 60 percent said the U.S. did not make a mistake in going into Afghanistan in 2001. And only 39 percent said President Obama should reduce the number of troops there. A majority, 56 percent, said he should either increase troops or keep the number the same.
A CBS News poll taken a week earlier had similar results. That poll also asked respondents if they thought sending more troops would make things in Afghanistan better, worse or have no impact. The result: 36 percent thought more troops would make things better, 32 percent thought it would make things worse, and 31 percent thought it would have no impact.
Reflecting this unease, even moderate lawmakers and pundits have urged Obama to put forward a clear exit strategy. Some called for no troop increase, while others emphasized prioritizing international training and support.
Sen. Carl Levin, who chairs the Senate Armed Services Committee, last month said building up the Afghan army and putting it in the lead should take precedence over a U.S. troop buildup. "By contrast," Levin said, "expansion of our own combat presence could feed a Taliban propaganda machine that seeks to portray the forces arrayed against them not as a home-grown domestic effort to prevent the return of a detested extremist regime, but as the effort of a foreign occupier."
Saying the U.S. needs to show its commitment to the people of the region, the Michigan Democrat said that poses a "conundrum": "While we need to demonstrate renewed commitment, if we do so by focusing on more and more U.S. combat troops, we endanger the very success we seek." Levin said stepped up participation by U.S. allies in training Afghan forces would be essential.
The liberal Center for American Progress, in a statement issued Nov. 25, said the administration's strategy must "set a timeline for the withdrawal of U.S. forces," and must include a way to finance the war. Noting that the U.S. now spends more than $3.6 billion a month in Afghanistan, and the new troop increases will raise monthly costs to at least $6 billion, CAP warned, "The Bush administration hid the costs of the war in Afghanistan and Iraq by hiding the expenses in congressional supplementals, outside of the normal budgeting process. The nation's debt is now approximately $12 trillion. The United States cannot push the cost of the war to future generations, and should not use the deficit to finance the conflict."
Antiwar groups such as Peace Action and the United for Peace and Justice coalition have launched phone-ins to Congress and the White House, warning that more troops could be disastrous, and urging beefed up diplomatic and economic development efforts instead.
U.S. Labor Against the War sent out an e-mail Nov. 29 urging its members and supporters to mobilize to "convince the administration that this escalation puts our country on the wrong course. It is the path LBJ took in Vietnam and it cost him 'The Great Society.' We can do better." It called for "non-military solutions" and "pursuit of terrorists as a criminal rather than military matter."
"What Afghanistan needs now," said the labor group, "is not more foreign forces but rather more international diplomacy, regional negotiations that include the Taliban, real development assistance, more schools and clinics, electrification, clean water, and sanitation."
Noting that it costs $1 million for every soldier sent to Afghanistan, USLAW said, "The billions of dollars we are squandering there are not making us any safer, but they are draining resources that could be used here to meet the urgent needs we have here at home – for health care, education, infrastructure, and more."
Meanwhile Republican warhawks launched their own pre-emptive attack on Obama. "Talk of an exit strategy is exactly the wrong way to go," Sen Jon Kyl, R-Ariz., said on "Fox News Sunday." Kyl claimed talking about an exit strategy would "signal to the enemies" that "we're not there to stay until the mission is accomplished."
The president will make his announcement in a prime-time address at the U.S. Military Academy at West Point, N.Y. Congress will open hearings on Afghanistan this week. Defense Secretary Robert Gates, Secretary of State Hillary Clinton, Adm. Mike Mullen, chairman of the Joint Chiefs of Staff, and Gen. Stanley McChrystal, the top commander in Afghanistan, will be testifying.
Photo: http://www.flickr.com/photos/soldiersmediacenter/ / CC BY 2.0