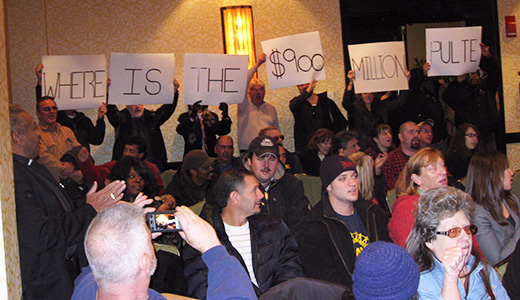 Several hundred workers from the Painters Union and the Sheet Metal Workers union marched Jan. 19 into a crowded Washington, D.C., conference room where the nation's mortgage bankers were gathering.
The protest was aimed at PulteMortgage, whose CEO, Debra Still, was chairing the meeting.
The bankers' summit was interrupted after the workers, who overwhelmed security guards with their sheer numbers, marched into the room, passing stunned bankers and chanting, "Where is the money? Where are our jobs?" Many of the bankers fled the meeting as the workers, some wearing their construction helmets, entered the room.
Homebuilding giant PulteGroup, the parent of PulteMortgage, received $800 million in public funds last year under terms of the Worker, Homeownership and Business Assistance Act of 2009. The intent of the law was to provide money companies would use both to create jobs and assist workers they were laying off.
Angel Rangel, one of the workers who interrupted the meeting and an organizer for the Sheet Metal Workers, said, in a phone interview, "Pulte has received a billion dollars to put people back to work. But we haven't seen those jobs. Isn't someone accountable?"
The only report from Pulte indicating that it was spending any of the billion it got on job creation or aid to the jobless came last year when the company said it had spent $8 million on employee severances.
Soon after that announcement the company announced plans to cut hundreds of jobs and shut its plant in Tolleson, Ariz. The plant made doors, frames, trusses and other things for the company's new homes.
Pulte has made no mention to its investors, according to Rangel, of any plans for job creation.
When discussing the company's cash reserves, he said, Pulte's Chief Financial Officer, Roger Cregg, mentions only land acquisition and debt restructuring.
"Wherever Pulte's executives go, we will follow," said Metropolitan Detroit AFL-CIO president Saundra Williams, "until there is accountability for those taxpayer dollars. It is time for Pulte to show us the money that was supposed to create jobs."
Reports from the site of the protest indicate that many bankers fled as soon as the protest began.
One banker told the press, "We would have listened to the protesters if they had worn suits and asked questions without making a scene."
Photo: At a Troy, Mi. protest by trade unionists and the faith-based community in December. PW/John Rummel