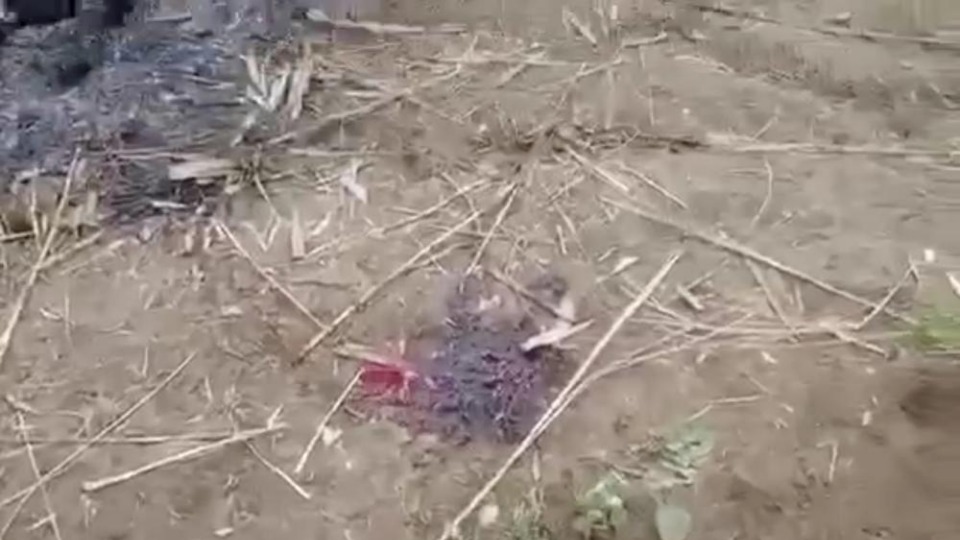 Burmese soldiers raided a village in the northwest part of the country, tied up 11 civilians, and burned them alive, witnesses report.
Human Rights Watch said today Wednesday the massacre, which took place on Tuesday, should prompt further sanctions on Burmese military commanders.
"Our contacts are saying these were just boys and young people who were villagers who were caught in the wrong place at the wrong time," a spokeswoman for the group, Manny Maung, said. She added that reports of many similar incidents were being received but this was unusual in that photographic evidence had been obtained.
"This incident is quite brazen, and it happened in an area that was meant to be found and seen, to scare people," Maung said.
A video of the aftermath of Tuesday's attack showed the charred bodies of 11 victims, some believed to be teenagers, lying in a circle amid what appeared to be the remains of a hut in Done Taw village in the Sagaing region.
A witness told The Associated Press that about 50 troops marched into Done Taw at about 11 a.m. Tuesday, seizing anyone who did not manage to flee.
"They arrested 11 innocent villagers," said the witness, who described himself as a farmer and an activist and spoke on condition of anonymity because he fears for his safety. He did not see the moment of their killing but said he believed they were burned alive, as did other people who spoke to Myanmar media.
He later saw the charred remains—and was present when the widely distributed images were taken. The images themselves could not be independently verified.
Outrage spread as the graphic images were shared on social media over what appeared to be the latest of increasingly brutal military attacks in an attempt to put down stiffening anti-government resistance following the army takeover in February.
U.N. spokesman Stephane Dujarric expressed deep concern at the reports of the "horrific killing of 11 people" and strongly condemned such violence, saying "credible reports indicate that five children were among those people killed."
Reports suggested the killings were a retaliation attack because the army believed an attack on a convoy had been launched from the village.
The military junta in Myanmar, which seized power on February 1, has become increasingly violent as it seeks to suppress resistance and democracy demonstrations.
The underground National Unity Government formed to resist it said that it had heard an army convoy had been hit by a roadside bomb and troops retaliated by shelling the village, then raiding it, rounding up whoever they found, and killing them. The victims were between 14 and 40, spokesman Dr. Sasa said.
"The sheer brutality, savagery, and cruelty of these acts show a new depth of depravity," he said.
The Communist Party of Burma recently announced it was resuming armed struggle in light of the inability to remove the junta peacefully.
The army denies having had troops in the area at the time.
This article features content from the Associated Press and Morning Star.