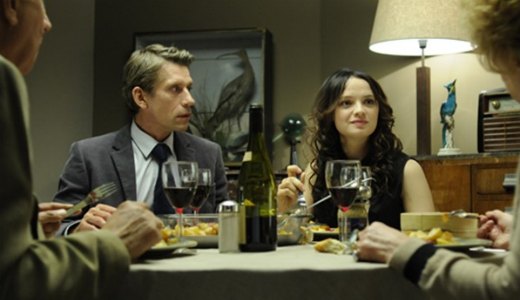 Film Review
The Names of Love
2010, 100 mins., Unrated
Is The Names of Love, now showing nationwide, another frothy French bedroom romp with the requisite sex scenes and just enough philosophical and political references thrown in to meet middlebrow cineaste expectations? Settling in at the local art house and watching the first few minutes unfold, one might be lulled into the comforting belief that the next hour and a half will be spent consuming light filmic fare.
As it turns out, The Names of Love deftly juggles any number of powerful elements – the Holocaust, colonialism and occupation, gender and cultural oppression, servility, equality, the weight of history, individual psychology and family dynamics, several of which are at play during any given moment. There are aspects of the Feydeau farce (you may have seen Please Don't Walk Around in the Nude), not to mention the constant shifting of timeframe, character, situation, and perspective that keeps the audience on its mental toes without surcease.
The male protagonist, Arthur Martin (Jacques Gamblin), a stiffly cautious avian scientist, is most comfortable perambulating the territory of science's well-defined boundaries. Dr. Martin studies dead birds, and explains in a comical soliloquy that his name is so common it is also carried by 15,612 other Frenchmen.
The female lead, the passionate and hypersexualized Baya Benmahmoud (Sara Forestier, who won Best Actress in the 2011 César Awards), seduces right-wing, fascistic men to convert them to her leftist beliefs, and informs the audience straight away that her name is unique in all of France. Almost from the start we learn there is social magic – the privilege of "normality" or the mark of differentness – in a name. Baya, that's Brazilian, yes? (Good.) No, actually it's Arab. (Bad.) What's in a name? A lot!
Both characters are "half breeds" culturally and are thus gifted with "hybrid vitality," their superior genetics the result of having two dissimilar parents. Thus a central point is made: Cross breeding is life affirming. "There are millions of us in France," observes Baya, perhaps momentarily bringing to mind for some an American president who has referred to himself as a "mutt."
Arthur's mother is a Jewish Holocaust survivor who never talks about her history and whose shadow cast a dark pall over his growing up. Arthur's father, an icon of the French Establishment, is introduced via flashback as Martin imagines his parents' wedding: his mother depicted as a young bride, while as the groom the elder Mr. Martin appears as, well, the elder Mr. Martin; such is Martin's perception of his emotionally static father's presence.
Baya's gene pool is provided by her French hippie, speed-talking, sloganeering gauchiste mother and her psychologically traumatized, artistically inspired, but sadly blocked Algerian immigrant father, who lives his life guided by what might be called a "colonized mentality." The dramatically different ways the Jewish Holocaust and the Algerian experience of mass murder during the French colonial war are officially represented offer an important 21st century lesson in the hierarchy of holocausts.
The pressure to maintain family taboos and the ever present expectation that one must conform to French society's contradictions and hypocrisies move Arthur and Baya forward in different directions. That is, except for their politics. Seemingly counter to other facets of his personality, Arthur, unlike the "fascist" sexual partners Baya is usually drawn to, supports the Socialist presidential candidate Lionel Jospin (who sportingly appears as himself in the movie). So initially the question occurs: Why is Baya attracted to Arthur? Along the way, Baya's idea of what constitutes a "fascist" is gradually revealed to be an emotional category – anyone who is rigid or unfeeling, whether they are technocrats, ideologues, religious zealots or affectless ciphers, however right- or left-wing they may be.
This sexy, madcap adventure won the Best Original Screenplay César Award for Baya Kasmi and Michel Leclerc, who also directed, and deservedly so. Anything you want to say about it – comedy, romance, satire of bourgeois values, meditation on the Holocaust, on colonialism – it's all that and more, and a smile will rarely leave your face. By the way, stick around for the tuneful and touching song that plays during the credits.
Wrapped inside its lighthearted exterior, The Names of Love leaves the deep impression that ideology is an adaptation to pain. The antidote for such a painful life? Do you have a spare 100 minutes?
Photo: Arthur and Baya via the film's website.