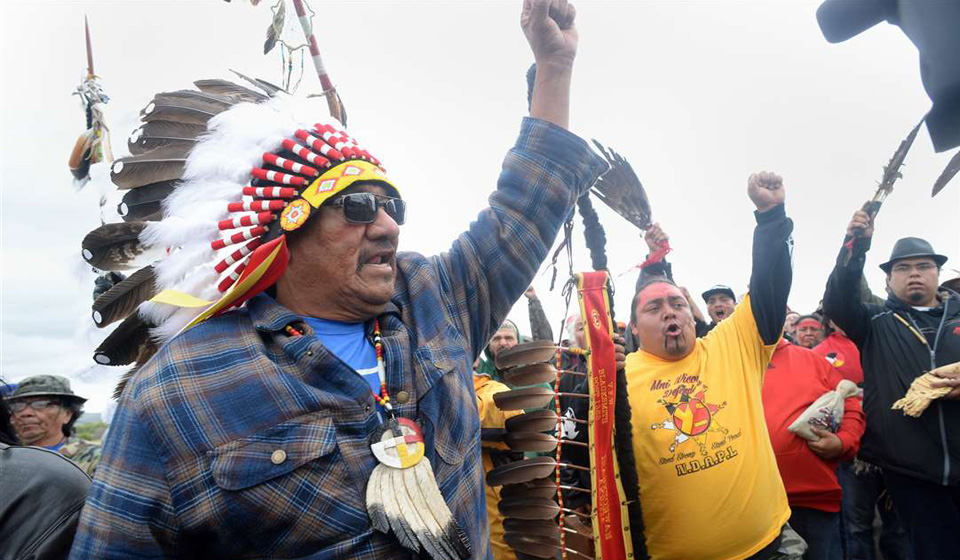 NASHVILLE, Tenn. – On December 6, 2016 the Nashville Metropolitan Council passed a Resolution in support of the Standing Rock Sioux opposition to the Dakota Access Pipeline (DAPL). The Resolution was sponsored by Council members Erica Gilmore, an African American representative, and Bob Mendes.
On the evening of the December 6, Council session Native American community members and their supporters were present in the council chambers. They were all asked to stand by Councilwoman Gilmore when she presented the resolution.  The document was entitled "A Resolution supporting Native American opposition to the Dakota Access Pipeline."   The initiative for the Resolution came from members of the local American Indian community who had been working with the sponsoring Council members beginning in November.
The Resolution recognized the Native American presence in the Nashville area both historically and contemporaneously and included several important points:
"Whereas, the city of Nashville is the home of thousands of Native Americans from around the country and is in the historic homeland of the Cherokee nation and has a legacy of activism which continues to this day as many Nashville residents, both Indian and non-Indian have been inspired to take action by going to North Dakota to support the resistance to protect the environment. "
"NOW, THEREFORE, BE IT RESOLVED BY THE COUNCIL OF THE METROPOLITAN GOVERNMENT OF NASHVILLE AND DAVIDSON COUNTY:
Section 1. That the Metropolitan County Council hereby goes on record as supporting the Native American opposition to the Dakota Access Pipeline
Section 2. That the Metropolitan Council hereby further goes on record as encouraging residents of Nashville to support the Standing Rock Sioux Tribe in its efforts to stop the pipeline and to otherwise raise awareness of this struggle."
The Metropolitan Council advocated for Nashvillians to actively support the  Standing Rock resistance to the pipeline.  With the passing of the resolution, Nashville joined a growing host of other cities nationwide, from Cleveland to Sacramento, from Sitka, Alaska to Asheville, North Carolina, that have championed the cause of the Standing Rock opposition by passing similar resolutions.
The resolution followed a flurry of activity nationally and locally. On December 4, the Army Corps of Engineers issued a decision denying DAPL the easement to cross the Missouri River to complete the pipeline. Locally, there have been for the past several months, often on a weekly basis, demonstrations, fundraisers, university teach-ins and presentations, community gatherings in addition to numerous truckloads of supplies sent to Standing Rock from the Nashville/ Middle Tennessee area. As the Trump administration gives its blessing for the pipeline construction to resume, such local displays of support for the water protectors against the pipeline will become even more important.