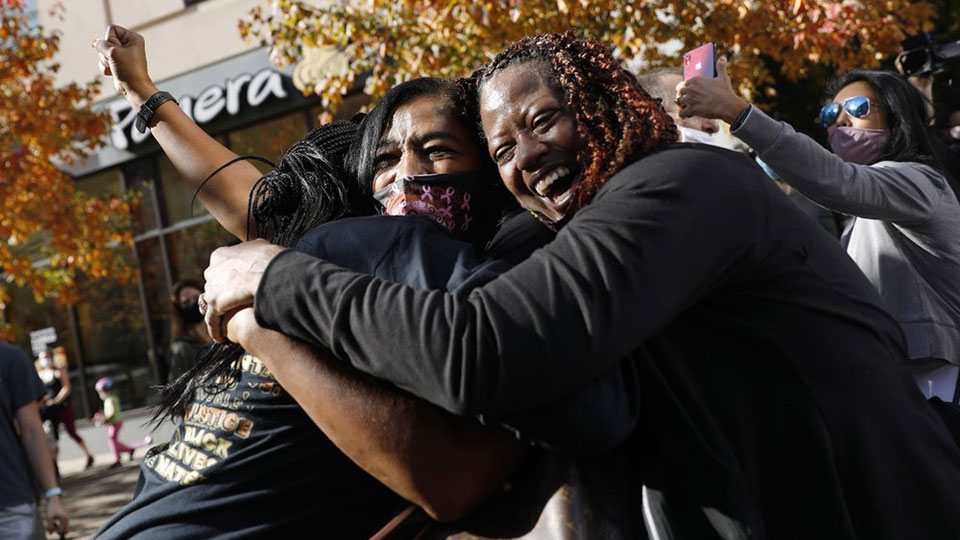 After four days of painstaking counting, Joe Biden and Kamala Harris were declared the President-elect and Vice President-elect of the United States Saturday morning.
Tens of thousands poured into the streets in cities and towns across the nation in celebration when they heard the news. Multi-racial crowds of the young and old alike filled Times Square in New York, dancing in celebration.
Bicycle riders and dog walkers in Brooklyn's Prospect Park stopped when they heard the news and clapped and cheered as passing cars on the park's perimeter honked their horns. Hundreds danced in the streets in the Black, white, and racially mixed neighborhoods around that park.
From the upper floors of high-rise apartment buildings in Chicago, tenants could hear the cheers erupting from all over the city.
MSNBC showed a video of Kamala Harris, the first African-American and Asian-American woman ever to be elected vice president. She wept, saying, "We did it Joe" into her cell phone with Biden on the other end.
Thousands of Dreamers who have lived in fear of deportation under Trump embraced one another and members of their families as they breathed finally a hopeful sigh of relief from the torment Trump has put them through.
African-American voters from coast to coast are relishing the result of their refusal, by the millions, to give in to Republican voter suppression.
Union members from coast to coast celebrated the result of the hard work of themselves and their allies.
For so many in the country, this was a moment of relief from months of economic pressure, fear of the COVID-19 plague, and anxiety caused by years of hatefulness and angst stirred up by the Trump regime.
Biden announced he would speak to the nation as President-elect Saturday night and he called the results a clear sign that "democracy is the heartbeat of America."
Biden needed 270 electoral votes for a victory and, by gaining Pennsylvania's 20, he's now at 284, according to the Associated Press and 273 according to NBC. Unlike the AP, NBC has not yet called Arizona for the Biden-Harris ticket.
Biden led in Pennsylvania with 49.6% of the vote, over Trump's 49.1%. Pennsylvania law dictates that a recount must be held if the margin between the two candidates is less than 0.5%. With his lead growing there, the end result will be beyond recount territory.
Trump continues to refuse to recognize his defeat, claiming on Twitter, "I won this election by a lot." Determined to use his power as president to undermine the election, he said he will seek a recount in Wisconsin, though he would have to pay the full cost of the recount. The state pays for recounts of races that are within a quarter of a percentage point: The count stood at 49.4% Biden and 48.8% Trump on Friday morning. The last presidential recount, done in 2016, cost Green Party candidate Jill Stein $3.5 million.
At a Thursday press conference, Trump advanced unsupported accusations of voter fraud in an extraordinary effort by a sitting American president to sow doubt about the democratic process.
"This is a case when they are trying to steal an election, they are trying to rig an election," Trump said from the podium of the White House briefing room.
Several key GOP lawmakers have come out against Trump's unsubstantiated claims. The 2012 presidential nominee, Mitt Romney, said Trump "is wrong to say the election was rigged, corrupt and stolen."
The Biden-Harris ticket has so far received nearly 75 million votes. This is the most in history, surpassing former President Barack Obama's 2008 record.
About 103 million votes were cast before Election Day, an early voting push prompted by the pandemic.
The Washington Post projected that when all counting is complete, the numbers will reveal that 66.3% of eligible voters cast ballots in 2020. If this projection holds, "2020 turnout will be the highest since 1900, when 73.7 percent of eligible Americans cast ballots," according to the Post.
The election battle itself is not over. Republicans currently hold a majority in the Senate but that can be ended if there are two Democratic victories in two runoff races in Georgia.
The Georgia race between Republican Sen. Kelly Loeffler and Democrat Raphael Warnock is headed for a runoff as is the state's other Senate race. Holding under 50% of the vote, Republican incumbent Sen. David Perdue has a razor-thin lead over Democratic challenger Jon Ossoff but also faces a runoff.
So let the celebrations continue. A weary nation needs them because there is still much to be done.
Associated Press contributed to this article.