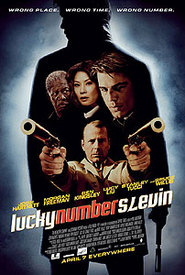 Life is tough in the big city. It's also tough in high school, as the case may be. Bogart, Mitchum and, more recently, Joseph Gordon-Levitt and Josh Hartnett get slammed around a lot. They have to resist a lot of incredibly willing sex sirens, they have to figure out a lot of puzzles, and they have to kill a lot of people. Most of all, they have to maintain their sense of humor.
They are forced to frequent low dives in order to locate horrible scumbags. Or, in high school, they have to find out where students eat their lunch. They have to uncover, and subsequently ignore, nefarious acts like smoking marijuana or doping racehorses. They inevitably have to stall off the police while they manipulate "Mr. Big" crime bosses into their own doom.
Life is tough in the shadowy big city, and on the movie screens that portray it. As they tuck hot .45-caliber automatics into their shoulder holsters and step over bodies slowly seeping life into deep carpets while making wisecracks, action heroes have to remember the underlying reason for their commitment to these seemingly endless chains of mock-violence: "It's the genre!"
Brick
Written and directed by Rian Johnson. Starring Joseph Gordon-Levitt, Lukas Haas, Nora Zehetner, Noah Segan, Noah Fleiss and Emilie de Ravin.
Lucky Number Slevin
Directed by Paul McGuigan. Starring Josh Hartnett, Bruce Willis, Lucy Liu, Morgan Freeman, Ben Kingsley and others.