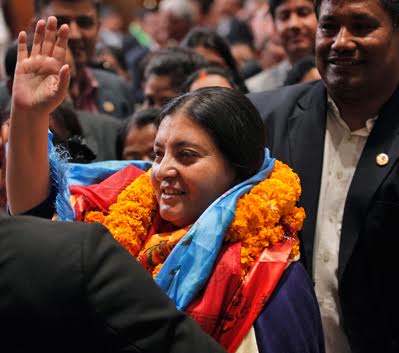 KATHMANDU, Nepal (AP) – Nepalese lawmakers elected Bidhya Devi Bhandari, a longtime women's rights campaigner, to become the country's first female president Wednesday, as the Himalayan nation pushes for more gender equality in politics and work life. She had previously served as the defense minister of the government of Nepal from 2009 to 2011. As president, she is supreme commander of the armed forces.
Bidhya Devi Bhandari, the 54-year-old deputy leader of Nepal's Communist Party of Nepal (Unified Marxist-Leninist), had lobbied actively for the new constitution to require that either the president or vice president be a woman. She was chair of All Nepal Women Association.
Nepal has been trying to shift from a traditionally male-dominated society, where women are mostly limited to working at homes or on farms, to one in which women have equal access to opportunities and legal rights.
Lawmakers cheered as Bhandari's name was announced as the new president. Earlier this month, Nepal's parliament chose its new prime minister, KP Sharma Oli. An ally and party colleague of the Prime Minister, Bhandari had been considered the favorite for the largely ceremonial job. The President is the ceremonial head in Nepal while the Prime Minister is the nation's leader.
Bhandari said her election — by a vote of 327-214 against Congress party leader Kul Bahadur Gurung — marked a first step toward assuring the new constitutional guarantees of equality are fulfilled. The constitution, adopted last month, also requires that one-third of the country's lawmakers be women, and that women be included in all government committees. And last week, Onsari Gharti was elected as the country's first female Parliament speaker.
Bhandari has been a leading political figure since 1993 when her late husband, Communist party leader Madan Bhandari, died in a car accident which was alleged to have been a case of murder and is unsolved till date. She led demonstrations against the former King Gyanendra in 2006, helping drive the country toward ending his authoritarian rule and restoring democracy.
Bhandari is Nepal's second president since then. She replaces President Ram Baran Yadav, who was elected in 2008 for a two-year term that was extended when efforts to draft a new constitution stalled over seven years. The constitution defines the majority Hindu nation as a secular republic divided into seven federal provinces.
Nepal, officially the Federal Democratic Republic of Nepal, is located in South Asia. With a population of approximately 27 million, it is located in the Himalayas and bordered to the north by China and to the south, east and west by India. Kathmandu is the nation's capital city and largest metropolis.
The mountainous north of Nepal has eight of the world's ten tallest mountains, including the highest point on Earth, Mount Everest (Nepali: Sagarmāthā). More than 250 peaks over 20,000 ft (6,096 m) above sea level are located in Nepal, while the southern region is fertile and humid.
Barbara Russum and Wikipedia contributed to this article.
Bidhya Devi Bhandari of the Communist Party of Nepal (Unified Marxist-Leninist waves after she was elected as Nepal's new president in Kathmandu, Nepal, Oct. 28. Bhandari, 54, who has long campaigned for women's rights was elected Wednesday as Nepal's first female president. | Niranjan Shrestha/AP