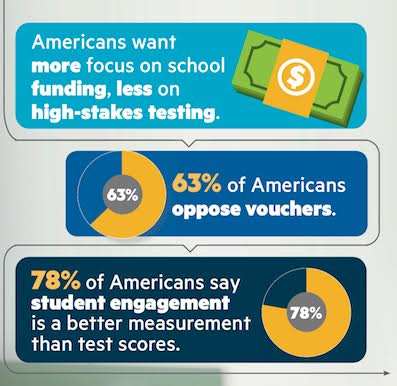 WASHINGTON – The president of one of the nation's two teachers unions, Randi Weingarten of the American Federation of Teachers, is lauding lawmakers' agreement on a framework for a new federal education aid bill to replace the controversial Bush-era No Child Left Behind (NCLB) law and its teach-to-the-test mandates.
But while Weingarten looks forward to enactment of the new statute, Lily Eskelsen-Garcia of the National Education Association is more skeptical. She praised lawmakers for dumping NCLB but said lawmakers must still create "a new accountability system," with a wide variety of measurements, to evaluate schools, teachers and students.
A third education union, the School Administrators, had no immediate comment on the new framework. But its president, Diann Woodard, had led her members in a nationwide call-in in April against the mandatory testing and its impact on teachers and administrators.
The statements come after congressional negotiators announced their framework agreement on Nov. 19. They hoped to have an entire education law available for votes just after Congress' Thanksgiving recess. President Obama had no immediate comment on their framework. Neither did the federal Education Department.
NEA, AFT, AFSA and their members lobbied their lawmakers long and hard to change the NCLB and get away not just from its teach-to-the-test, but also its tilt towards yanking funds from public schools and diverting them to private schools, and its insistence that test scores be the sole measure for evaluating – and firing – teachers.
The key provision of the framework replaces the Bush law's mandate that flunks schools unless they meet pre-set "adequate yearly progress" measures with state-crafted programs to measure student progress. State programs must still fulfill student learning goals.
But states would get flexibility in designing their programs and measurements, and students would be subject to less-onerous numbers of tests. The explosion of repetitive testing, in just basic subjects, was a key complaint that students, parents, teachers and unions had with the NCLB.
"We are on our way to a new environment in public education," said Weingarten, a New York City middle school teacher. "The Senate-House conference report" – the final version of the legislation – "resets education policy with a focus on student learning rather than student testing, while maintaining resources to students with the most needs. It creates the potential to bring back the joy of teaching and learning and to really prepare our kids for their future."
"It is time for Congress to usher in a new era in public education that commits America to creating opportunity for all students regardless of background or ZIP code," said Eskelsen Garcia, a Salt Lake City pre-K teacher. "While we appreciate the bipartisan and bicameral work of Congress to finally replace No Child Left Behind, our work isn't done.
"We believe Congress must commit to the success of every student and focus on core goals" in the new education law, she added.
They are "closing opportunity gaps for students" by the new accountability system, dumping the high-stakes testing and its tie to keeping or firing teachers, making states responsible for deciding which tests "best inform instruction and help students learn" and make sure that teachers' voices "are part of the decision making process at all levels: federal, state and local."
The state-created education standards in the compromise Every Student Succeeds Act would " build on state-led innovation in measuring school performance using multiple measures beyond test scores," a congressional fact sheet says.
"States can use other indicators of student achievement and school quality, including student engagement, access to and completion of advanced coursework, and school climate and safety," it says. Under the framework, states must improve student learning in their "lowest-performing 5 percent of schools, high school dropout factories, and schools in which any group of students is consistently underperforming under the state's accountability system, and ensures that all students count for the purposes of accountability."
Schools would still have to evaluate the students "in reading and math in grades 3 through 8 and once in high school, as well as science tests given three times between grades 3 and 12," the framework says. But the reading and math evaluations don't necessarily have to be statewide tests, it adds. If states can create a better evaluation, approved by the federal Education Department, they can use it.
And the legislation bans the Education Department from ordering or giving incentives to states "to adopt any particular set of standards, including the Common Core." The Common Core, a set of standards that education commissioners from 46 states and D.C. originally adopted several years ago, has since become a political lightning rod for the right wing and Congress' ruling Republicans. They charge it imposes national control on local schools.
The framework gives two messages for federal aid to the lowest-performing schools – those the original 1965 federal education law was designed to help the most. Those are also the schools where AFT, in the nation's largest cities, is the dominant union.
In one message, the framework says federal education aid "would supplement, not supplant" local school money.
That was a key problem the NEA had with Congress after Bush's law passed 14 years ago: The promised money for improving student results never showed up. The union and its Michigan affiliates unsuccessfully sued Bush's Education Department for the funds.
In the other, the framework gives states wide discretion and responsibility in choosing which schools and students get aid. And the feds can't tell states and local school districts they must use a "one-size-fits-all" improvement plan – or any other specific plans.
Photo: AFT