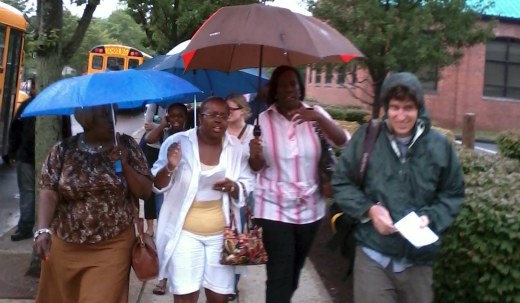 NEW HAVEN, Conn. – In an extraordinary Democratic primary election, New Haven voters overwhelmingly backed labor and grassroots community candidates for Board of Aldermen in 14 of 15 wards where contests were held last week. The 30-member body will now have a pro-labor majority, including several unopposed incumbents.
Brian Wingate, who defeated Aldermanic president Carl Goldfield by a wide margin, beamed at the joyous celebration party as he called forward all the newly elected. They include Local 34 and 35 service / maintenance and clerical / technical workers at Yale, an SEIU Local 1199 group home worker, an AFSCME children and families worker and several pro-labor community activists.
Fueled by anger at 25 youth homicides this year and deep poverty in the midst of great wealth, city residents made it clear that they want their voices heard.
Over 400 residents joined the candidates to knock on the doors of their neighbors in the summer months, discuss issues of concern and register voters. The candidates and their family, friends, union sisters and brothers and neighbors including many young people volunteered between four and sixteen hours a week. They comprised a cross section of the multi-racial composition of the city.
"At the beginning of the summer many people didn't think what we were doing would make a difference. There was anger and despair at the killings, the lack of youth opportunities and the lack of jobs. By election day, that had changed to a sense of hope and excitement. People saw that together they can make a difference," said one canvasser for Delphine Clyburn in the Newhallville neighborhood.
The campaign effort was watched nationally, and sets a precedent for local politics and for successful turnout in the presidential and congressional elections in 2012. Consistent organizing on a door-to-door basis also gives a lead for building a movement to create jobs on a large scale, starting with grass roots pressure on Congress to pass President Barack Obama's American Jobs Act.
Local media kept up a continual anti-labor drum beat, claiming that union backed candidates would not represent the interests of their wards. This scare tactic fell flat as the candidates introduced themselves. Most have been active in their neighborhoods for years and credit their steward and other training in their unions with enabling them to step forward in a time of crisis.
Several pro-labor incumbents successfully defeated challengers fielded by the Democratic machine.
In the Hill, incumbent Dolores Colon, a union leader at Yale, has been assisting residents of the Church St. South housing complex to organize in the face of planned demolition of their homes for redevelopment as offices and high end apartments. "We need Dolores," said one resident who helped get out the vote.
Democratic mayor John DeStefano had angered former union allies with plans to privatize school custodians and by collaborating with Yale's expansion into working-class neighborhoods, pushing African American and Latino families out of the city.
He won the primary with just 44 percent of the vote against three challengers. Recognizing that he no longer has a majority on the Board of Aldermen, the mayor told the media that he is ready to work together with the new pro-worker board.
During the campaign many leaders were identified who can mobilize their neighborhoods to reshape the city. Their continued and active involvement is the next step as the new aldermen and alderwomen prepare for the general election in November. They will be sworn into office on Jan. 1, 2012.
It will be a challenge to maintain and expand the unity achieved by the movement that won so many aldermanic races. Outreach to allies who did not participate will be necessary to move the entire city forward around a common agenda. Overcoming efforts to split and divide along racial and ward lines is an essential ingredient.
The experience in New Haven sends a message everywhere that with concerted door-to-door and other personal contact efforts in cities, towns and villages, the 2012 elections can have a progressive outcome.
Photo: Aldermanic candidates in Newhallville, a neighborhood in New Haven, marched for local jobs during the election campaign. Art Perlo/PW